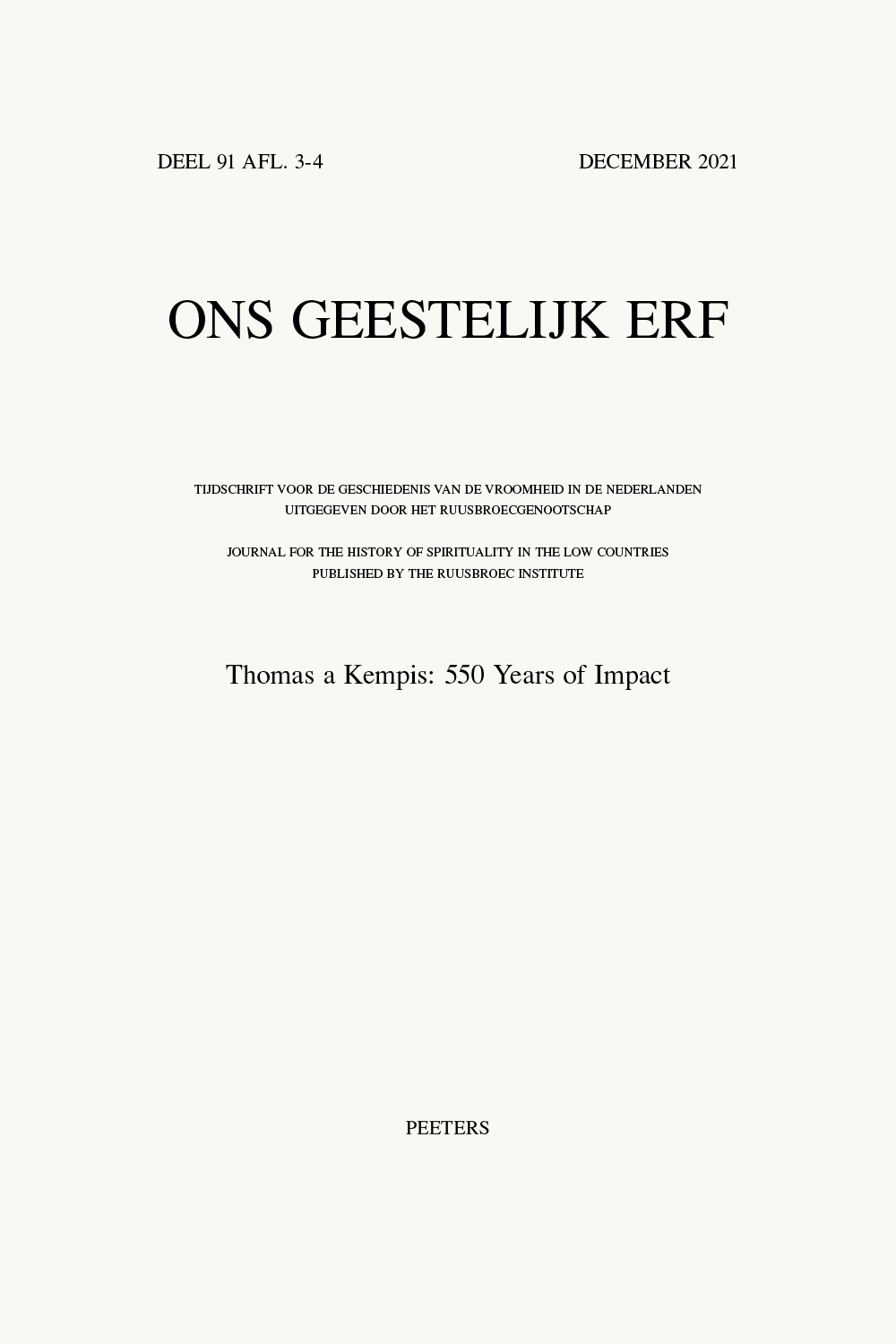 Document Details :

Title: De derde orde als onderdeel van de Moderne Devotie
Author(s): GOUDRIAAN, Koen
Journal: Ons Geestelijk Erf
Volume: 74 Issue: 1-2 Date: maart-juni 2001
Pages: 9-32
DOI: 10.2143/OGE.74.1.616443

Abstract :
Only recently, the convents of the Third Order of St Francis united in the Chapter of Utrecht (and in the related Chapters of Zepperen and Cologne) have been fully recognised as an integral part of the movement known as the Modern Devotion. In this contribution, the Third Order is addressed from an historiographical point of view. Chronicles and other texts originating in the different branches of the Modern Devotion and dating from the period until ca. 1475 are investigated as to their comments on the Tertiaries. In fact, they seldom mention the Third Order directly, but they do take notice of the merits of those devotionalists who were prominent in the Chapter of Utrecht and who were leading the way towards adopting St Francis' Third Rule. The only person who pays attention to the Third Order more than occasionally, is Johannes Busch, author of the Chronicon Windeshemense, a composite work on the origin of both the monastery and the chapter of Windesheim. Even in his perception, however, it is not the adoption of the Third Rule and the belonging to one order or another that is decisive for a convent to be fully recognised as a member of the movement, but the connection that exists or can be construed between this convent and the brotherhood in Deventer, which was under the direction of Geert Grote's disciple Florens Radewijnsz. In the internal debate between the devotionalists, no special emphasis is placed on the preeminence of the way of life of the Brothers and Sisters of the Common Life, who in their abstention from any rule copied the way of life of the ecclesia primitiva. Busch, moreover, tends to see the status of the Tertiaries as akin to the one of the Brothers and Sisters rather than as a preliminary phase leading towards the full religious life of the Augustinian Canons and Canonesses (as united in the Chapter of Windesheim).


Download article