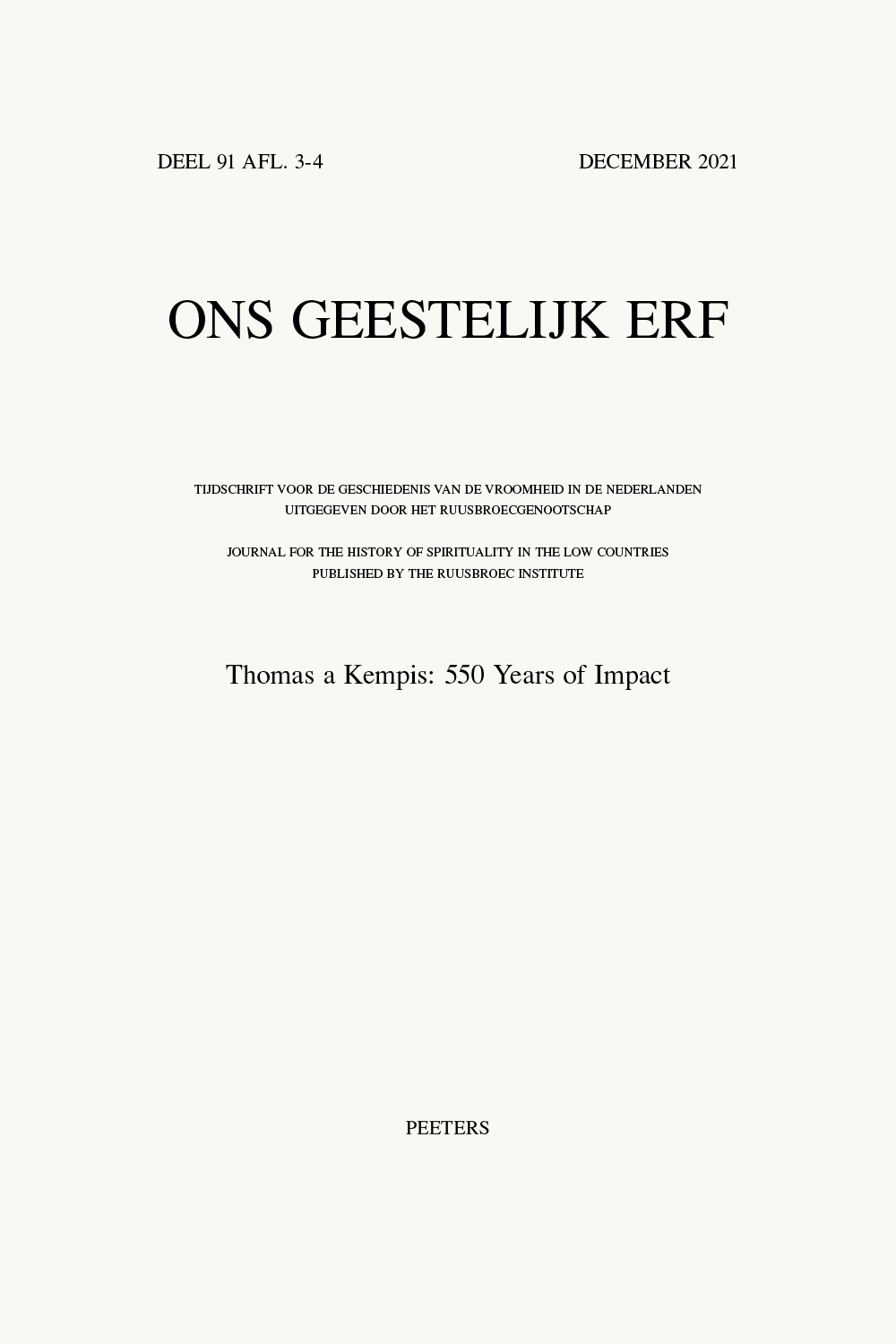 Document Details :

Title: Een vrauwe te sijn op mijn selfs handt
Subtitle: Alijt Bake (1415-1455) als geistliche Reformerin des innerlichen Lebens
Author(s): BOLLMANN, Anne
Journal: Ons Geestelijk Erf
Volume: 76 Issue: 1-3 Date: Maart - September 2002
Pages: 64-98
DOI: 10.2143/OGE.76.1.565499

Abstract :
Alijt Bake (1415-† 1455), prioress of the Augustinian Convent Galilea in Ghent, recorded the story of her spiritual life around 1451. In a climate of criticism and renewal in matters of church and religion as well as of education, Alijt Bake proclaimed her own key role as a 'reformer of the inner life'; her propensity to piety and literature is clearly expressed in her writings. This paper proposes to investigate the origins of Bake's self-confidence as a woman in matters spiritual. The driving power of her reformist activities as a leader, teacher and author extended to not only her own community but also far beyond the walls of the Windesheim cloister.
Bake stands in the context of the Devotio moderna, with its constant attention for religious and moral education and its special preference for writing as a method for individual and common spiritual development. She appears as a well educated religious woman at the top of the Windesheim hierarchy, who uses the writing-process to articulate and develop her spiritual thoughts and mystical experiences and – as a professional, devout leader of her convent – to instruct her 'beloved children' in God's will.
Bake's autobiographical writings also show that her career evinces more than a little mistrust from the authority of Windesheim as such. As a mystic writer, Bake believes that good works of faith spring from freedom of the will and from the grace of God, and that nothing is meritorious and agreeable to Him which is done merely through obligation. To those who do what is in their power, she claims in her autobiographical writings, God will not deny His grace. She therefore argues for a new kind of religious life mediated through literary examples as realistic as possible, and for a conscious and consistent formulation of the individual personality. The latter is coloured by a critical refusal of traditional dogmas of knowledge, while also offering a critique of established notions of the vita religiosa.
Following her own path of faith unavoidably brought Alijt Bake in conflict with the male-dominated and hierarchical monastic world of Windesheim. Bake's unyielding struggle for her particular mission as a 'reformer of the inner life', which would include overturning traditional convictions on the subservient position of females in the church, ended tragically with her persecution and early death in 1455.


Download article