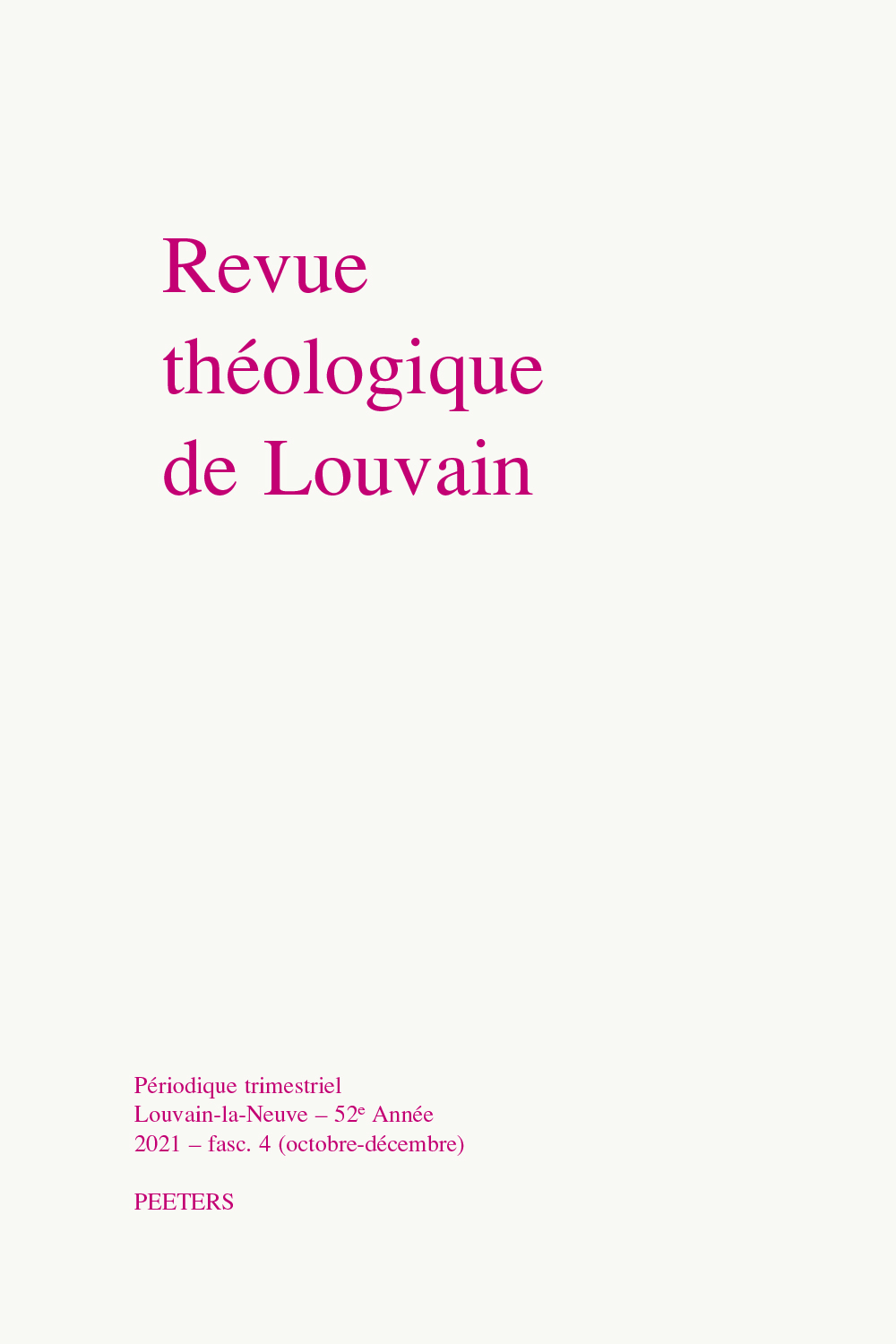 Document Details :

Title: L'Essai de Louis Charlier (1938)
Subtitle: Une contribution à la nouvelle théologie
Author(s): METTEPENNINGEN, Jürgen
Journal: Revue Théologique de Louvain
Volume: 39 Issue: 2 Date: 2008
Pages: 211-232
DOI: 10.2143/RTL.39.2.2029565

Abstract :
Cet article présente le contenu, la réception et l'importance de l'Essai sur le problème théologique publié par Louis Charlier OP en 1938. Cet Essai, qui traite de la nature et de la méthodologie de la théologie, se situe dans le courant d'autoréflexion de la théologie des années 1930 et 1940. Charlier s'oppose à la néo-scolastique stricte de Rome et soutient le rôle capital de l'histoire dans la théologie. Avec M.-D. Chenu, il est à considérer comme l'instigateur d'un ressourcement thomiste, en quête d'un thomisme ouvert. Cette première période de la nouvelle théologie est suivie d'une seconde: basé sur les fondements de la première période, un ressourcement théologique promeut le retour aux Écritures, à la patristique et à la liturgie. Durant la deuxième période de la nouvelle théologie (ca. 1942-1950), l'Essai de Charlier reçoit des commentaires positifs mais surtout négatifs. Il provoque l'irritation romaine et est mis à l'Index en 1942, en même temps que Une école de théologie: le Saulchoir de Chenu (1937).


---

This article considers the content, reception, and relevance of Louis Charlier's Essai sur le problème théologique (1938). The core theme of this essay is both the nature and methodology of theology. In this respect, Charlier is participating in the theological selfreflection of the 1930's and 1940's. He opposed the strict Roman Neoscholasticism and pleaded for the full integration of history within theology. Together with M.-D. Chenu he is to be considered as the instigator of a thomistic "ressourcement", characterized by a plea for an open thomism. This first phase of the nouvelle théologie (new theology) was followed by a second phase, a theological "ressourcement", which pleads for a full return of theology to its sources (Bible, Fathers, liturgy) on the foundations of the first phase. During this second phase too (ca. 1942-1950), there were some positive but, more often, negative critiques on Charlier's Essai. Both the Essai of Charlier and Une école de théologie: le Saulchoir of Chenu (1937) aroused Roman irritation and in 1942 were placed on the Index.


Download article