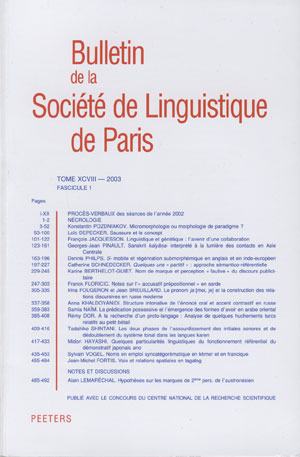 Document Details :

Title: Fracture d'actance et dynamique morphosyntaxique
Subtitle: Le renouvellement du perfectif et ancien égyptien
Author(s): ORÉAL, Elsa
Journal: Bulletin de la Société de Linguistique de Paris
Volume: 102 Issue: 1 Date: 2007
Pages: 367-397
DOI: 10.2143/BSL.102.1.2028209

Abstract :
Une nouvelle analyse des schémas actanciels mis en oeuvre au perfectif en Ancien égyptien aboutit à la restitution d'un paradigme de perfectif ancien unique réunissant le Pseudoparticipe (Statif) et la forme de sdm(=f) «indicatif» de la tradition grammaticale. Leur parenté fonctionnelle déjà reconnue est ainsi mise en relation avec un dispositif actanciel proto-égyptien de type «dual» ou «actif», où deux paradigmes de marques personnelles employées pour marquer l'actant pronominal de la construction uniactancielle s'opposent en fonction du caractère événementiel ou qualitatif de la prédication, tandis que le patientif pronominal de la construction biactancielle est marqué comme l'actant unique d'un prédication d'état ou de qualité. Cette reconstruction permet à son tour de reconstituer dans le détail le processus de renouvellement aboutissant à la forme de Parfait récent sdm.n(=f/SN), qui met notamment en jeu le morphème jn marquant l'agentif nominal dans un certain nombre de constructions de l'égyptien historique, et d'en comprendre les motivations fonctionnelles.


---

A new analysis of Ancient Egyptian actancy schemes for perfective allows us to reconstruct the one and only paradigm of Old Perfective which unites the Stative and the form called "Indicative" sdm(=f) in grammatical tradition. Their recognized functional sameness is now put in the light of the split ergativity characterizing Proto-egyptian, where two different paradigms for person marking are used to represent the pronominal participant of an intransitive construction with eventive vs. qualitative nature of the predication as a crucial parameter, while the pronominal patient of a transitive construction is marked as is the unique participant of state or quality predication. This reconstruction in turn results in a detailed reconstitution of the diachronic process leading to the new form of Perfective sdm.n(=f/SN), with a satisfactory understanding of its functional motivation, including the role played by the morphem jn marking the nominal agent in some constructions of historical egyptian.


---

Una nuova analisi della diatesi all'opera nel perfettivo in antico egiziano risulta nella restituzione di uno paradigmo di perfettivo antico unico chè unisce il Pseudopartizipio (Stativo) e la forma chiamata sdm(f) «indicativo» nella tradizione grammaticale. La loro già conosciuta somiglianza funzionale viene cosi messa in relazione col dispositivo della diatesi in protoegiziano chè si rivela del tipo duale o «attiva». Due paradigmi differenti vengono usati per marcare l'attante pronominale della costruzione con partecipante unico secondo una opposizione fondamentale tra il carattere eventivo vs. qualitativo della predicazione. Il pazientivo pronominale della costruzione con due attanti viene marcato nello stesso modo dell'attante unico di una predicazione di stato o di qualità. Questa ricostruzione permette di ricostituire il dettaglio del processo di rinnovazione chè risulta nella forma di Perfetto recente sdm.n(=f/SN), mettendo in particolare risalto il ruolo giocato dal morfemo jn indicando l'agentivo nominale in certe costruzione dell'egiziano storico, e di capirne in modo coerente le motivazioni funzionale.


Download article