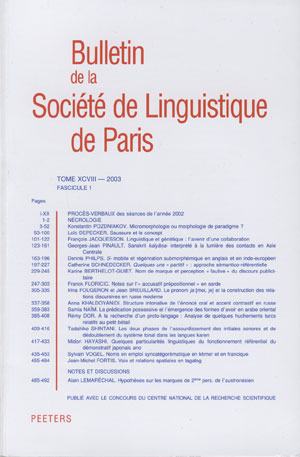 Document Details :

Title: Syncrétisme, sous-spécification et création casuelle dans les langues baltiques
Author(s): PETIT, Daniel
Journal: Bulletin de la Société de Linguistique de Paris
Volume: 102 Issue: 1 Date: 2007
Pages: 325-366
DOI: 10.2143/BSL.102.1.2028208

Abstract :
Une particularité des langues baltiques à l'intérieur de la famille indo-européenne est la formation d'un système complexe de quatre cas locatifs (inessif, illatif, adessif, allatif), qui étaient encore largement attestés en vieux lituanien (XVIe siècle). L'objet du présent article est de discuter la genèse de ces cas locatifs à partir de postpositions originelles. On montre notamment que le souci d'éviter la sous-spécification casuelle a joué un grand rôle dans leur évolution.


---

A characteristic feature of the Baltic languages in the Indo-European language family is the creation of a complex system of four locative cases (Inessive, Illative, Adessive, Allative), still widely attested in Old Lithuanian (16th century). The aim of this paper is to discuss the origin of these locative cases from original postpositions. It can be shown in particular that the necessity to avoid case underspecification has played a crucial role in their evolution.


---

Als eine Besonderheit der baltischen Sprachen innerhalb der indogermanischen Sprachgruppe gilt die Herausbildung eines komplexen Systems von vier Lokalkasus (Inessiv, Illativ, Adessiv, Allativ), die im Altlitauischen (16. Jahrhundert) noch reichlich belegt waren. In diesem Aufsatz wird die Genese dieser Lokalkasus aus ursprünglichen Postpositionen diskutiert. Es wird insbesondere gezeigt, daß die Vermeidung der kasuellen Unterspezifikation bei ihrer Entwicklung eine große Rolle gespielt hat.


Download article