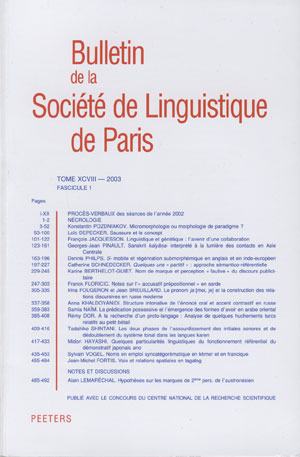 Document Details :

Title: Le langi et la Vallée du Rift Tanzanien
Subtitle: Contacts et convergences
Author(s): DUNHAM, Margaret
Journal: Bulletin de la Société de Linguistique de Paris
Volume: 102 Issue: 1 Date: 2007
Pages: 399-427
DOI: 10.2143/BSL.102.1.2028210

Abstract :
La Vallée du Rift Tanzanien présente une diversité linguistique parmi les plus riches du monde, et constitue la seule région où sont parlées des langues des quatre grandes familles linguistiques de l'Afrique (Niger-congo, Afro-asiatique, Nilo-saharien et Khoesan). Après une brève présentation des situations linguistique et sociale des populations de la Vallée, ainsi qu'une courte introduction aux structures du langi, cet article décrit un certain nombre de phénomènes, tirés à la fois des recherches de terrain de l'auteur et de celles d'autres chercheurs, qui montrent que les langues qui y sont parlées appartiennent à une aire de convergence, où les langues, sous l'effet de contacts prolongés, ont subi un certain nombre de changements structurels ayant pour effet de les rendre plus similaires typologiquement les unes aux autres. L'auteur soulève ensuite la question de la classification du langi et du mbugwe, deux langues bantu de l'aire qui, manifestement, n'appartiennent pas au même groupe que les autres langues bantu de la région.


---

The Tanzanian Rift Valley is one of the most linguistically diverse regions in the world. It is the only area where one finds languages from all of the four major African phyla (Niger-Congo, Afro-Asiatic, Nilo-Saharan, and Khoesan). This article begins with a brief presentation of the linguistic and social settings, along with a short overview of the nominal and verbal structures in Langi. It then goes on to describe certain phenomena which show that the languages of the Tanzanian Rift Valley belong to a convergence area, where, through long-standing contact, they have undergone structural changes making them typologically more similar to each other. The author then raises the question of the linguistic classification of Langi and Mbugwe, two Bantu languages spoken in the area which are not clearly related to any of the other Bantu languages spoken in the region.


Download article