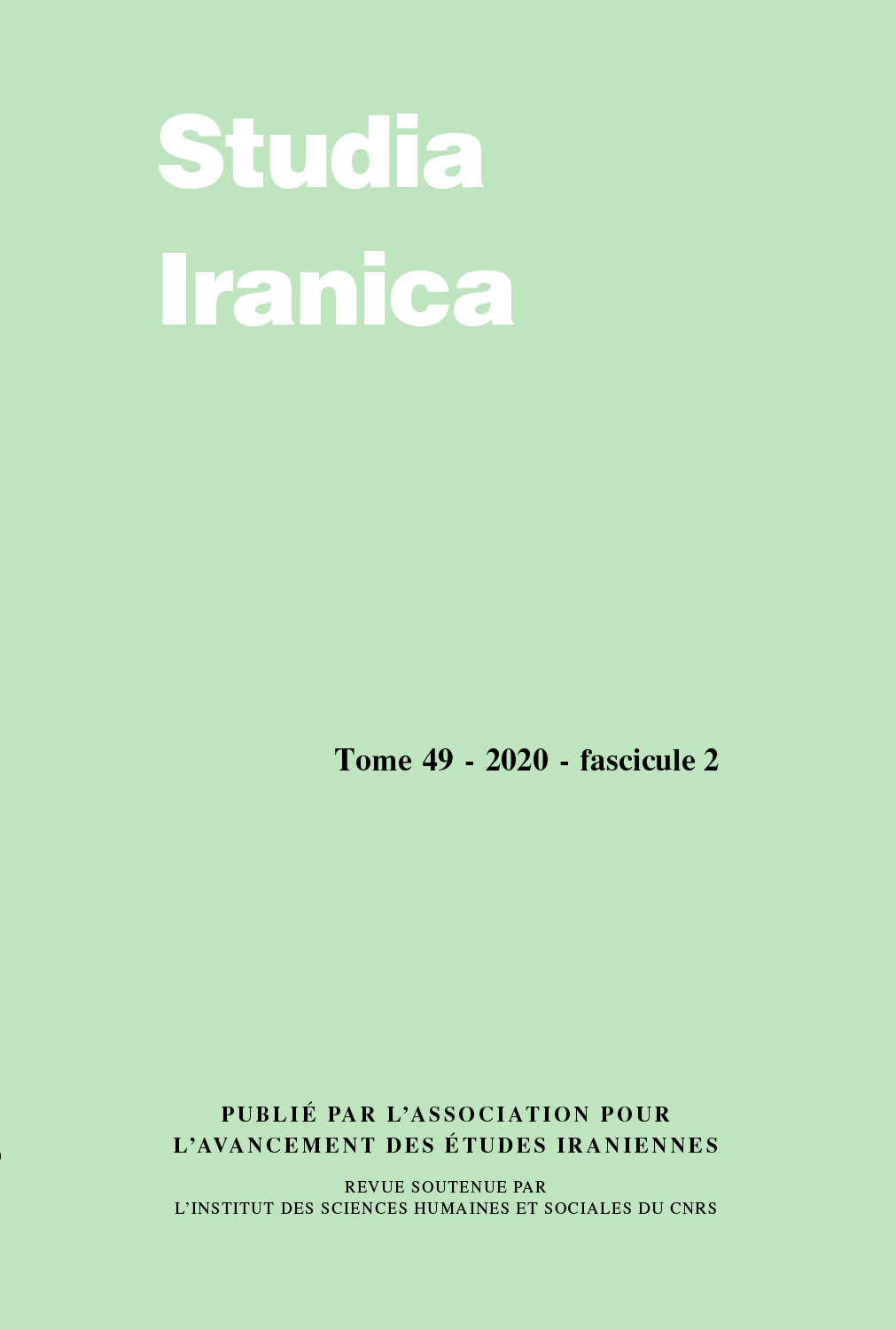 Document Details :

Title: A Unique Pahlavi Papyrus from Vienna (P.Pehl. 562)
Author(s): ZEINI, Arash
Journal: Studia Iranica
Volume: 45 Issue: 1 Date: 2016
Pages: 39-52
DOI: 10.2143/SI.45.1.3170062

Abstract :
Middle Persian or Pahlavi documents are mostly economic and administrative in nature and are variously preserved on parchment, papyrus and textiles, originating from Iran or the Fayyūm oasis in Egypt. The earliest of these, mostly on papyrus, date from the Sasanian occupation of Egypt and are thus more securely located in time (618-629 CE). The present article offers an edition of a fragment that is currently held at St. Petersburg, but originally belonged to the Vienna collection of Pahlavi papyri. This fragment is unique for its writing style and the attestation of the Middle Persian term hutuxšān 'artisans' and the heterogram MŠLWNtn' 'to collect', which is only attested in the Frahang ī Pahlawīg.


---

Les documents moyen-perse ou pehlevi sont pour la plupart de nature économique et administrative; ils sont conservés sur des supports en parchemin, en papyrus ou en textile originaires d'Iran ou de l'oasis de Fayyūm en Égypte. Les plus anciens de ces documents, principalement des papyrus, contemporains de l'occupation sassanide de l'Égypte, sont datés entre 618 et 629 de n. è. Cet article propose une édition d'un fragment actuellement conservé à Saint Pétersbourg mais qui appartient à l'origine à la collection viennoise de papyrus pehlevis. Ce fragment est unique pour son écriture et pour l'attestation du mot hutuxšān 'artisans' et du logogramme MŠLWNtn' «amasser» qui est uniquement attesté dans le Frahang ī Pahlawīg.


Download article