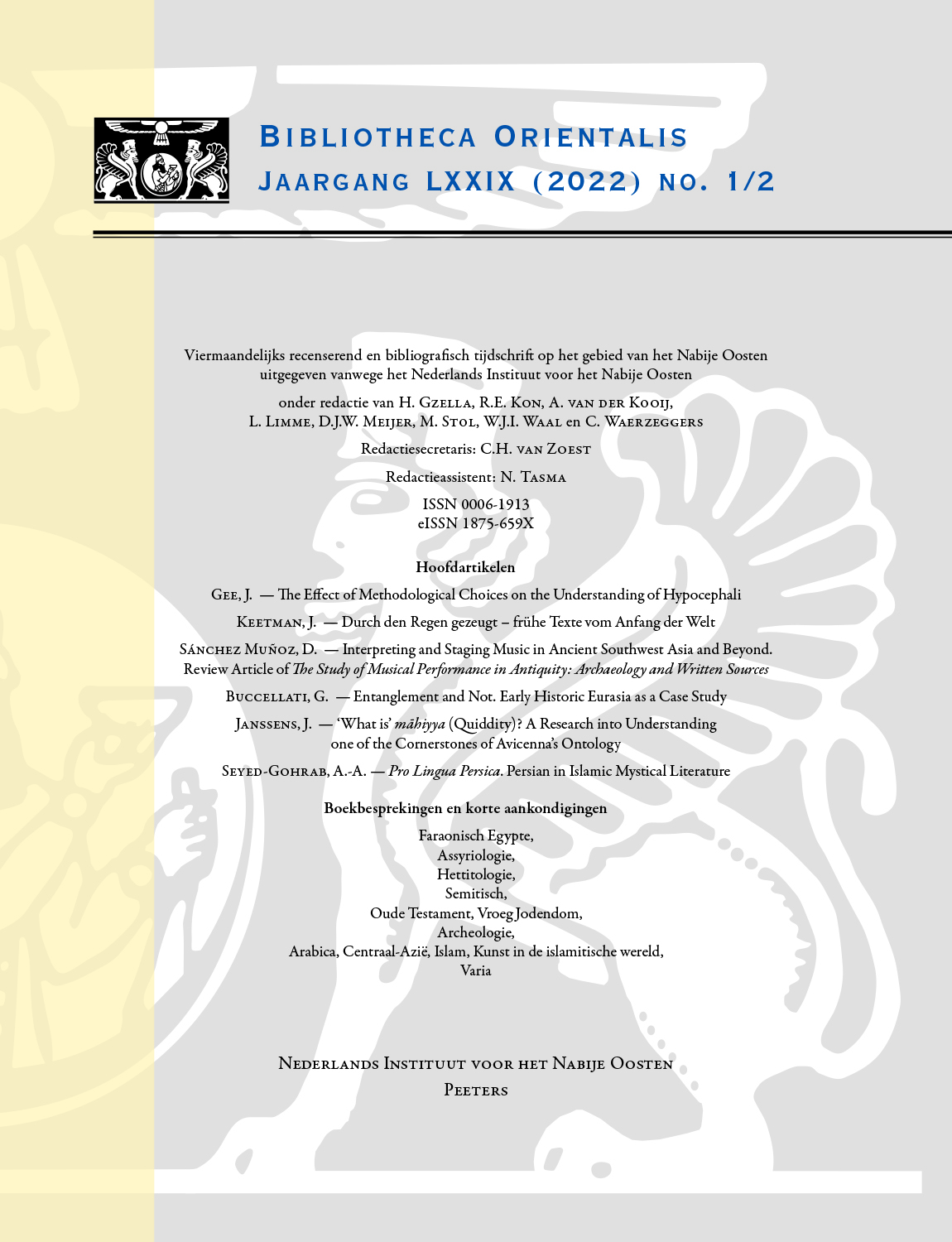 Document Details :

Title: Faraonisch Egypte
Author(s):
Journal: Bibliotheca Orientalis
Volume: 72 Issue: 1-2 Date: 2015
Pages: 47-93
DOI: 10.2143/BIOR.72.1.3085175

Abstract :
EL-SAYED, R. - Afrikanischstämmiger Lehnwortschatz im älteren Ägyptisch. Untersuchungen zur ägyptisch-afrikanischen Interferenz im dritten und zweiten Jahrtausend v.Chr. (Orientalia Lovaniensia Analecta 211). Peeters, Leuven, 2011.

VANDERSLEYEN, C. - Le rapport d'Ounamon (vers 1065 avant Jésus-Christ). Analyse d'une mission manquée. (Connaissance de l'Égypte Ancienne 15). Éditions Safran, Bruxelles, 2013.

RYHOLD, K. - Narrative Literature from the Tebtunis Temple Library. (Carsten Niebuhr Institute Publications 35; The Carlsberg Papyri 10). Museum Tusculaneum Press, Copenhagen, 2012.

WILKINSON, R.H. (ed.) - Tausret. Forgotten Queen and Pharaoh of Egypt. Oxford University Press, Oxford, 2012.

DORMION, G., VERD'HURT, J.-Y. - La chambre de Meïdoum. Analyse architecturale. (Cahiers de la Société d'Égyptologie de Genève 12). Société d'Égyptologie de Genève, Grand Saconnex, 2013.

FRANZMEIER, H. - Ein Brunnen in der Ramses-Stadt. Zur Typologie und Funktion von Brunnen und Zisternen im pharaonischen Ägypten. (Forschungen in der Ramses-Stadt 7). Gerstenberg Verlag, Hildesheim, 2010.

MAGEN, B. - Steinerne Palimpseste. Zur Wiederverwendung von Statuen durch Ramses II. und seine Nachfolger. Verlag Otto Harrassowitz, Wiesbaden, 2011.

MOJE, J. - The Ushebtis from Early Excavations in the Necropolis of Asyut, mainly by David George Hogarth and Ahmed Bey Kamal. With Remarks on Ushebti Iconography and Related Burial Practices in Asyut from the New Kingdom to the Ptolemaic Period. (The Asyut Project 4). Verlag Otto Harrassowitz, Wiesbaden, 2013.

MORENO GARCÍA, J.C. (ed.) - Ancient Egyptian Administration. (Handbook of Oriental Studies: Section 1, Ancient Near East 104). Brill, Leiden, 2013.

XEKALAKI, G. - Symbolism in the Representation of Royal Children during the New Kingdom. (BAR International Series 2314). Archaeopress, Oxford, 2011.


Download article