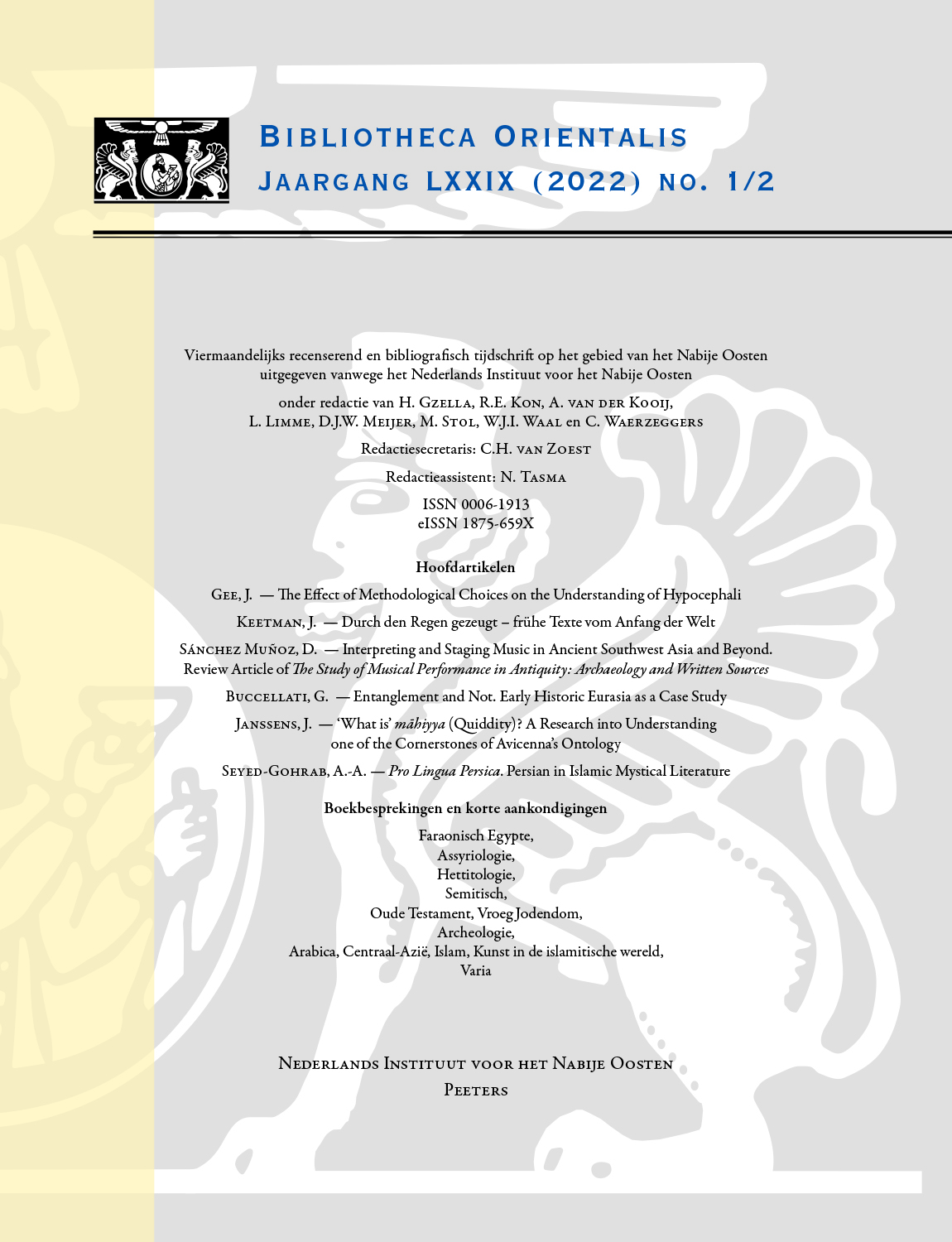 Document Details :

Title: Assyriologie
Author(s):
Journal: Bibliotheca Orientalis
Volume: 72 Issue: 1-2 Date: 2015
Pages: 100-125
DOI: 10.2143/BIOR.72.1.3085177

Abstract :
LISMAN, J.J.W. - Cosmogony, Theogony and Anthropogony in Sumerian Texts. (Alter Orient und Altes Testament 409). Ugarit Verlag, Münster, 2013.

BÖCK, B. - The Healing Goddess Gula. Yowards an Understanding of Ancient Babylonian Medicine. (Culture and History of the Ancient Near East 67). Brill, Leiden, 2014.

ZERNECKE, A.E. - Gott und Mensch in Klagegebeten aus Israel und Mesopotamien. Die Handerhebungsgebete Ištar 10 und Ištar 2 und die Klagepsalmen Ps 38 und Ps 22 im Vergleich. (Alter Orient und Altes Testament 387). Ugarit Verlag, Münster, 2011.

CHARPIN, D. - Writing, Law, and Kingship in Old Babylonian Mesopotamia. University of Chicago Press, Chicago, 2010.

PRECHEL, D., FREYDANK, H. - Urkunden der königlichen Palastverwalter vom Ende des 2. Jt. v. Chr. Das 'Archiv' Assur 21101 (M7 F). (Studien zu den Assur-Texten 5). Verlag Otto Harrassowitz, Wiesbaden, 2014.

Korte aankondiging:
VACÍN, L. (ed.) - u4 du11-ga-ni sá mu-ni-ib-du11. Ancient Near Eastern Studies in Memory of Blahoslav Hruška. ISLET-Verlag, Dresden, 2011.


Download article