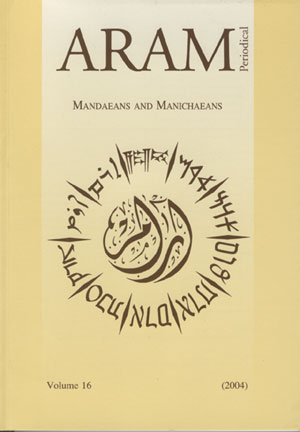 Document Details :

Title: Making a Case for a Connection between Islam and Mandaean Literature
Author(s): HART, Jennifer
Journal: ARAM Periodical
Volume: 22 Date: 2010
Pages: 427-440
DOI: 10.2143/ARAM.22.0.2131047

Abstract :
The development of Mandaeism has often been framed in terms of the Mandaeans connection to Judaism and Christianity. There is, however, ample reason to suggest that exposure to Islam also had a lasting impact on Mandaeism. The Muslim practice of awarding special, protected, status (ahl al-dhimmi) to people who possessed a prophetically revealed holy book needs to be considered as possible underlying cause directing the compilation of the Ginza and Book of John into the focal texts of Mandaean theology. That the Mandaeans were aware that Islam judged the legitimacy of a religion according to whether or not the religion possessed a holy book is alluded to in the section of the Haran Gawaita in which Anuš, son of Danqa, is described presenting Muhammad with a book of 'Great Revelation' in order to secure the Mandaeans future protection from the Muslim conquers. The colophons attached to the Ginza and the Book of John also indicate that the transformation of Mandaean literature from a disparate series of independent pieces of writing into singular 'canonical' texts tellingly coincided with the rise of Islam as the new dominant religious power in the homeland of the Mandaeans. Furthermore the comments made by the Mandaean scribes primarily responsible for the compilation of their religious literature during the early Islamic period demonstrates that the Mandaean scribal community was preoccupied with a desire to ensure that their copies of Mandaeism's literature represented the most accurate and legitimate versions of the texts and that with the advent of their copies all other renderings ought to be abandoned. These particular concerns echo exactly the goals put forth by Islam with regard to the production of the Uthmani Codex of the Qur'an. Finally there are textual and thematic clues throughout both the Ginza and Book of John which reveal that parts of these texts were written in response to Mandaean encounters with Islam and Islamic theology. Based on Islam's many connections to the development of the religious literature of the Mandaeans further attention must be given to the study of the relationship between Mandaeism and Islam.


Download article