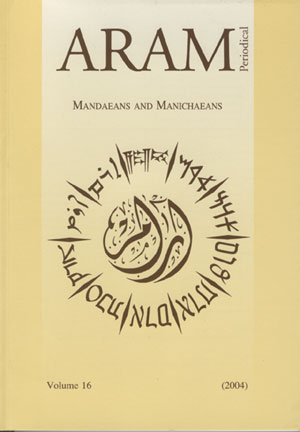 Document Details :

Title: About the Links between the Dead Sea Scrolls and Mandaean Liturgy
Author(s): HAMIDOVIĆ, David
Journal: ARAM Periodical
Volume: 22 Date: 2010
Pages: 441-451
DOI: 10.2143/ARAM.22.0.2131048

Abstract :
The library of Qumran was excavated 60 years ago, but the entire corpus has only been available to the scholars since 1991. Many liturgical texts came to light for the first time. The recent studies of the liturgical scrolls demonstrate a strong link with the Rabbinic Liturgy. Many liturgical texts may have come from the Jerusalem Temple and then may have been adopted by the Qumran community. I propose to examine a possible link between the the Qumran Liturgy and the Mandaean Liturgy. This study confirms the Jewish background of Mandaeism and raises questions about the origins of Mandaeism. Many words and expressions in the Mandaean Liturgy are in common with those of the Dead Sea Scrolls. However, the liturgical and ritual context of the Mandaean texts is different. We postulate that the evolution of Mandaeism may explain this difference. Another explanation may be complementary. Many themes such as light in the Mandaean Liturgy may be attributed to the Essene Jews. These themes are frequent in Judaism around C.E. The study confirms the Jewish background of Mandaeism, but the Mandaean Liturgy cannot be attributed to the Essene sect.


Download article