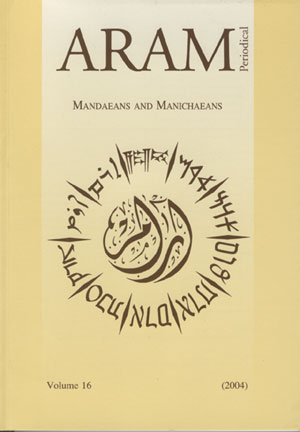 Document Details :

Title: The Asuta Wish
Subtitle: Adam Kasia and the Dynamics of Healing in Mandaean Contemplative Praxis
Author(s): NASORAIA, Brikha H.S. , CRANGLE, Edward F.
Journal: ARAM Periodical
Volume: 22 Date: 2010
Pages: 349-390
DOI: 10.2143/ARAM.22.0.2131045

Abstract :
The work represents an initial academic evaluation of healing in Mandaeism. To the authors' knowledge, the present paper represents the inaugural academic discussion and indeed record of the subject. Historical studies concerning the origin and development of Mandaean religious practices restrict themselves to ritual forms, with subsequent neglect of the contemplative and healing practices that form the foundation of such rituals. With the above in mind, this paper will examine certain of the most relevant textual and artistic evidence from an historical perspective, whereby attention is restricted mainly to how Mandaean contemplative healing praxis is depicted in the main Mandaean texts and art forms. Further, the paper aims to identify the progression of spiritual, healing praxis in Mandaean religion that is developed independently of introduced meditative practices related to healing. That is to say, this work seeks to contribute to an eventual resolution of the problem regarding the most probable source of the Mandaean means to spiritual healing by examining certain of the most relevant textual evidence from critical historical and esoteric perspectives. In doing so, the project will consider the important Mandaean text entitled Qulast: The Mandaean Canonical Book and other secret Mandaean scrolls. Reference will be made to recent work on the dynamics of healing in Buddhist meditation. In particular, ongoing collaboration of the authors on the origin and development of the Mandaean means to enlightenment repeatedly came upon and duly noted the similarities in metaphysics and meditative praxis of Mandaeism to esoteric Buddhism. Whilst the authors employ parallel hermeneutical processes, such similarities in metaphysics and meditative praxis raise questions regarding possible cross-fertilisation of ideas, meditative practices and esoteric healing practices originating in early Buddhism and vice versa. At the same time, the present article contrasts elements from various holy books and secret Mandaean scrolls with contemplative practices depicted in the canonical literature of the early Buddhists – the Tipiṭaka.


Download article