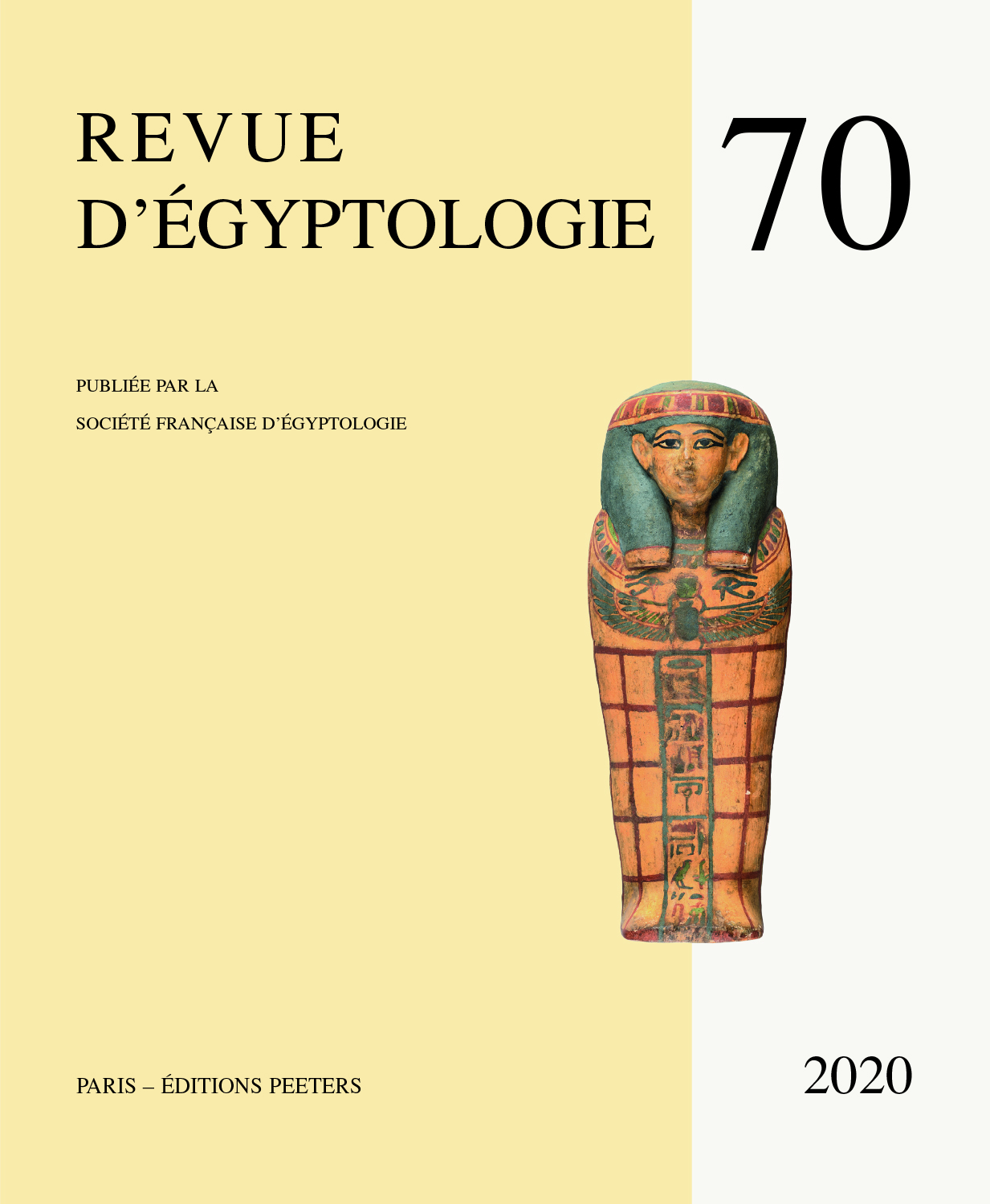 Document Details :

Title: Saqqâra: notes d'information sur les travaux récents au complexe funéraire de la reine d'Ânkhesenpépy II
Subtitle: La Pancarte d'offrandes de la chapelle nord de la pyramide d'Ânkhesenpépy II & Un dépôt d'argile crue, dans le temple funéraire de la reine Ânkhesenpépy II
Author(s): FRAISSE, Marie-Noëlle , MAHMOUD HAMED, Abeid
Journal: Revue d'Égyptologie
Volume: 53 Date: 2002
Pages: 235-243
DOI: 10.2143/RE.53.0.504269

Abstract :
I – La découverte de blocs décorés provenant de la chapelle nord de la pyramide d'Ânkhesenpépy II apporterait une nouvelle preuve d'un enterrement quasi «royal» de cette femme exceptionnelle sous le règne de son fils Pépy II. La Pancarte d'offrandes représentée est d'un modèle particulier, comprenant un Rituel d'ouverture de la bouche, à notre connaissance exclusivement réservé jusque là aux rois. Par la suite, la reine Ânkhesenpépy III, épouse de Pépy II, bien que n'ayant pas bénéficié des Textes des Pyramides dans son tombeau, adoptera elle aussi cette Pancarte, comme le montre un élément de la décoration peinte provenant de son sanctuaire. Les particuliers auraient-ils profité à sa suite de cette ouverture pour s'approprier ce privilège royal?
II – Lors du dégagement du péribole de la pyramide de la reine Ânkhesenpépy II, un dépôt d'objets en argile crue a été découvert au fond d'une canalisation recueillant les eaux de pluie. La cache était fermée par un bouchon de calcaire. Elle contenait des boîtes rectangulaires (l'une encore intacte contenait une figurine humaine et un chevet), des modèles miniaturisés de récipients, de supports ou de plateaux. Des indices suggèreraient une association possible entre ce dépôt et un remaniement des installations cultuelles à la suite de désordres dans le temple de la reine Ânkhesenpépy.


---

I - The discovery of decorated blocks from the north chapel of Ankhesenpepy II's pyramid brings a new testimony of an almost «royal» funeral for this exceptional woman, buried under the reign of her son Pepy II. The list of offerings is of a particular model, including a rite of opening of the mouth, until then apparently the sole privilege of kings. Afterwards, queen Ankhesenpepy III, wife of Pepy II, although buried without Pyramid's Texts, will adopt this list on the painted decoration of her sanctuary. Later on, the private individuals would have taken advantage of the gap to acquire this royal privilege.
II - A deposit of objects in clay has been discovered in a pipe collecting the rainy waters of the courtyard of queen Ankhesenpepy II's pyramid. A plug in limestone closed the hiding place. It contained oblong boxes (one still intact enclosed a human figurine and a headrest), miniature models of vessels, supports or trays. Indications would suggest a possible association between this deposit and a reorganization of the cultual installations following disorders in the temple of queen Ankhesenpepy II.


Download article