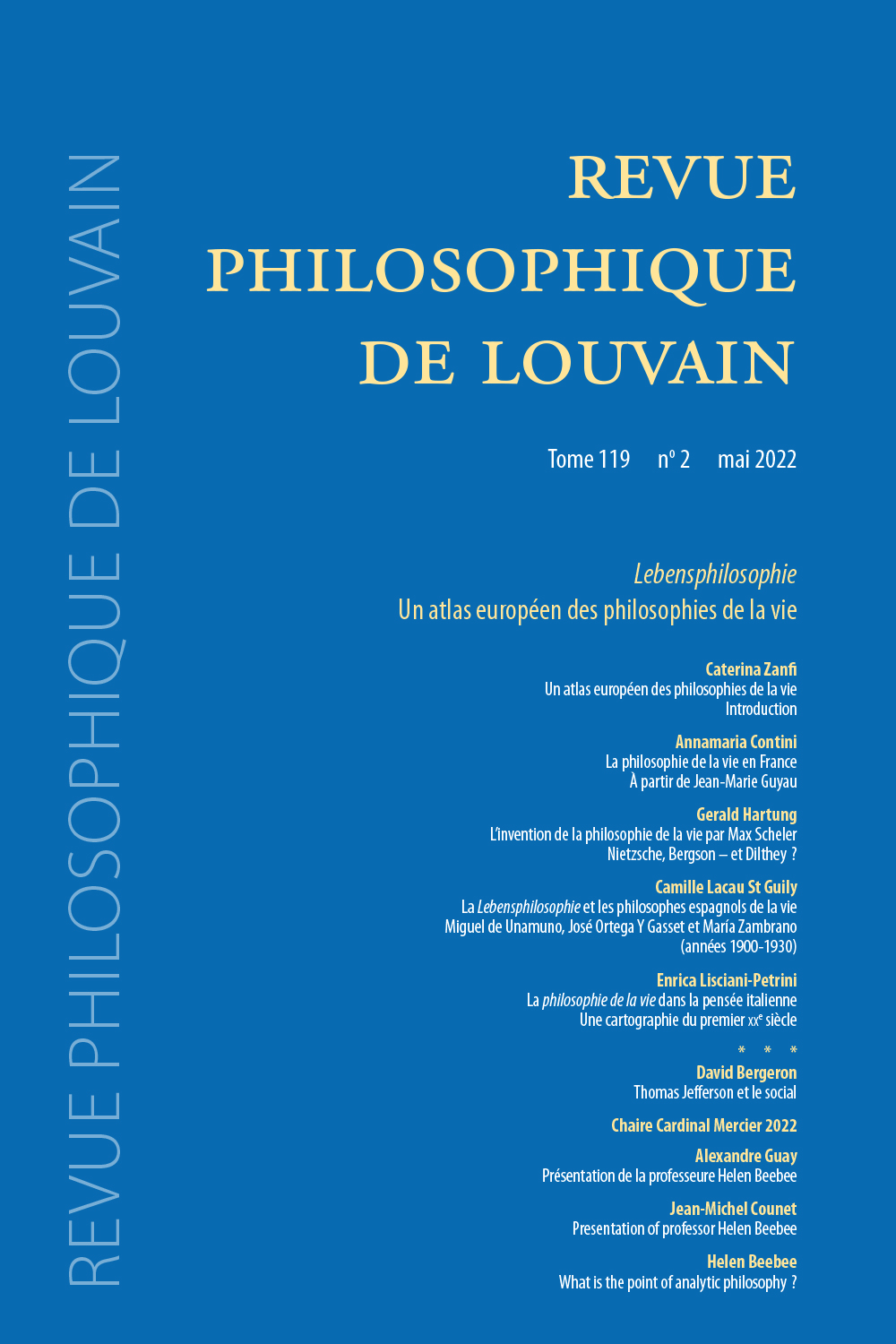 Document Details :

Title: Nietzsche contre ses génies
Subtitle: Sur la redéfinition du rôle de l'art et de l'artiste dans Humain, trop humain et Opinions et sentences mêlées
Author(s): LEBEAU-HENRY, Charles
Journal: Revue Philosophique de Louvain
Volume: 119 Issue: 3 Date: août 2022
Pages: 385-413
DOI: 10.2143/RPL.119.3.3291100

Abstract :
Dans cette contribution, je m'intéresse à la critique du génie de Nietzsche dans Humain, trop humain (1878) et à la redétermination de son approche des phénomènes artistiques dans Opinions et sentences mêlées (1879) afin de faire ressortir la perspective unique que Nietzsche y développe sur le rapport entre oeuvre et auteur. En critiquant la place excessive confiée à l'artiste dans la «superstition du génie», puis en formulant une conception de l'art à partir du rejet du primat des oeuvres d'art, Nietzsche évite de rompre le lien unissant l'auteur à son oeuvre pour faire du lien même l'objet de sa réflexion, dans une pensée de l'art comme transfiguration appliquée à l'existence propre. Je propose ce faisant une nouvelle lecture de sa critique du génie, qui replace celle-ci dans la continuité du développement de sa réflexion sur l'art et qui souligne les transformations que subissent les deux fonctions, cognitive et palliative, que Nietzsche prête d'abord à l'art et au génie dans la continuité de Schopenhauer et de Wagner.


---

In this article, I focus on Nietzsche's critique of genius in Human, all too human (1878) and on the redetermination of his approach to artistic phenomena in Mixed opinions and maxims (1879) in order to highlight the unique perspective Nietzsche develops in these texts on the relationship between work and author. By criticizing the excessive place given to the artist in the «superstition of genius», and then by formulating a conception of art on the basis of the rejection of the primacy of works of art, Nietzsche avoids breaking the bond tying the author to his work in order to make the bond itself the object of his reflection, in a view of art as transfiguration applied to one's own existence. In this study I propose a new reading of his critique of genius, which places it within the continuity of his reflection on art and which highlights the transformations undergone by the two functions, cognitive and palliative, that Nietzsche first attributes to art and genius in keeping with Schopenhauer and Wagner.


Download article