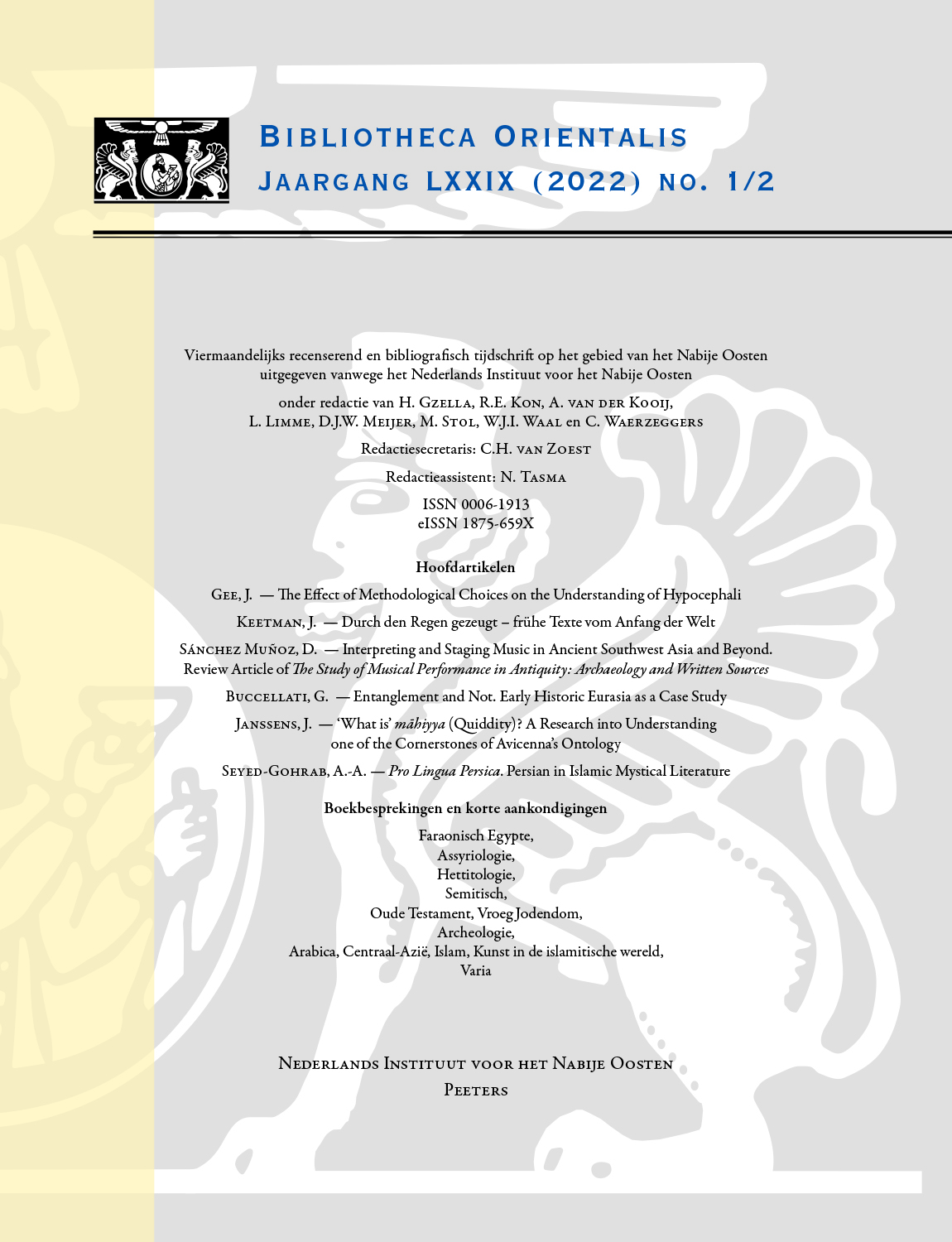 Document Details :

Title: Assyriologie
Author(s):
Journal: Bibliotheca Orientalis
Volume: 78 Issue: 5-6 Date: 2021
Pages: 670-716
DOI: 10.2143/BIOR.78.5.3290408

Abstract :
POLINGER FOSTER, K. (transl. B.R. FOSTER) - A Mesopotamian Miscellany. (Gorgias Studies in the Ancient Near East 15). Gorgias Press LLC, Piscataway, 2020.

LASSEN, A.W., FRAHM, E., WAGENSONNER, K. (eds.) - Ancient Mesopotamia Speaks. Highlights of the Yale Babylonian Collection. Peabody Museum of Natural History, Yale University, New Haven, 2019.

CHAMBON, G., GUICHARD, M., LANGLOIS, A.-I. (eds.) - De l'argile au numérique. Mélanges assyriologiques en l'honneur de Dominique Charpin. (Publications de l'Institut du Proche-Orient du Collège de France 3). Peeters, Leuven, 2019.

WEIERHÄUSER, F., HRيA - Lexikalische Texte aus Assur I. ur5-ra = ḫubullu, mur-gud = imrû = ballu, Lú-Listen. (Keilschrifttexte aus Assur literarischen Inhalts 8; Wissenschaftliche Veröffentlichungen der Deutschen Orient-Gesellschaft 153). Wiesbaden, Harrassowitz, 2018.

HSU, S.-W., LLOP RADUÀ, J. (eds.) - The Expression of Emotions in Ancient Egypt and Mesopotamia. (Culture and History of the Ancient Near East 116). Brill, Leiden, 2020.

WASSERMAN, N. - The Flood: The Akkadian Sources. A New Edition, Commentary, and a Literary Discussion. (Orbis Biblicus et Orientalis 290). Peeters, Leuven, 2020.

KOUWENBERG, N.J.C. (ed.) - Law and Trade in Ancient Mesopotamia and Anatolia. Selected Papers by K.R. Veenhof. Sidestone Press, Leiden, 2020.

DE GRAEF, K., GODDEERIS, A. (eds.) - Law and (Dis)Order in the Ancient Near East. Proceedings of the 59th Rencontre Assyriologique Internationale Held at Ghent, Belgium, 15-19 July 2013. Eisenbrauns, University Park, 2021.

BATTISTA LANFRANCHI, G., MATTILA, R., ROLLINGER, R. (eds.) - Writing Neo-Assyrian History. Sources, Problems, and Approaches. (State Archives of Assyria Studies 29). Eisenbrauns, University Park, 2019.

PORTUESE, L. - Life at Court. Ideology and Audience in the Late Assyrian Palace. (marru 11). Zaphon, Münster, 2020.

SANDOWICZ, M. - Neo-Babylonian Dispute Documents in the British Museum. (dubsar 11). Zaphon, Münster, 2019.

PAYNE, R.E., KING, R. (eds.) - The Limits of Empire in Ancient Afghanistan. Rule and Resistance in the Hindu Kush, circa 600 BCE - 600 CE. (Classica et Orientalia 24). Verlag Otto Harrassowitz, Wiesbaden, 2020.


Download article