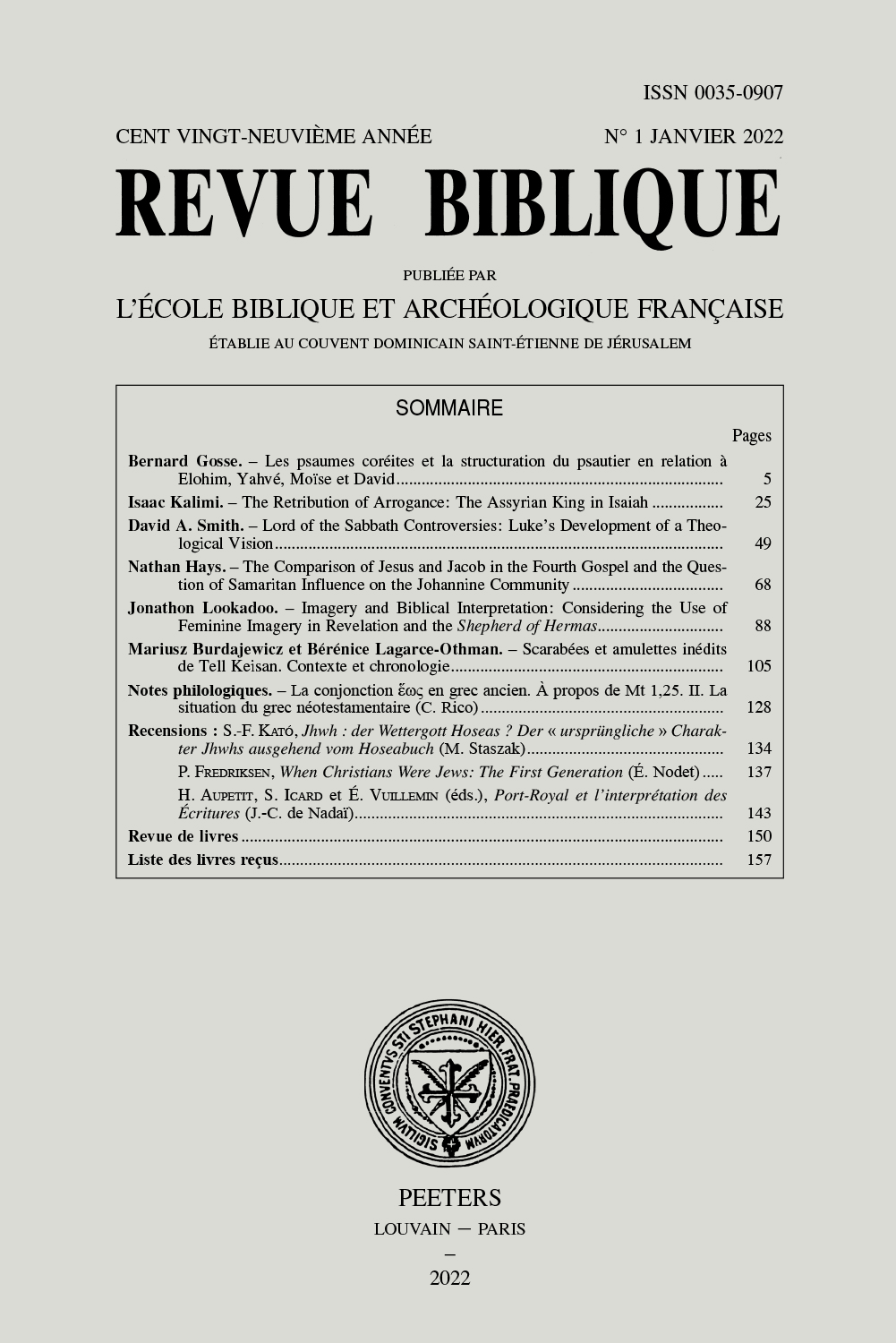 Document Details :

Title: Lord of the Sabbath Controversies
Subtitle: Luke's Development of a Theological Vision
Author(s): SMITH, David A.
Journal: Revue Biblique
Volume: 129 Issue: 1 Date: 2022
Pages: 49-67
DOI: 10.2143/RBI.129.1.3290180

Abstract :
This article presents a source-critical argument for the relation among the controversies over the Sabbath in the Synoptic Gospels, devoting particular attention to the minor agreements of Matthew and Luke against Mark in these traditions. Special attention is given to the gospel of Luke, whose unique development of the Sabbath controversy tradition is charted. Against the prominent notion that Luke's concern with the Sabbath is rooted in early Christian ethical struggles against Judaism, this study argues that Luke's treatment of the Sabbath controversies, while discernibly rooted in the early gospel tradition and in Luke's own social situation, is fundamentally an aspect of the evangelist's central Christological vision.


---

Cet article présente un argument, tiré de la critique des sources, pour la relation entre les controverses sur le sabbat dans les évangiles synoptiques, en accordant une attention particulière aux accords mineurs de Matthieu et de Luc contre Marc dans ces traditions. Une attention toute spéciale est donnée à l'évangile de Luc, dont le développement particulier de la tradition de la controverse du sabbat est décrit. Contre l'idée dominante selon laquelle le souci de Luc pour le sabbat est enraciné dans les luttes éthiques chrétiennes contre le judaïsme, cette étude affirme que le traitement réservé par Luc aux controverses du sabbat, bien qu'il soit, d'une manière très perceptible, enraciné dans la tradition évangélique ancienne et dans sa propre situation sociale, est fondamentalement un aspect de la vision christologique centrale de l'évangéliste.


Download article