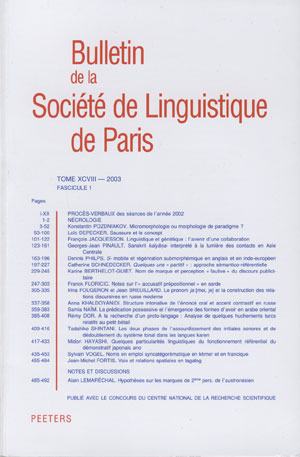 Document Details :

Title: Quand un mot grec est révélé par le latin et le syriaque
Subtitle: κατάδρομον
Author(s): BRIQUEL, Dominique , BRIQUEL-CHATONNET, Françoise
Journal: Bulletin de la Société de Linguistique de Paris
Volume: 115 Issue: 1 Date: 2020
Pages: 241-251
DOI: 10.2143/BSL.115.1.3289161

Abstract :
Un substantif grec κατάδρομος semble avoir existé, mais il n'est jamais attesté dans la littérature grecque, classique ou tardive. Son seul emploi mentionné dans les dictionnaires est en latin, dans la Vie de Néron de Suétone, où il semble désigner une corde de funambule. Il s'avère que le mot est également attesté en syriaque, également dans un contexte de jeux dans des textes historiographiques (Chronique du Pseudo-Dioclès et Chronique de Malalas) et avec un sens différent dans la Caverne des Trésors, à propos de l'expulsion d'Adam et Eve du paradis.


---

A Greek noun κατάδρομος seems to have existed, but it is never attested in Greek literature, classical or late. Its only use mentioned in dictionaries is in Latin, in the Life of Nero by Suetonius, where it seems to refer to a rope for tightrope walker. It turns out that the word is also attested in Syriac, also in the context of games, in historiographical texts (Chronicle of the Pseudo-Diocles and Chronicle of Malalas) and with a different meaning in the Cave of Treasures, about the expulsion of Adam and Eve from paradise.


---

Das griechische Substantiv κατάδρομος scheint existiert zu haben, wurde jedoch in der griechischen, klassischen oder späten Literatur nie belegt. Seine einzige Verwendung, die in den Wörterbüchern erwähnt wird, ist in lateinischer Sprache, im Leben von Nero von Suetonius, wo es auf ein Seil eines Seiltänzers hinweist. Es stellt sich heraus, dass das Wort auch auf Syrisch attestiert wird, auch im Zusammenhang mit Spielen in historiographischen Texten (Chronik des Pseudo-Diokles und Chronik von Malalas) und mit einer anderen Bedeutung in der Höhle der Schätze in der Erzählung der Vertreibung von Adam und Eva aus dem Paradies.


Download article