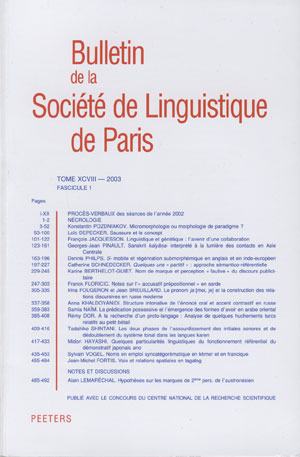 Document Details :

Title: Les constructions à verbe εἶναι «être» et participe présent
Subtitle: Status quaestionis et nouvelles propositions
Author(s): LOGOZZO, Felicia , TRONCI, Liana
Journal: Bulletin de la Société de Linguistique de Paris
Volume: 115 Issue: 1 Date: 2020
Pages: 191-239
DOI: 10.2143/BSL.115.1.3289160

Abstract :
Cet article porte sur les constructions en grec ancien formées de deux verbes, à savoir le verbe εἶναι «être» et le participe présent d'un autre verbe. Ces tournures sont généralement analysées comme périphrases verbales à valeur progressive, au même titre que l'anglais be going to, le français être en train de, etc. De ce point de vue morpho-syntaxique, les deux éléments se réduisent à une même unité verbale. Dans cette étude, en revanche, nous les considérons comme des marqueurs de certains types de constructions syntaxiques, à savoir les constructions thétiques ou clivées. L'analyse s'appuie sur le corpus constitué de toutes les occurrences de ces constructions dans le Nouveau Testament.


---

This paper deals with ancient Greek constructions formed by the verb εἶναι 'to be' and the present participle of another verb. These combinations are usually analysed as verbal periphrases with progressive meaning in the same way as English and French periphrases, formed by be going to and être en train de respectively. According to this approach, the verb εἶναι 'to be' and the present participle of ancient Greek combinations constitute a unitary verb phrase. In this study, the two verbs are analysed as elements of some specific constructions, namely thetic clauses and cleft sentences. The corpus used for this study consists of all occurrences of the target structure in the New Testament.


Download article