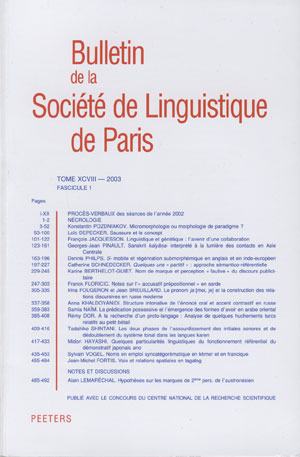 Document Details :

Title: Qu'est-ce qu'une construction?
Subtitle: Un état de la question
Author(s): BEN HAMAD, Leïla
Journal: Bulletin de la Société de Linguistique de Paris
Volume: 115 Issue: 1 Date: 2020
Pages: 103-140
DOI: 10.2143/BSL.115.1.3289157

Abstract :
Par un fait d'histoire aussi remarquable que singulier, la notion de construction renvoie à une grande diversité de perspectives dont il est souvent délicat de démêler les filiations. L'objectif du présent article est de faire le point sur cette notion, qui reste énigmatique malgré les fortunes diverses qu'elle a connues, et ainsi de renseigner sur l'état présent des connaissances en la matière. On revient d'abord sur la tradition grammaticale issue de l'Antiquité. On observe ensuite un ensemble de réflexions sur la notion dans le cadre de la grammaticalisation. Puis, on évoque le débat autour du concept forgé par les Grammaires de construction ainsi que les problématiques qui en découlent. Suit enfin une présentation de l'apport des Grammaires de Construction diachronique, et notamment de la théorie dite de la constructionalisation.


---

By a fact of history as remarkable as it is singular, the notion of construction refers to a great diversity of perspectives whose filiations are often difficult to disentangle. The objective of this article is to take stock of this notion, which remains enigmatic despite the diverse fortunes it has experienced, and thus to provide information on the current state of knowledge on the subject. First, we refer back to the grammatical tradition dating back to antiquity. We then look at a series of reflections on the notion in the context of grammaticalisation. Afterwards, we discuss the debate on the concept forged by the Grammars of Construction and the problems that arise from it. This is followed by a presentation of the contribution of diachronic construction grammars, and in particular the theory of constructionalization.


---

Durch eine ebenso bemerkenswerte wie singuläre Tatsache der Geschichte bezieht sich der Begriff der Konstruktion auf eine große Vielfalt von Perspektiven, deren Abstammung oft schwer zu entwirren ist. Ziel des vorliegenden Artikels ist es, eine Bestandsaufnahme dieses Begriffs zu machen, der trotz der vielfältigen Erfahrungen, die er gemacht hat, rätselhaft bleibt, und so über den aktuellen Wissensstand zu diesem Thema zu informieren. Zunächst kehren wir zur grammatikalischen Tradition zurück, die bis in die Antike zurückreicht. Anschließend betrachten wir eine Reihe von Überlegungen zum Begriff im Kontext der Grammatikalisierung. Dann diskutieren wir die Debatte über das von den Grammatiken der Konstruktion geschmiedete Konzept und die Probleme, die sich daraus ergeben. Es folgt eine Präsentation des Beitrags der diachronen Konstruktionsgrammatiken und insbesondere der Theorie der Konstruktionalisierung.


Download article