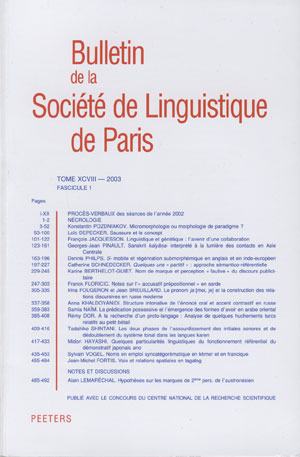 Document Details :

Title: Une lecture de Gustave Guillaume
Subtitle: L'aphasiologie de Gisèle Gelbert
Author(s): TOUTAIN, Anne-Gaëlle
Journal: Bulletin de la Société de Linguistique de Paris
Volume: 115 Issue: 1 Date: 2020
Pages: 61-102
DOI: 10.2143/BSL.115.1.3289156

Abstract :
Cet article s'attache à une analyse épistémologique de l'aphasiologie de Gisèle Gelbert, qui présente l'intérêt, pour le linguiste, de faire figure de mise en oeuvre clinique de l'autonomie de la linguistique, et s'articule au postulat neurolinguistique de l'existence d'un «espace linguistique» à la matérialité neurologiquement attestable. Cette analyse fait apparaître l'inconsistance d'une telle autonomie, liée à l'absence de définition et de construction théorique du langage. Elle montre ensuite qu'en conséquence, la théorie gelbertienne des troubles de type aphasique se caractérise par son empirisme et sa problématique religieuse, en quoi elle rejoint la neurobiologie contemporaine du langage, à laquelle elle se réfère dans une circularité caractéristique de toute neurolinguistique élaborée sans rupture avec la définition commune du langage.


---

This article focuses on an epistemological analysis of Gisèle Gelbert's aphasiology, which is of interest to the linguist as a clinical implementation of the autonomy of linguistics, and is based on the neurolinguistic postulate of the existence of a 'linguistic space' with a neurologically ascertainable materiality. This analysis reveals the inconsistency of such autonomy, due to the absence of any definition nor theoretical construction of language. It then shows that, as a consequence, the Gelbertian theory of aphasic-type disorders is characterized by its empiricism and its religious problematics, in which it resembles the contemporary neurobiology of language, to which it refers in a circularity characteristic of all neurolinguistics elaborated without breaking with the common definition of language.


---

Dieser Artikel schlägt eine epistemologische Analyse der Aphasiologie von Gisèle Gelbert vor, die für den Linguisten als klinische Implementation der Autonomie der Linguistik von Interesse ist und mit dem neurolinguistischen Postulat der Existenz eines 'linguistischen Raums' mit einer neurologisch nachprüfbaren Materialität verbunden ist. Diese Analyse offenbart die Unhaltbarkeit einer solchen Autonomie, die mit dem Fehlen einer Definition und theoretischen Konstruktion von Sprache zusammenhängt. Dann zeigt sich, dass die Gelbertsche Theorie der Störungen vom aphasischen Typ folglich durch ihren Empirismus und ihre religiöse Problematik gekennzeichnet ist, damit sie ist ähnlich an die zeitgenössische Neurobiologie der Sprache, auf die sie sich in einer für alle Neurolinguistik charakteristischen Zirkularität bezieht, die ausgearbeitet wurde ohne mit der gemeinsamen Definition von Sprache zu brechen.


Download article