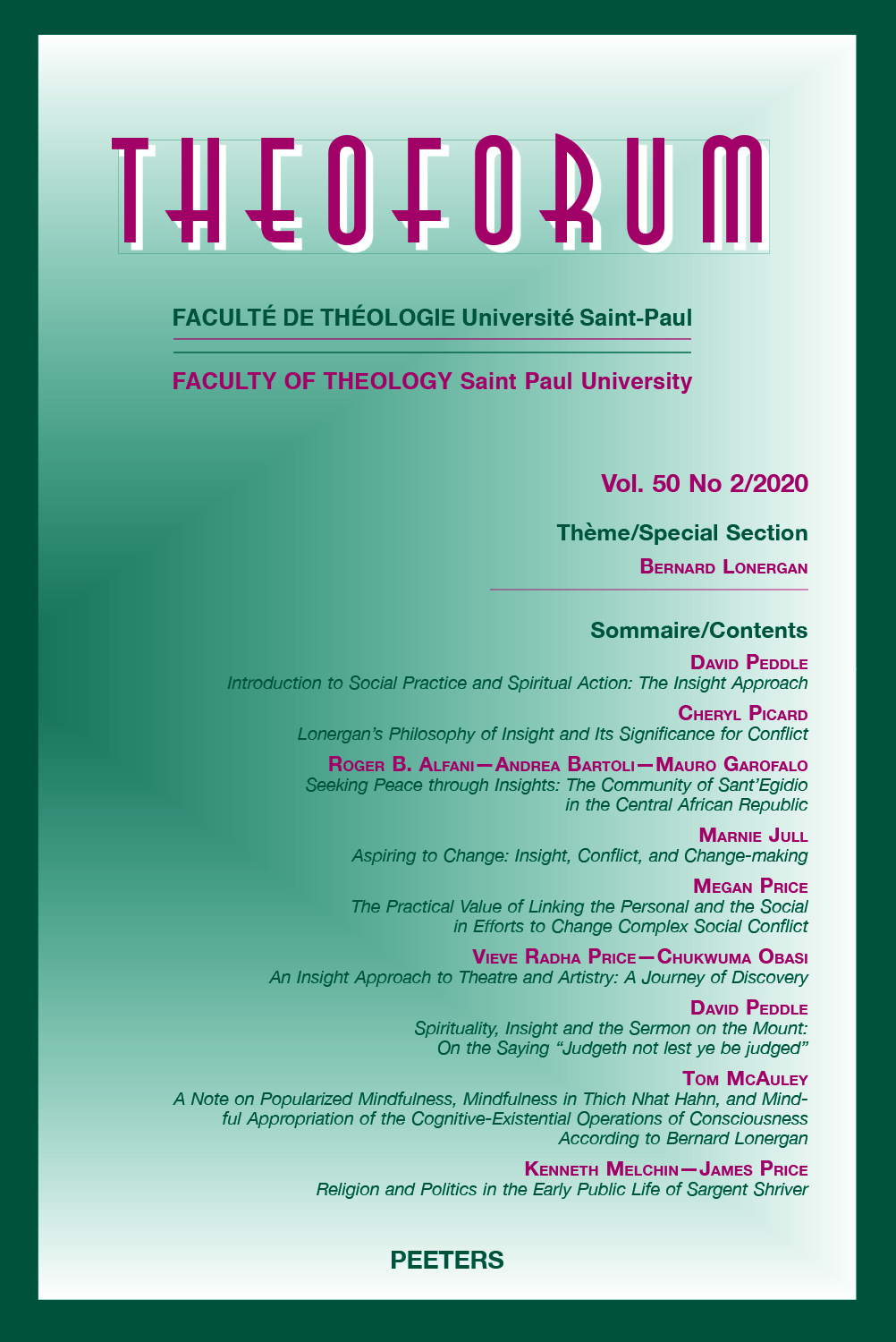 Document Details :

Title: L'interprétation des Psaumes dans l'oratorio Le Roi David d'Arthur Honegger et René Morax
Author(s): DUHAIME, Jean , CARON, Sylvain
Journal: Theoforum
Volume: 49 Issue: 2 Date: 2019
Pages: 259-296
DOI: 10.2143/TF.49.2.3288550

Abstract :
Les sections poétiques de l'oratorio Le Roi David, d'Arthur Honegger et René Morax comportent des «psaumes» et des «cantiques» inspirés du Psautier. Le bibliste Jean Duhaime et le musicologue S. Caron rappellent d'abord le contexte de création de l'oratorio (1921-1924), présentent le contenu et la structure du livret, et donnent une vue d'ensemble des fragments de psaumes qu'il contient. Ils analysent le travail de Morax (livret) et d'Honegger (musique) sur les Psaumes 18, 23 et 51 dans les mouvements No. 2-3, 19-20 et 24-25 de l'oratorio. Les textes témoignent d'une utilisation sélective et créatrice des Psaumes, dans une réécriture proche des traductions de Louis Segond (1910) et du Psautier de Genève (révision de 1729). Les musiques amplifient la portée expressive des poèmes en recourant à divers procédés tels que l'imitation de chants populaires ou des mélodies du Psautier de Genève, la réinvention des modèles classiques et l'ajout de touches d'orientalisme. Grâce à ce traitement interprétatif, l'auditeur de l'époque ou d'aujourd'hui peut s'associer aux émotions et sentiments de David et s'identifier intérieurement à cet homme transformé par l'épreuve.


---

The poetic sections of the oratorio Le Roi David, by Arthur Honegger and René Morax include 'psalms' and 'canticles' inspired by the Psalter. Biblical scholar Jean Duhaime and musicologist S. Caron first recall the context in which the oratorio was created (1921-1924), describe the content and structure of the libretto, and give an overview of the psalm fragments it contains. They analyze Morax's (libretto) and Honegger's (music) work on Psalms 18, 23 and 51 in movements No. 2-3, 19-20 and 24-25 of the oratorio. The texts testify to a selective and creative use of the Psalms, the rewriting of which is close to the French translations of Louis Segond (1910) and of the Geneva Psalter (rev. ed. of 1729). The music amplifies the expressive scope of the poems by using various processes such as imitating popular songs or melodies from the Geneva Psalter, reinventing classical models and adding touches of orientalism. Through this interpretive treatment, the listener, then and now, can associate with David's emotions and feelings and identify inwardly with this man transformed by adversity.


Download article