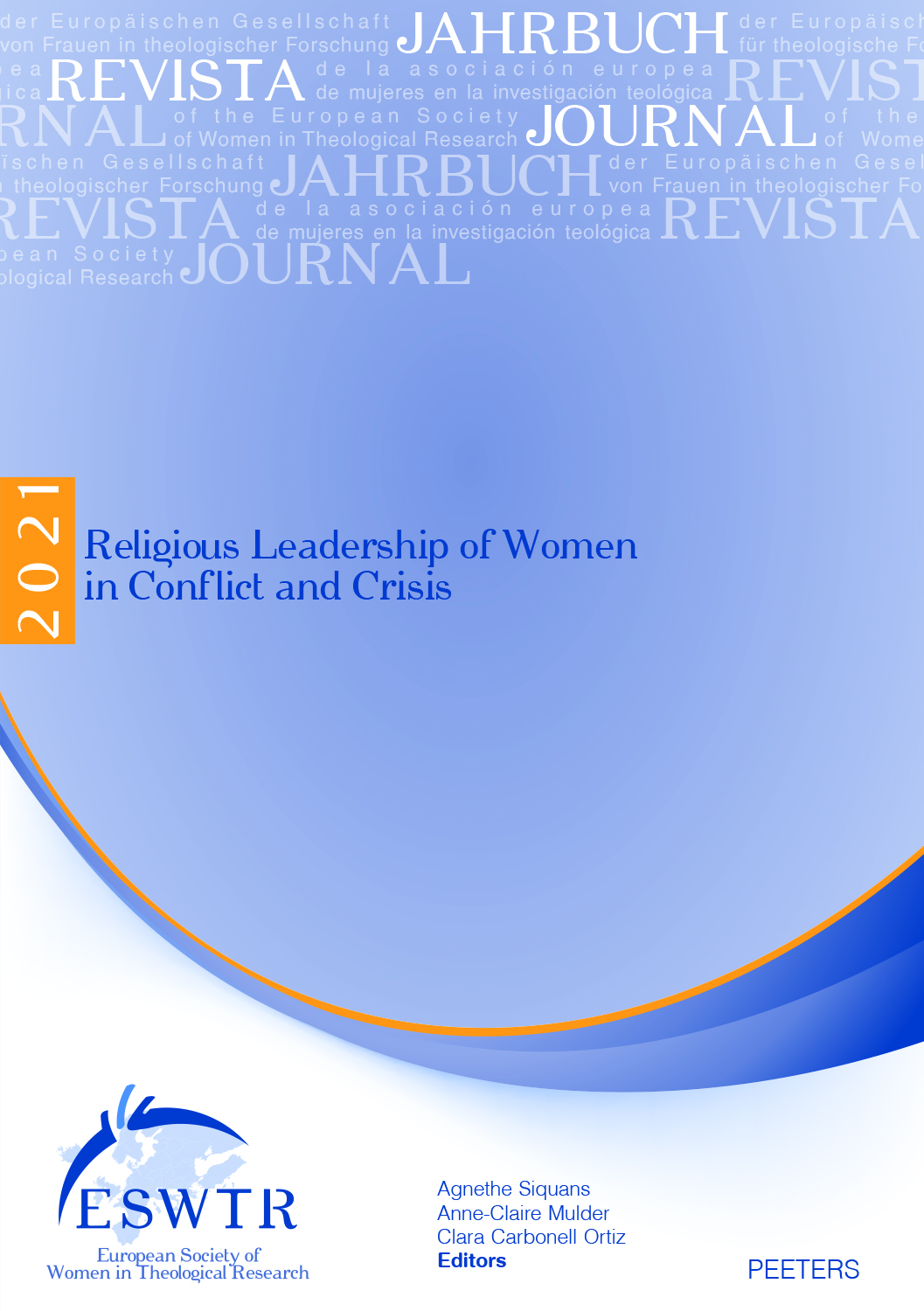 Document Details :

Title: Your Violence is not our Religion
Author(s): ŠIPKA, Magdalena
Journal: Journal of the European Society of Women in Theological Research
Volume: 27 Date: 2019
Pages: 95-104
DOI: 10.2143/ESWTR.27.0.3286557

Abstract :
In this article, I introduce the Czech Radical Feminist Christian Collective and its activities together with the spirituality underlying them. Its theology is based on the image of a vulnerable God who supports and guards the weak: i.e. a God seeking justice in places where people suffer. The Czech Republic has experienced a rapid growth of populist fascination in recent years. Today's president, Miloš Zeman, has become well known for his hate speech and populist, transphobic and Islamophobic statements. However, at the same time, the Czech feminist movement has also grown stronger and bigger. The state of affairs in the religious scene seems to reflect the general political situation in the country. The head of the Czech Catholic Church, Archbishop Dominik Duka, a political and ideological ally of the president, shares with latter a populist approach and anti-immigrant rhetoric, islamophobia and disrespect for the Czech 'Prague' intellectuals, political activists, NGOs, and Human Rights movements. The Czech Radical Feminist Christian Collective – the members call themselves RFK – was founded as a reaction to Archbishop Duka and his support for the National March for Life. The Collective defends women's right to abortion as well as refugees' right to seek asylum in the Czech Republic. Its declaration appeals for an understanding of the poor living and working conditions of potential mothers: Žít ne dřít (To live, not to drudge), and its activities centre around the ideas of solidarity and the holiness of Creation. While accused of disrespecting the Church ideal of the traditional family, sexual moral law or the superiority of Christianity over other religions, the Collective attempts to be non-hierarchical, supporting the vision of the Church as a community of believers.


---

In diesem Artikel wird das tschechische, Radikal-Feministische christliche Kollektiv, RFK, und seine Aktivitäten zusammen mit der ihm zugrunde liegenden Spiritualität diskutiert. Die Theologie basiert auf der Vorstellung von einem verwundbaren Gott, der die Schwachen stützt und schützt: Das heißt, Gott sucht Gerechtigkeit an den Orten, an denen Menschen leiden. Die Tschechische Republik erlebte in den letzten Jahren eine rasante Ausbreitung populistischer Ideen. Der derzeitige Präsident Miloš Zeman ist bekannt für Hassreden wie für seine populistischen, transphobischen und islamophoben Behauptungen. Gleichzeitig ist jedoch auch die tschechische feministische Bewegung erstarkt und gewachsen, nicht zuletzt in der Auseinandersetzung mit den post-faschistischen Kräften des Landes. Die Situation der religiösen Szene scheint eine allgemeine politische Situation im Land widerzuspiegeln. Das Oberhaupt der tschechisch-katholischen Kirche, Erzbischof Dominik Duka, ist ein politischer und ideologischer Verbündeter von Präsident Miloš Zeman. Beide teilen einen populistischen Ansatz basierend auf Anti-Immigration, Islamophobie sowie einer respektlosen Rhetorik gegenüber tschechischen Intellektuellen, politischen Aktivisten, NGOs und Menschenrechtsbewegungen. Das tschechische radikal-feministische christliche Kollektiv wurde als Reaktion auf die Unterstützung des tschechischen 'Marsch für das Leben' durch den Erzbischof Dominik Duka gegründet. RFK verteidigt das Recht von Frauen auf Abtreibung sowie das Recht von Flüchtlingen auf Asyl in der Tschechischen Republik zu beantragen. Die Aussagen dieser Gruppe fordern Verständnis und Veränderung der schlechten Lebensbedingungen werdender Mütter. Das Kollektiv hat auch Protestaktionen gegen die schlechten Arbeitsbedingungen von Arbeitnehmer*innen mit niedrigem Einkommen organisiert, die als Žít ne dřít (Leben, nicht Schuften) bezeichnet werden. Ihre Aktivitäten konzentrieren sich auf die Ideen der Solidarität und der Heiligkeit der Schöpfung. Dem RFK wurde vorgeworfen, das Ideal der Kirche hinsichtlich traditionellen Familienwerte von Sitte, Moral und Sexualität zu missachten und die Überlegenheit des Christentums gegenüber anderen Religionen nicht zu respektieren. Das Kollektiv versucht jedoch ausdrücklich nicht-hierarchisch zu denken und die Vision der Kirche als Gemeinschaft von Glaubenden zu unterstützen.


---

En este artículo, presento el Colectivo Cristiano Feminista Radial Checo y sus actividades junto con la teología que le subyace. Dicha teología está basada en la imagen de un Dios vulnerable que apoya y guarda al débil: i.e., un Dios busca justicia en los lugares en los que la gente sufre. La República Checa ha experimentado un rápido crecimiento de fascinación populista en los últimos años. El actual presidente Miloš Zeman se ha hecho conocido por sus afirmaciones populistas, tránsfobas e islamófobas y su discurso de odio. Sin embargo, el movimiento feminista checo también se ha fortalecido y crecido al mismo tiempo que lo han hecho los poderes postfascistas. La situación de la escena religiosa parece reflejar una situación política general en el país. La cabeza de la Iglesia Católica Checa, el arzobispo Dominik Duka, es un aliado político e ideológico del presidente Miloš Zeman. Lo que tienen en común es una aproximación populista así como una retórica antiinmigración, islamófoba e irrespetuosa hacia 'los intelectuales checos de Praga', activistas políticos, ONGs y movimientos por los Derechos Humanos. El Colectivo Cristiano Feminista Radical Checo – sus miembros se llaman a sí mismas RFK – fue fundado como reacción al arzobispo Dominik Duka y su apoyo a la Marcha Nacional Checa por la Vida. Este colectivo feminista defiende el derecho de las mujeres al aborto así como el derecho a solicitar asilo para personas refugiadas en la República Checa. La declaración de este colectivo solicita una comprensión de las malas condiciones de vida de las futuras madres. El colectivo también ha organizado protestas contra las malas condiciones laborales de trabajadores con bajos ingresos llamados Žít ne dřít (Vivir, no trabajar como un esclavo). Todas estas actividades están unificadas alrededor de ideas de solidaridad y santidad de la Creación. La RFK fue acusada de faltar el respeto al ideal de la Iglesia sobre la familia tradicional, la ley moral sexual o la superioridad del cristianismo con respecto a otras religiones. Pero este colectivo intenta no ser jerárquico, apoyando la visión de la Iglesia como una comunidad de creyentes.


Download article