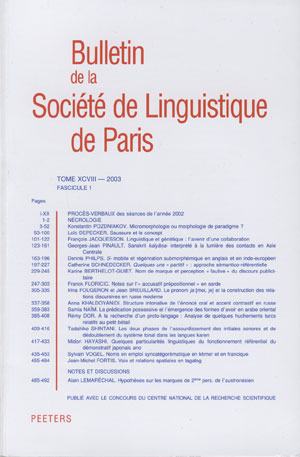 Document Details :

Title: Paléoroman Daras (Pseudo-Frédégaire, VIIe siècle)
Subtitle: De la bonne interprétation d'un jalon de la romanistique
Author(s): NAHON, Peter
Journal: Bulletin de la Société de Linguistique de Paris
Volume: 112 Issue: 1 Date: 2017
Pages: 123-130
DOI: 10.2143/BSL.112.1.3271880

Abstract :
À partir de l'examen renouvelé d'un passage de la chronique latine dite du Pseudo-Frédégaire (VIIe siècle), le présent article se propose de redéfinir la chronologie de la grammaticalisation de la périphrase latine Verbe infinitif + HABERE, et de son évolution morphologique vers les formes du futur synthétique communes à presque toutes les langues romanes. C'est en effet dans ce texte qu'on en trouve la plus ancienne occurrence, sous la forme daras (pour lat. dabis). Ce mot paraît être en outre le tout premier exemple roman de parétymologie par délocutivité appliquée à un toponyme, procédé également voué à connaître une longue postérité.


---

Based on a new approach of a Latin text from the so-called chronicle of Fredegar (7th century), this article aims to redefine the chronology of the grammaticalization of the Latin periphrase Infinitive + HABERE and its evolution towards the Romance synthetic future. This morphological pattern actually appears first in this text, with the verb daras 'you shall give' (instead of Latin dabis). Moreover, this text appears to be the earliest example of a Romance paretymology of a toponym explained by delocutivity, a process widely resorted to later on.


---

Locum hic perscrutamur Chronicorum quae Fredegario quodam (saec. VII) adscribuntur ut proponamus novam rationem de ortu περιφράσεως Latinae, quae constat in infinitivo cum verbo HABERE, necnon de eius concretione in futuri temporis formas, quae hodie inveniuntur in cottidianis Romaniae totius fere sermonibus. Cuius rei videlicet primum testimonium repertum est apud Fredegarium istum, cum scribit daras pro dabis. Accedit illud etiam quod hic locus esse videtur antiquissimum omnium exemplorum ἐτυμολογίας vulgaris a dicto derivatae quae adhibeatur ad toponymum aliquod, quod saepe usuvenit in posteriorum litteris.


Download article