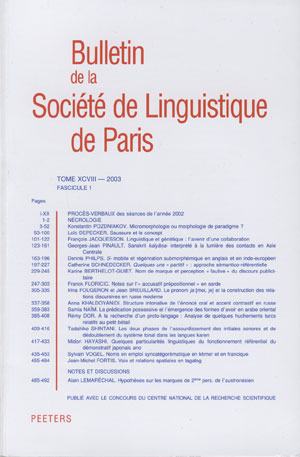 Document Details :

Title: Quelques suggestions pour une nouvelle analyse de la diathèse (et du TAM) dans le système du futur en grec ancien
Author(s): TRONCI, Liana
Journal: Bulletin de la Société de Linguistique de Paris
Volume: 112 Issue: 1 Date: 2017
Pages: 77-122
DOI: 10.2143/BSL.112.1.3271879

Abstract :
Dans cet article, nous proposons quelques pistes d'analyse de la voix dans le futur du grec ancien, en comparant les textes de l'époque classique aux textes homériques. Les deux voix moyennes attestées à l'époque classique (futurs à la flexion moyenne et futurs affixés) possèdent des origines différentes: si l'une émane de l'indoeuropéen, l'autre est due à une innovation morphosyntaxique calquée sur le modèle de l'aoriste. Nous examinons la manière dont cette innovation s'est produite et s'est répandue dans le système. En particulier, l'occurrence de la flexion moyenne dans les futurs affixés, qui portent les marques affixales de la diathèse moyenne, sera discutée en comparant les deux systèmes du futur et de l'aoriste. Cela nous amènera à repenser aussi les valeurs temporelles, aspectuelles et modales du futur.


---

In this article, I will discuss some issues concerning voice in the Ancient Greek future by comparing Classical Greek with Homeric Greek. Two middle voices are attested in Classical Greek, (middle-inflected futures and affixed futures). In Homeric Greek, by contrast, only the former type is attested. Middle-inflected futures are inherited from Indo-European, whereas affixed futures are an innovation, modeled on the aorist stem. I will propose an analysis of how these new forms arose and spread in Classical Greek, with special emphasis on their distribution with respect to middle-inflected futures. The analysis of the role of middle inflection in these forms, which are marked by an affix for diathesis, will be made by reconsidering also the relationships between voice and other verbal categories, such as tense, aspect, and mood in the Ancient Greek future system.


---

L'articolo tratta della voce verbale nel sistema del futuro del greco antico. Due diverse marche della voce media sono attestate in greco classico: i futuri con flessione media e i futuri con affisso. Il primo tipo è arcaico ed è documentato già nei poemi omerici, mentre il secondo è un'innovazione di epoca tardo-omerica o post-omerica, divenuta produttiva in epoca classica. Modello dell'innovazione sono le forme dell'aoristo con affisso, da cui tuttavia i futuri affissati divergono quanto alla flessione, attiva nell'aoristo e media nel futuro. La relazione che lega il futuro alla voce media, testimoniata sia dai futuri ad affisso sia dai media tantum offre l'occasione per ripensare la classe del futuro nei suoi valori temporali, aspettuali e modali.


Download article