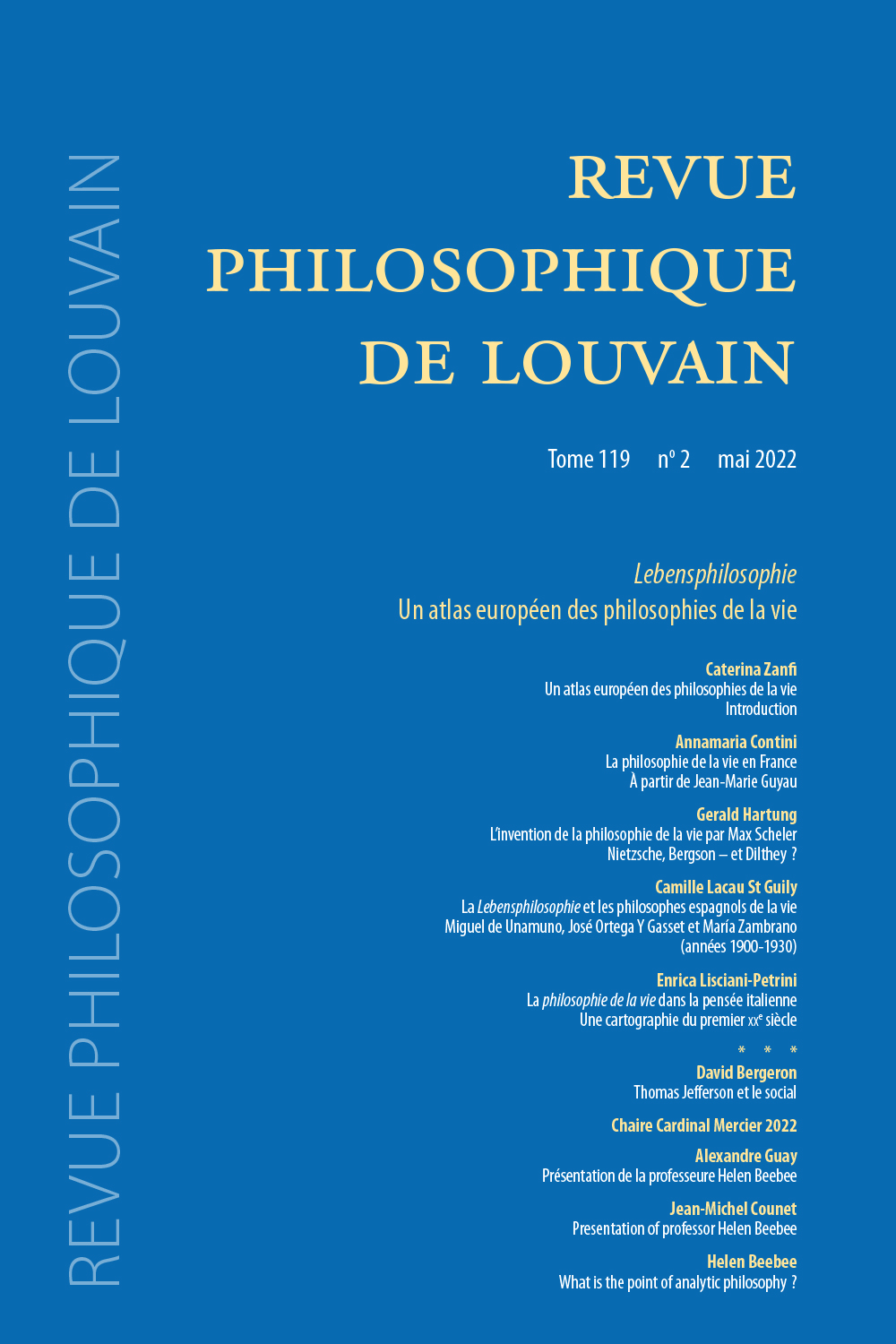 Document Details :

Title: Le(s) nom(s) de la vie
Subtitle: De l'anonymat à la pseudonymie
Author(s): BRUNFAUT, Simon
Journal: Revue Philosophique de Louvain
Volume: 115 Issue: 2 Date: mai 2017
Pages: 305-325
DOI: 10.2143/RPL.115.2.3245504

Abstract :
Ce texte vise à comprendre le rapport de Michel Henry au nom. Si la phénoménologie matérielle se veut être une «pensée de la vie», il n'en demeure pas moins que le choix de ce vocable de «vie» reste relativement inexpliqué à travers l'œuvre et recèle de par ce fait de multiples ambiguïtés. Par ailleurs, Michel Henry utilisera quelques fois d'autres noms pour caractériser ce qu'il entend par la vie subjective pathétique, mélangeant sans les distinguer, l'hétéronymie, la synonymie et la pseudonymie. L'hypothèse de cet article est qu'il existe un double rapport au nom chez Michel Henry: l'un qui refuse l'anonymat et le condamne comme étant l'erreur principale de la philosophie occidentale qui a entrainé l'oubli de la vie subjective; l'autre qui consiste à utiliser plusieurs noms pour exprimer le même qui se différencie, c'est-à-dire la vie. Or cette pluralisation des noms de la vie permet au passage de repenser le rapport au monde à partir du détournement du langage commun et de la mise en avant de la langue originelle du corps pathétique.


---

This article seeks to understand the relationship of Michel Henry to the name. If material phenomenology aims to be a «thought of life», nonetheless the choice of this term «life» remains relatively unexplained throughout his work and for this reason contains numerous ambiguities. Furthermore, Michel Henry will sometimes use other names to characterise what he understands by subjective pathetic life, using without distinction heteronomy, synonymy, and pseudonymy. The hypothesis put forward in this article is that there is a twofold relationship to the name in Michel Henry: one which refuses anonymity and condemns it as being the main error of Western philosophy which brought about forgetfulness of subjective life; the other which consists in using several names to express the same which differentiates itself, that is to say, life. Now this pluralisation of the names of life makes it possible at the same time to rethink our relationship to the world setting out from the misuse of ordinary language and the highlighting of the original language of the pathetic body.


Download article