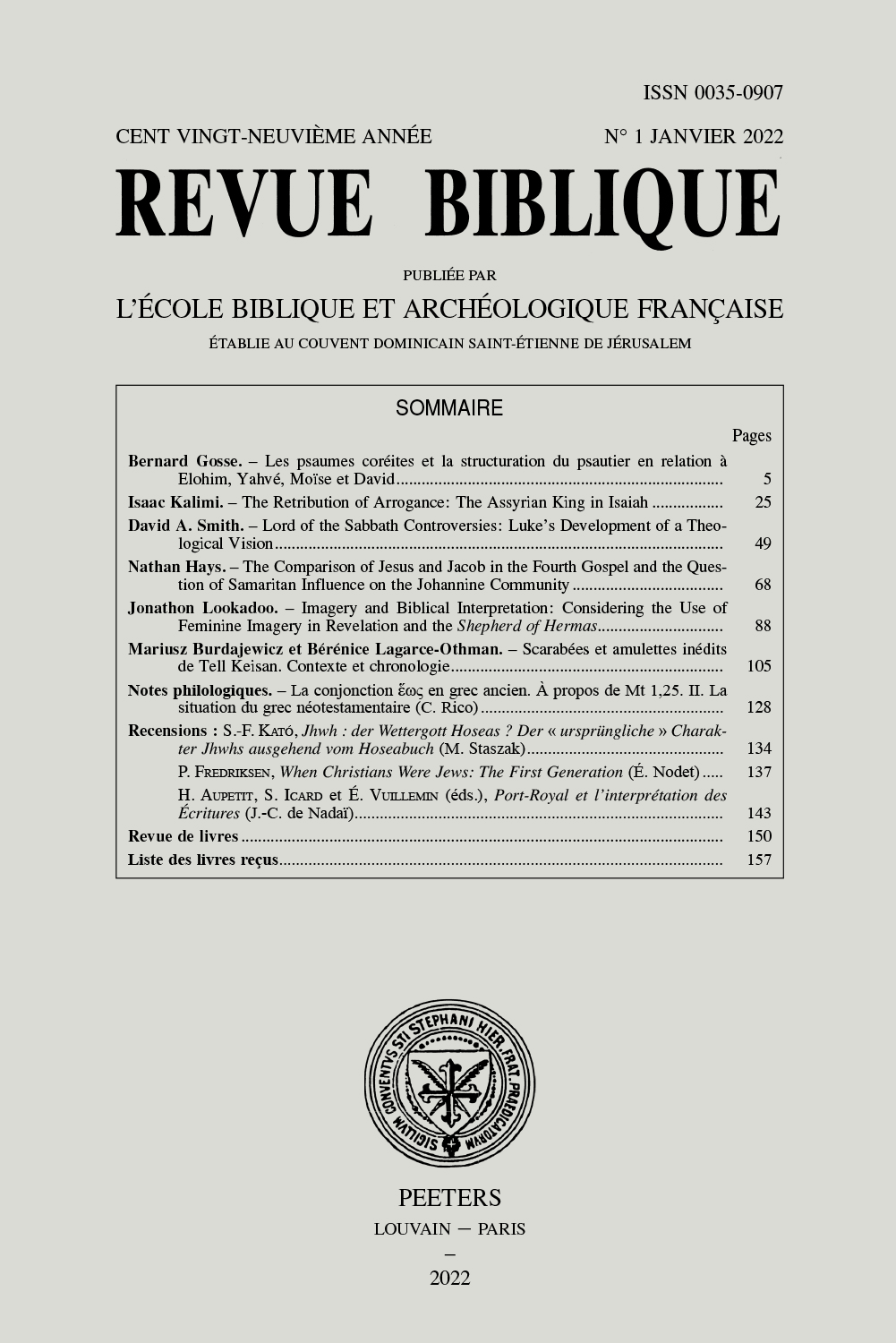 Document Details :

Title: The Story about the Murder of the Prophet Zechariah in the Gospels and its Relation to Chronicles
Author(s): KALIMI, Isaac
Journal: Revue Biblique
Volume: 116 Issue: 2 Date: 2009
Pages: 246-261
DOI: 10.2143/RBI.116.2.3206446

Abstract :
The story on the murder of Zechariah in Matt 23:34-35//Luke 11:50-51 differs from that in 2 Chr 24:20-22. This study investigates whether or not the former refers to the latter. The expression 'from… Abel to… Zechariah' in the Gospels, probably indicates the borders of Hebrew Scriptures' collection (Genesis to Chronicles), and confirms a rising tripartite canon in the 1st century C.E. Though the precise content of Ketuvim cannot be discerned, Chronicles was included and located at the end of that collection. The difference between Chronicles and the Gospels concerning the name of Zechariah's father is result of (a) the Evangelist mistakenly changed the name, or (b) he changed it purposely in order to identify the less-known Zechariah of the First Temple era with the well-known Zechariah of the early Second Temple era. The study also interprets the divergence between Matthew and Chronicles concerning the location of the murder. Probably, Matt 23:33-37 is connected also with 2 Chr 36:15-16. This integrates with the criticism of Jesus' followers against the Jews who rejected him as Messiah, and the Israelites' persecution of prophets that recurrently stressed in New Testament because of Jesus crucifixion. Though Abel was murdered before the existence of Jews, still they were assigned blame for it and will be punished.


---

L'histoire du meurtre de Zacharie en Matt. 23, 34-35 // Lc 11, 50-51 diffère de celle en 2 Chr 24, 20-22. L'article se pose la question si les premiers se réfèrent au deuxième. L'expression «d'Abel à… Zacharie» dans les Évangiles indique probablement les limites des composantes des Écritures hébraïques (Genèse à Chroniques), et confirme l'émergence d'un canon tripartite au premier siècle A.D. Bien que le contenu précis des Ketuvim ne puisse être discerné, les Chroniques y ont été intégrées, et placées en final. La différence entre Chroniques et Évangiles concernant le nom du père de Zacharie résulte soit de ce que l'Évangéliste ait par inadvertance changé le nom, soit qu'il l'ait changé délibérément, pour identifier le Zacharie pré-éxilique, moins connu, avec le Zacharie de la période perse, plus célèbre. L'étude se penche aussi sur la divergence entre Matt. et Chr. à propose de la localisation du meurtre. Il se peut que Matt. 23, 33-37 soit aussi en lien avec 2 Chr. 36, 15-16. Ceci est cohérent avec les critiques des disciples de Jésus contre les Juifs qui le rejettent comme Messie, et la persécution des prophètes par les Hébreux, – qui est régulièrement soulignée dans le N.T. du fait de la crucifixion de Jésus. Bien qu'Abel ait été tué avant l'existence de Juifs, ils en étaient néanmoins tenus responsables, et susceptibles d'en être punis.


Download article