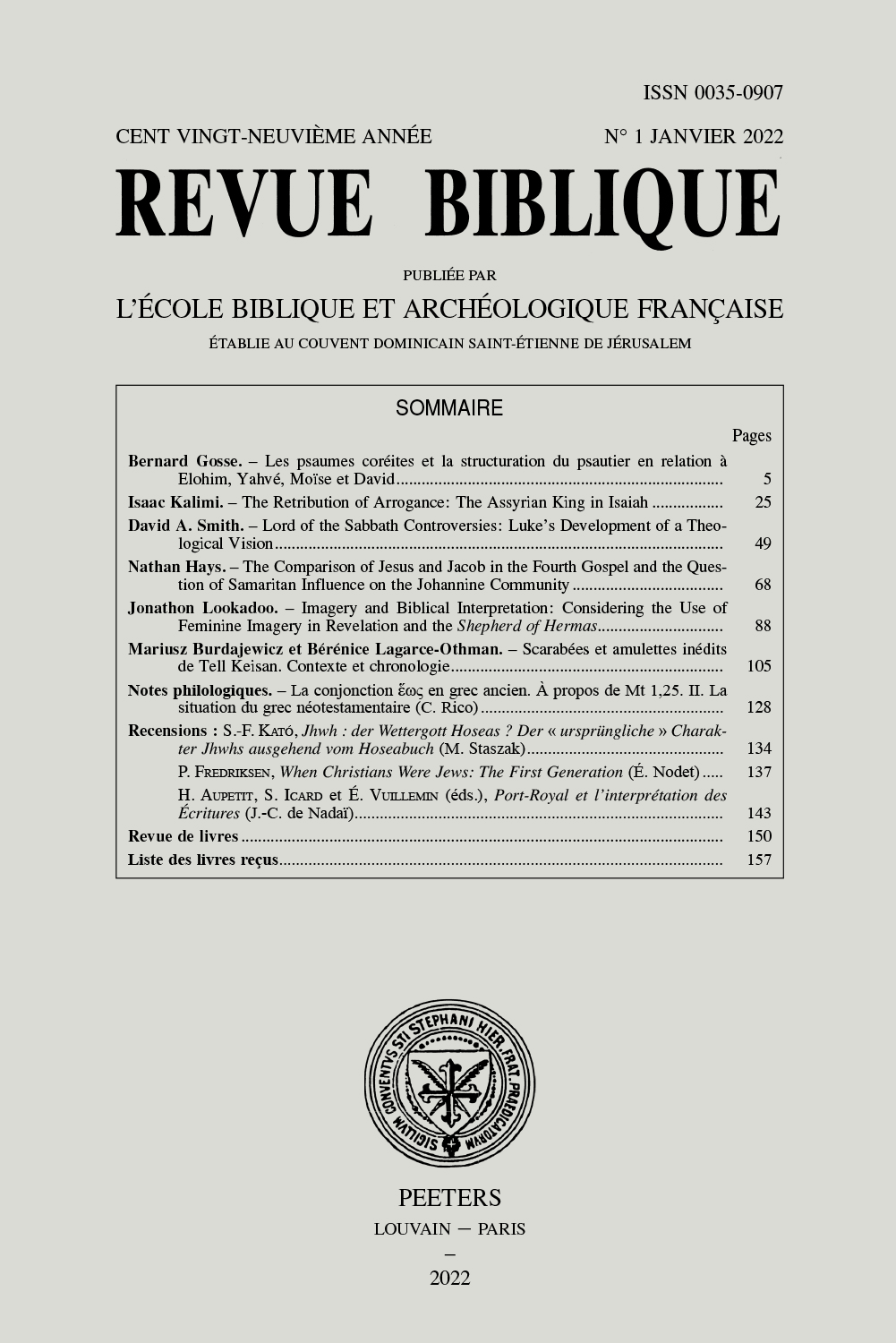 Document Details :

Title: «Tout a été créé par lui et pour lui» (Col 1,16)
Subtitle: Sens et portée d'une proclamation christologique
Author(s): GOURGUES, Michel
Journal: Revue Biblique
Volume: 118 Issue: 3 Date: 2011
Pages: 422-442
DOI: 10.2143/RBI.118.3.3206314

Abstract :
Au cœur de «l'hymne de Colossiens» (Col 1,15-20), Col 1,16, fait suivre la proclamation plus familière selon laquelle tout a été créé par le Christ, d'une autre, unique dans le Nouveau Testament, selon laquelle «tout a été créé pour lui, ou: en vue de lui», panta ektistai eis auton. Pour en saisir le sens, il faut s'en remettre au reste du passage qui paraît bien relever de l'auteur de la lettre ainsi qu'au reste de celle-ci. Créé à travers la médiation du Christ, l'univers entier reste orienté vers lui comme vers son point ultime d'achèvement. Affirmant ainsi la portée cosmique et universelle de la seigneurie eschatologique du Christ, sans plus d'explications, cette vision laisse le champ libre aux théologiens qui tentent de rendre compte des implications de cette donnée de foi, comme le fit naguère Teilhard de Chardin en se référant à une vision du monde marquée par une théorie de l'évolution.


---

At the heart of the so-called 'Colossian hymn' (Col 1:15-20), Col 1:16, after the rather frequent proclamation according to which everything has been created by Christ, makes the claim unique to the New Testament that 'everything has been created for him' or 'in view of him', panta ektistai eis auton. In order to discern its meaning, the remainder of the passage – apparently written by the author of Colossians – along with the rest of the letter require careful reading. The universe as a whole, created through the mediation of Christ, is oriented toward Christ as its ultimate point of achievement. This vision affirms the universal and cosmic meaning of the eschatological lordship of Christ, without giving any further explanation. It so leaves the field open to theologians who, like Teilhard de Chardin, try to understand the significance of this datum of faith by evoking a vision of the world inspired by the theory of evolution.


Download article