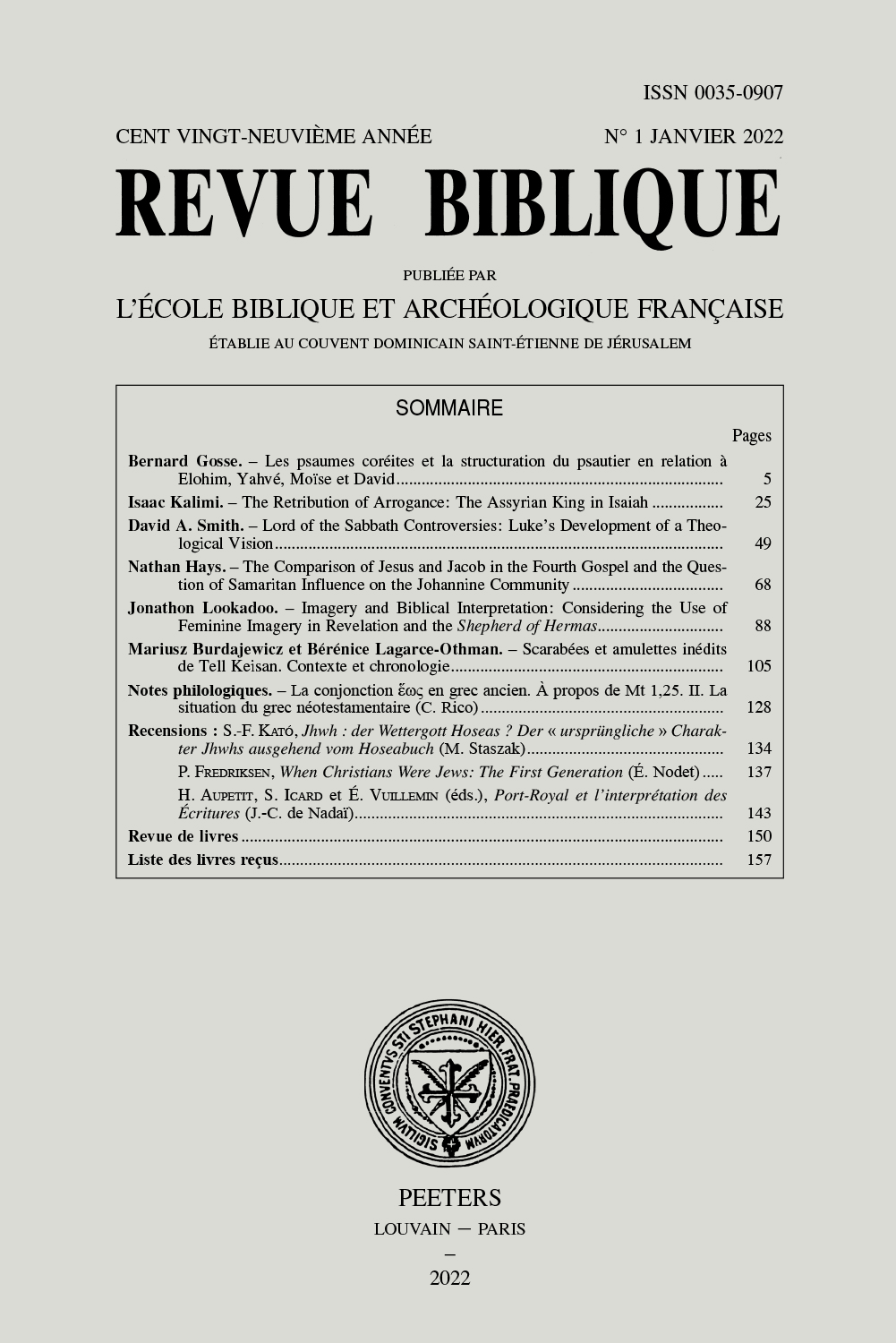 Document Details :

Title: Two Reading Options in Psalm 114
Subtitle: A Communication-Oriented Exegesis
Author(s): VAN WIERINGEN, Archibald L.H.M.
Journal: Revue Biblique
Volume: 122 Issue: 1 Date: 2015
Pages: 46-57
DOI: 10.2143/RBI.122.1.3149559

Abstract :
In traditional diachronic and synchronic exegesis, just one single meaning is attributed to a text. Communication-oriented exegesis, however, gives attention to the poly-interpretability of texts, based on the dynamics of the communication as evoked by the text. Various reading options can be possible at the same time. I will study Psalm 114 in order to demonstrate the poly-interpretability of the communication. I will show that the verses 7-8 can be read simultaneously as communicatively belonging to both the text-internal author as well as to one of the textual characters. If it is the text-internal author who speaks the verses 7-8, it is he who answers the characters about the acts performed by the God of Jacob. The text-internal reader is witness to the text-internal author's statement and is, in that way, informed as well. If it is the character ארץ who speaks the verses 7-8, a chain of expressions about the acts performed by the God of Jacob arises, into which the text-internal reader is invited to join.


---

Dans l'exégèse traditionnelle diachronique et synchronique, un seul sens est attribué à un texte. Cependant, la communication-oriented exegesis accorde une attention à l'interprétation multiple des textes, fondée sur la dynamique de la communication évoquée par le texte. Diverses options de lecture peuvent être possibles en même temps. Je vais étudier le Psaume 114 afin de montrer l'interprétation multiple de la communication. Je vais montrer que les versets 7-8 peuvent être lus simultanément, d'un point de vue de la communication, comme appartenant à l'auteur (the text-internal author) comme aussi bien à l'un des personnages textuels. Si c'est l'auteur qui dit les versets 7-8, c'est lui qui répond aux personnages sur les actes accomplis par le Dieu de Jacob. Le lecteur (the text-internal reader) est témoin de la déclaration de l'auteur et est, de cette façon, éclairé. Si c'est le personnage ארץ qui parle aux versets 7-8, émane alors une chaîne d'expressions sur les actes accomplis par le Dieu de Jacob, chaîne de respect à laquelle le lecteur est invité à se joindre.


Download article