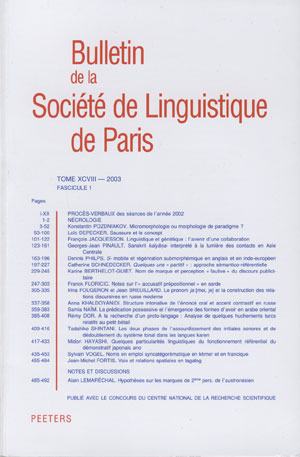 Document Details :

Title: De la circularité des rapports entre linguistique et sémiologie ou sémiotique
Subtitle: Pour une sémiotique saussurienne?
Author(s): TOUTAIN, Anne-Gaëlle
Journal: Bulletin de la Société de Linguistique de Paris
Volume: 110 Issue: 1 Date: 2015
Pages: 115-148
DOI: 10.2143/BSL.110.1.3132107

Abstract :
Cet article s'attache à l'examen des sémiotiques jakobsonienne, benvenistienne et hjelmslevienne qui, bien que singulières et différentes les unes des autres, ont deux traits caractéristiques en commun: leur incapacité à rendre compte du caractère fondamental du langage, par ailleurs unanimement reconnu, et la dualité de perspective qu'elles manifestent, entre démarche de spécification et construction du caractère fondamental du langage, dualité qui fait figure de circularité. Cette dualité est en effet d'autant plus remarquable qu'elle n'est pas sans évoquer la contradiction constitutive de la sémiologie saussurienne, consistant à inscrire la linguistique dans la sémiologie tout en faisant de la première le «patron» de la seconde. Or, la sémiologie saussurienne se distingue précisément de la sémiotique structuraliste par la définition du signe et de la langue qui en est corrélative, et qui permet quant à elle de rendre compte du caractère fondamental du langage parmi les autres systèmes de signes. Reste cependant, sur cette base, à élaborer une sémiotique, ce qui implique en premier lieu de redéfinir cette discipline.


---

This article presents an analysis of the Jakobsonian, Benvenistian and Hjelmslevian semiotic theories, which, although singular and different from each other, have two common characteristics: their inability to account for the fundamental character of language — which they all acknowledge, moreover — and the duality, not to say circularity, of their perspective, which fluctuates between specification and construction of the fundamental character of language. This duality is indeed all the more noticeable as it is reminiscent of the fundamental contradiction of Saussurean semiology, which places linguistics within the framework of semiology while at the same time treating the latter as secondary to the former. And it just so happens that Saussurean semiology sets itself apart from structuralist semiotics due to its definition of the sign and to the resulting definition of language (langue), which makes it possible to account for the fundamental character of language among other sign systems. However, there remains a need to elaborate a theory of semiotics on this basis, which first calls for a redefinition of this discipline itself.


---

Dieser Artikel befasst sich mit den jeweiligen jakobsonischen, benvenistischen und hjelmslevischen Semiotiken, die, wenn auch eigenartig und unterschiedlich, zwei gemeinsame Merkmale vorzeigen: zum einen ihre Unfähigkeit, den ansonsten einstimmig anerkannten grundlegenden Charakter der Sprache zu erläutern, zum anderen ihre duale Perspektive zwischen Spezifizierung und Aufbau des grundlegenden Charakters der Sprache, eine Dualität, die als Kreisvorgang vorkommt. Letztere ist umso bedeutsamer, als sie an den Widerspruch der saussuresischen Semiologie erinnert, die in der Sprachwissenschaft als zugleich Teil und Muster («patron») der Semiologie gilt. Gerade in diesem Punkt unterscheidet sich die saussuresische Semiologie von der strukturalistischen Semiotik durch ihre Definition des Zeichens und die daraus folgende Definition der Sprache und ihre Erklärung des grundlegenden Charakters der Sprache im Vergleich zu den übrigen Zeichensystemen. Von diesen Voraussetzungen ausgehend soll jedoch eine Semiotik erarbeitet werden, was vor allem erfordert, diese Disziplin erneut zu definieren.


Download article