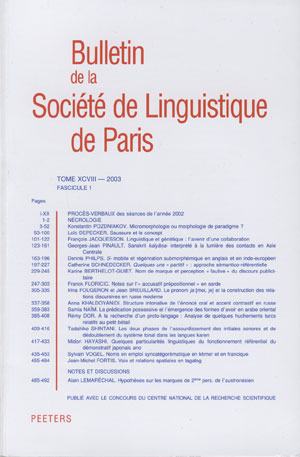 Document Details :

Title: Retour sur le parfait périphrastique du vieux perse
Author(s): BAVANT, Marc
Journal: Bulletin de la Société de Linguistique de Paris
Volume: 109 Issue: 1 Date: 2014
Pages: 329-371
DOI: 10.2143/BSL.109.1.3064313

Abstract :
Le parfait périphrastique des verbes transitifs en vieux perse a fait l'objet de nombreuses études. Face à ce tour construit sur un participe passé passif avec un agent au génitif-datif, et qui a évolué, dans certaines langues iraniennes, en un prétérit actif de construction ergative, plusieurs auteurs ont exprimé des vues divergentes quant à la voix que cette forme était censée rendre. Le présent article commence par rappeler les limitations de nos connaissances sur la langue des souverains achéménides et inventorie les différents types d'occurrences dudit tour périphrastique. Il passe ensuite en revue une dizaine d'approches susceptibles de livrer des arguments en faveur du caractère actif ou passif du tour, tous arguments utilisés à divers degrés et dans divers buts par des auteurs reconnus. Cette étude montre que la plupart des arguments ne sont pas convaincants en soi, mais le vaste tour d'horizon effectué en les analysant permet de dégager plusieurs certitudes et directions de recherche futures.


---

The periphrastic perfect of transitive verbs in Old Persian has long been an object of study. Faced with this turn of phrase, based on a passive past participle with the agent in the genitive-dative case, and which, in some Iranian languages, has evolved into an active preterite with ergative alignment, scholars have had diverging views regarding the voice which this construct was supposed to express. This article begins by reviewing the limits of our knowledge of the Achaemenid rulers' language and by listing the various token types of this periphrastic turn. It then looks in more detail at close to a dozen approaches which are likely to provide arguments in favour of either an active or passive nature, arguments which, to a greater or lesser degree and for various reasons, are called upon by eminent scholars. This study shows that most of the arguments are not convincing per se, but that the vast overview which it provides in analysing them makes it possible to establish several firm conclusions and directions for future research.


---

El perfet perifràstic dels verbs transitius en persa antic ha donat lloc a molts estudis. Davant d'aquest gir, basat en un participi passat passiu amb un agent al genitiu-datiu, i que ha evolucionat, en algunes llengües iranianes, en un pretèrit actiu de construcció ergativa, diversos autors han donat punts de vista divergents respecte a la veu que aquesta forma devia representar. Comencem aquest article recordant les limitacions dels nostres coneixements sobre la llengua dels sobirans aquemènides i fem un inventari dels diferents tipus d'ocurrències del dit gir perifràstic. A continuació revisem una desena de plante jaments susceptibles de donar arguments a favor del caràcter actiu o passiu del gir. Tots aquests arguments han estat utilitzats a diversos nivells i amb diversos objectius per autors reconeguts. Aquest estudi demostra que la majoria dels arguments no són convincents en si mateixos, però l'ampli examen efectuat analitzant-los permet extreure algunes certeses i direccions de recerca futures.


Download article