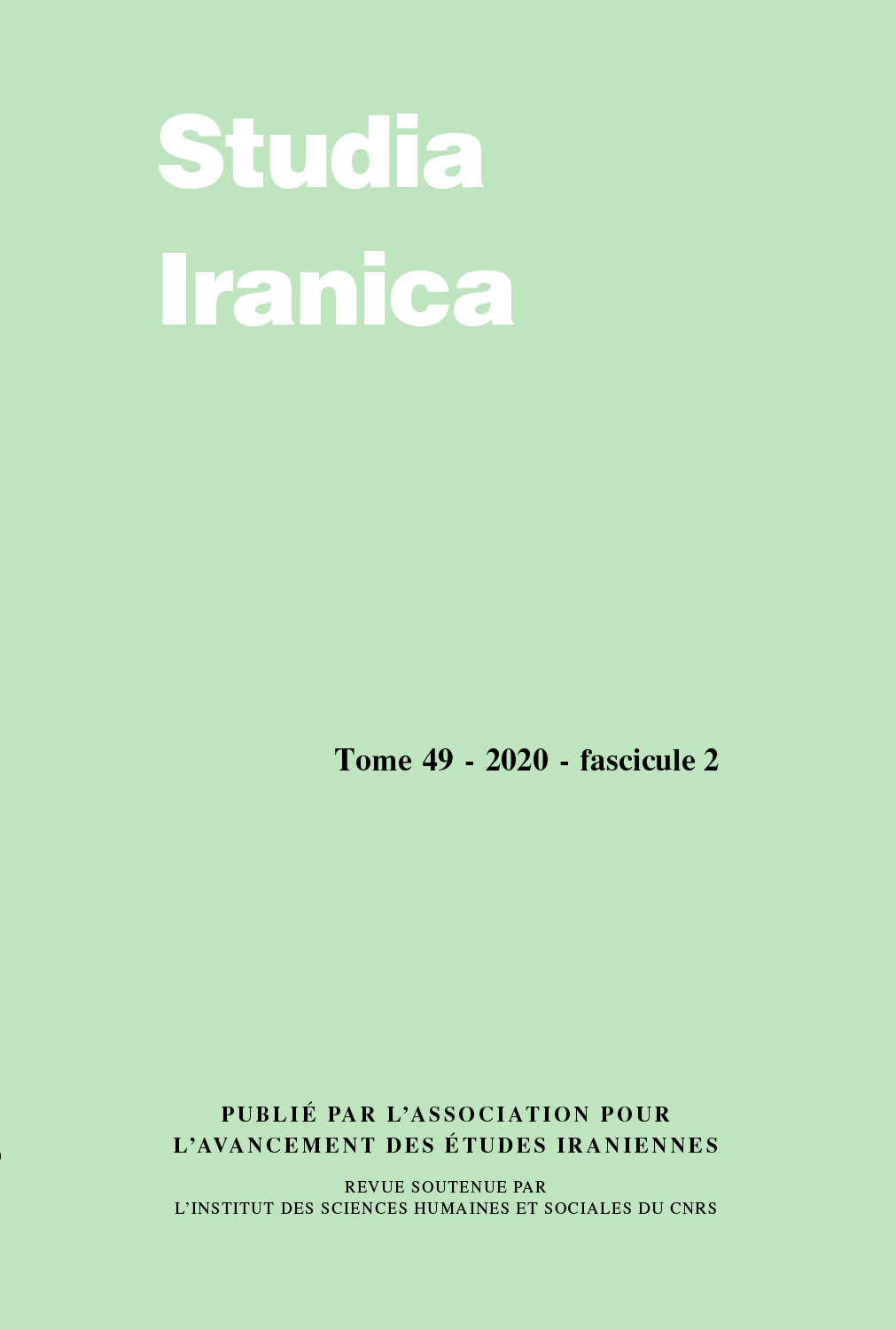 Document Details :

Title: The Massacre of the Angels
Subtitle: Zoroastrian Anti-Judaism and Islamic Theology
Author(s): THROPE, Samuel
Journal: Studia Iranica
Volume: 43 Issue: 1 Date: 2014
Pages: 111-128
DOI: 10.2143/SI.43.1.3038747

Abstract :
Chapters thirteen and fourteen of Mardānfarrox ī Ohrmazddādān's ninth century theological and polemical treatise Škand Gumānīg Wizār contain the most extensive polemic material against Judaism known in Zoroastrian literature. This polemic is comprised solely of citations from Jewish texts and the author's rationalist critique of those citations; these Jewish citations are paralleled, more or less exactly, by passages from the Bible and rabbinic literature. The present article examines Mardānfarrox's argument against one of these Jewish citations, found in Škand Gumānīg Wizār 14:36-38. The citation describes how the Jewish God creates ninety thousand angels every day to praise him but, with nightfall, destroys them all in a river of fire. In his comments, Mardānfarrox indicts the Jewish God for his injustice and destruction of the angels. Mardānfarrox's critique of this citation is best understood not as a response to the content of the citation itself, but rather as contingent on the Škand Gumānīg Wizār's theory of divine justice that forms a part of its proof of ethical dualism. Moreover, Mardānfarrox, both in the criticism of Judaism and in his rational explication of Zoroastrian theology, is taking up themes and methods prominent in Islamic Mu'tazilite rationalist theology. In explicating these connections, the article situates the Škand Gumānīg Wizār as a whole as part of the shared intellectual discourse of the ninth and tenth centuries.


---

Le Škand Gumānīg Wizār est un traité théologique et polémique zoroastrien qui fut composé par Mardānfarrox ī Ohrmazddādān au IXe siècle. Les chapitres treize et quatorze de cet œuvre conservent la polémique contre le judaïsme la plus étendue de la littérature zoroastrienne. Cette polémique se compose uniquement de citations à partir de textes ainsi que de leur critique rationaliste par l'auteur zoroastrien. Ces citations juives sont plus ou moins parallèles à des passages de la Bible et de la littérature rabbinique. Le présent article étudie l'argumentation de Mardānfarrox contre une de ces citations juives qu'on retrouve dans le Škand Gumānīg Wizār 14:36-38. Cette citation décrit comment le Dieu juif crée chaque jour quatre-vingt-dix mille anges afin qu'ils prient pour lui et comment il les détruit tous dans un fleuve de feu à la tombée du jour. Dans son commentaire, Mardānfarrox reproche au Dieu juif son injustice ainsi que la destruction des anges. La critique de cette citation de la part de Mardānfarrox ne peut pas être comprise seulement comme une réponse au contenu de cette même citation. En effet, elle est contingente à la théorie de la justice divine du Škand Gumānīg Wizār où elle constitue une démonstration du dualisme éthique. De plus, Mardānfarrox, à la fois dans sa critique du judaïsme et dans son explication de la théologie zoroastrienne, adopte des thèmes et des méthodes bien connus par la théologie rationaliste islamique mu'tazilite. Tout en expliquant ces contacts, cet article prend en considération le Škand Gumānīg Wizār dans son ensemble aussi bien que dans le contexte du discours intellectuel partagé des IXe et Xe siècles.


Download article