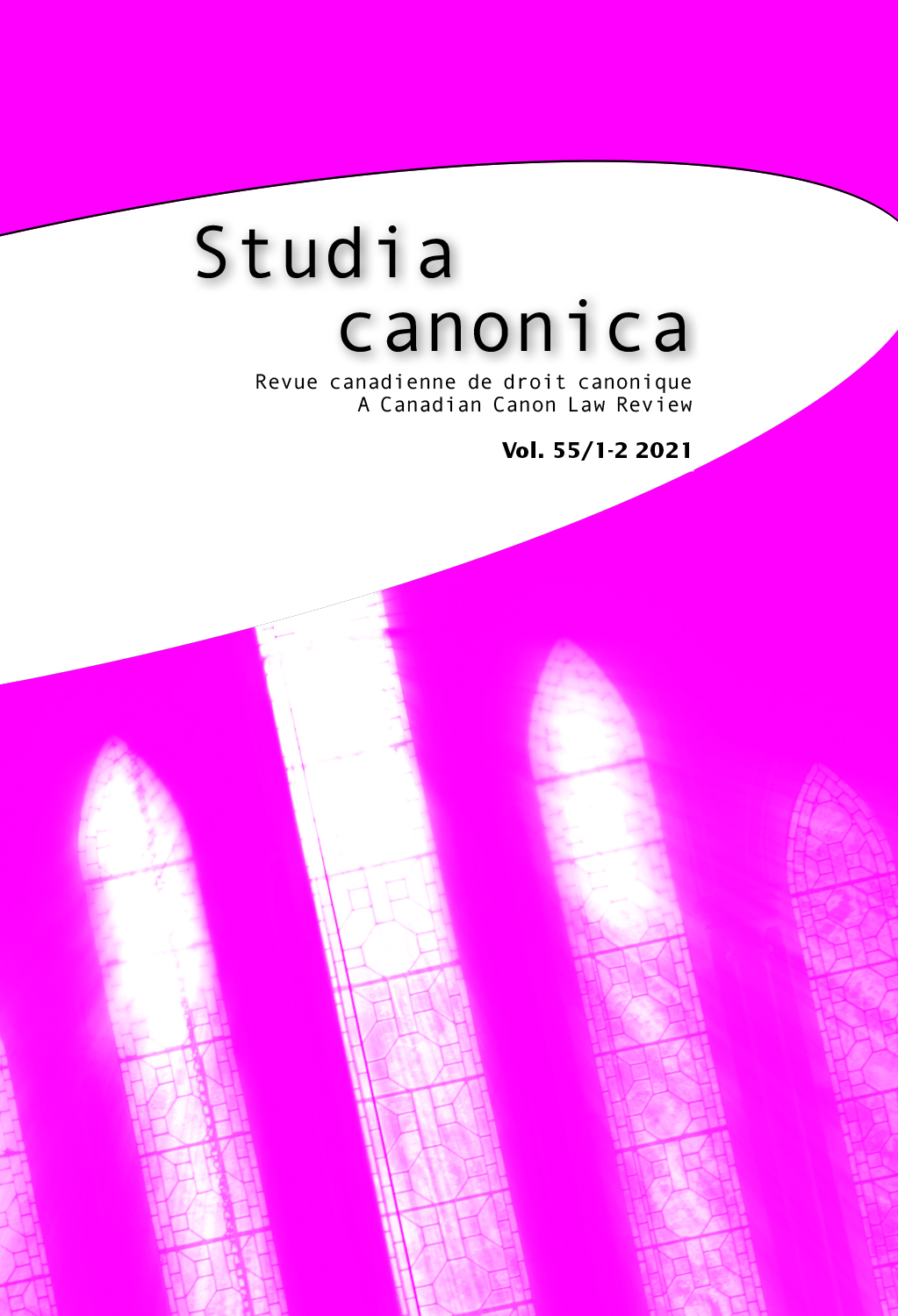 Document Details :

Title: Le canon 213 sur le droit aux biens spirituels et ses conséquences sur les droits et les devoirs fondamentaux dans l'Église
Author(s): LE TOURNEAU, Dominique
Journal: Studia Canonica
Volume: 47 Issue: 2 Date: 2013
Pages: 407-466
DOI: 10.2143/STC.47.2.3025857

Abstract :
Le droit à la Parole et aux sacrements qu'institutionnalise le canon 213 du CIC est non seulement un droit fondamental de tous les fidèles, mais aussi un droit nécessaire à l'accomplissement d'une vie vraiment chrétienne. Il est pourtant encore largement méconnu des pasteurs et de leurs fidèles. L'article, qui fait très largement appel à la doctrine canonique, étudie en premier lieu le contenu du droit à la Parole et aux sacrements, en distinguant le droit à la Parole de Dieu et le devoir de la prêcher avant de parler du droit aux sacrements et du devoir de les administrer. Une deuxième partie envisage l'élargissement du devoir-droit aux biens spirituels en général, ce qui demande d'examiner les relations juridiques existant entre les fidèles et les pasteurs en matière de biens spirituels avant d'évoquer des structures pastorales particulières qui permettent à la hiérarchie de remplir son devoir de sorte que les fidèles puissent jouir des moyens de salut en conformité avec leur condition canonique. La conclusion souligne que ces biens spirituels doivent être distribués abundanter, car l'on ne saurait envisager de sainteté a minima, et relève les conséquences qui en découlent pour la vie des fidèles du Christ. L'on notera aussi l'évocation fréquente des autres droits et devoirs fondamentaux qui sont tributaires de la bonne application de ce canon 213.


---

The right to the Word and the sacraments institutionalized by canon 213 of the CIC is not only a fundamental right of all the faithful, but also a right necessary right for the fulfillment of a truly Christian life. However, it is still largely unknown by pastors and their faithful. This article, which relies heavily on canonical doctrine, studies first the content of the right to the Word and the sacraments, distinguishing the right to the Word of God and the duty to preach before discussing the right to the sacraments and duty to administer them. The second part considers the extension of duty-right to spiritual things in general, which requires examining the legal relation existing between the faithful and pastors for spiritual goods before addressing specific pastoral structures that allow the hierarchy to fulfill its duty so that the faithful may enjoy the means of salvation in accordance with their canonical status. The conclusion emphasizes that these spiritual goods should be distributed abundanter because one cannot envisage holiness a minima, and it identifies the consequences for the lives of believers in Christ. It also notes the frequent evocation of other fundamental rights and duties which are dependent on the proper application of canon 213.


Download article