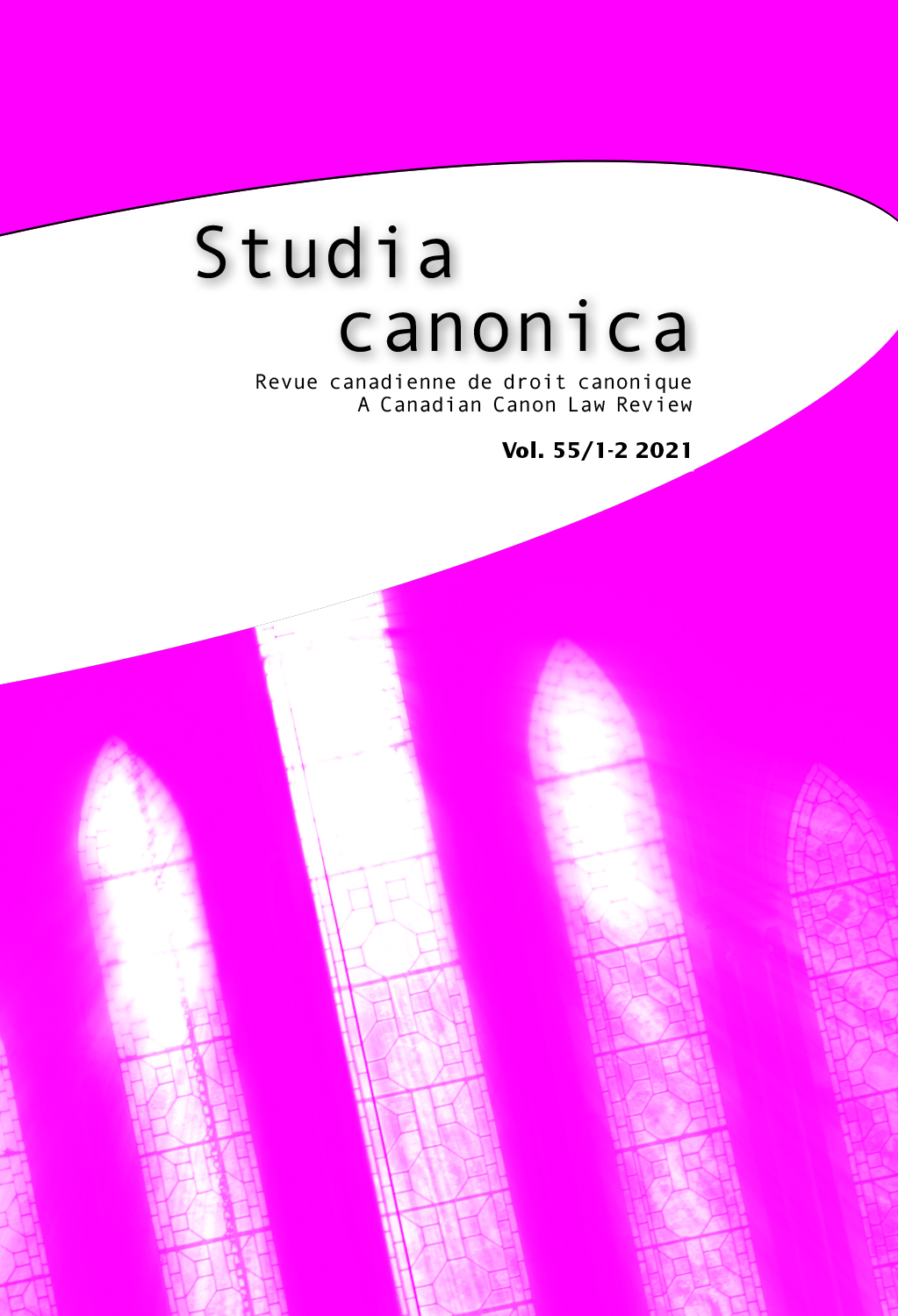 Document Details :

Title: L'incidence sur l'Église latine des canons 29-38 du CCEO traitant de l'inscription
Author(s): ABBASS, Jobe
Journal: Studia Canonica
Volume: 47 Issue: 2 Date: 2013
Pages: 361-405
DOI: 10.2143/STC.47.2.3025856

Abstract :
Dans la Note explicative officielle du Saint Siège relative au Canon 1 du CCEO, le Conseil pontifical pour les textes législatifs indiquait que «l'Église latine est implicitement comprise par analogie chaque fois que le CCEO emploie explicitement l'expression 'Église sui iuris' dans le contexte des relations inter-ecclésiales». Dans cette perspective, l'auteur étudie les canons 29-38 du CCEO sur l'ascription pour déterminer la mesure dans laquelle ces canons orientaux visent expressément à se rapporter à l'Église latine, voire à obliger cette dernière. Comme les canons de 29 à 38 du CCEO contiennent tous l'expression Église sui iuris, l'étude les examine à la lumière de la Note explicative et en référence à leur histoire législative comme elle ressort de Nuntia. Le législateur s'est servi du canon 1 du CCEO, pour établir implicitement une inter-relation entre les codes oriental et latin, ainsi que le confirme certainement la conclusion que la Note explicative tire avec autorité. Ceci dit, d'autres canons créent effectivement une inter-relation complémentaire des deux codes. Dans les cas où la signification de canons du Code latin fait l'objet d'un doute, on peut faire référence aux passages parallèles du Code oriental et s'en servir pour contribuer à résoudre ces ambiguïtés (CIC c. 17). De même, lorsque des lacunes législatives apparaissent dans le Code latin, on peut les combler, dans des cas individuels, en recourant aux lois orientales portant sur les mêmes sujets (CIC c. 19). Lorsque c'est possible, l'auteur applique ces règles d'interprétation dans les commentaires sur les canons 29-38 du CCEO qu'il nous offre ici.


---

Based upon the Holy See's official Explanatory Note regarding CCEO canon 1 in which the Pontifical Council for Legislative Texts indicated that «the Latin Church is implicitly included by analogy each time that CCEO explicitly uses the term 'Church sui iuris in the context of interecclesial relations», the author studies CCEO canons 29-38 on ascription to determine the extent to which these Eastern canons expressly intend to regard or oblige even the Latin Church. Since all of CCEO canons 29-38 contain the expression 'Church sui iuris,' the study examines the canons in the light of the Explanatory Note and with the help of their legislative history as reported in Nuntia. By way of CCEO canon 1, the legislator has implicitly set up an interrelationship of the Eastern and Latin Codes and the authoritative conclusion reached in the Explanatory Note assuredly confirms it. However, other canons also effectively create a complementary interrelationship of the Codes. In cases where the meaning of Latin canons remains doubtful, recourse can be made to parallel passages in the Eastern Code as an aid to resolving those ambiguities (CIC c. 17). Also, if legislative gaps are evident in the Latin Code, those lacunae can be filled, in individual cases, with Eastern laws made in similar matters (CIC c. 19). Where applicable, the author applies these interpretative rules in the commentaries offered here regarding CCEO canons 29-38.


Download article