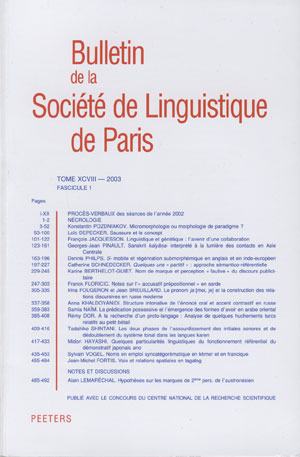 Document Details :

Title: Un alignement «quadripartite» en bésiro?
Subtitle: Quatre arguments nucléaires dans la langue des Chiquitanos de Bolivie
Author(s): SANS, Pierric
Journal: Bulletin de la Société de Linguistique de Paris
Volume: 108 Issue: 1 Date: 2013
Pages: 419-440
DOI: 10.2143/BSL.108.1.3019223

Abstract :
L'objectif de cet article est de décrire le système d'indexation de la personne dans les verbes du bésiro, une langue non classée et peu connue, parlée en Bolivie par environ 5000 locuteurs de l'ethnie Chiquitano. En bésiro, l'indexation de la personne suit un modèle très peu courant dans les langues du monde, basé sur quatre arguments nucléaires. Après avoir décrit ce système, cet article pose la question du type d'alignement morphosyntaxique et de l'origine de cette distinction «quadripartite».


---

The aim of this article is to describe the verbal person indexing system of Bésiro, a language spoken in Bolivia by approximately 5000 people from the Chiquitano ethnic group. In Bésiro, the person indexing system follows a very rare pattern based on four core arguments. After having described this system, this article analyzes the morphosyntactic alignment, and tries to understand the origin of the 'quaterpartite' distinction.


Download article