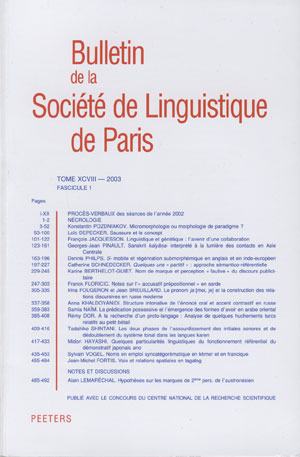 Document Details :

Title: Le genre du locuteur et de l'allocutaire dans les systèmes pronominaux
Subtitle: Genre grammatical et indexicalité du genre
Author(s): ROSE, Françoise
Journal: Bulletin de la Société de Linguistique de Paris
Volume: 108 Issue: 1 Date: 2013
Pages: 381-417
DOI: 10.2143/BSL.108.1.3019222

Abstract :
Cet article s'intéresse au genre du locuteur et de l'allocutaire dans les systèmes pronominaux des langues du monde, un thème bien traité dans la littérature. L'originalité de la perspective adoptée ici est de prendre en compte, outre le genre grammatical, l'indexicalité obligatoire du genre du locuteur ou de l'allocutaire, une facette rare de l'indexicalité pragmatique des caractéristiques sociales des participants à la situation de communication (comme l'âge, le statut social, le genre social, etc). Un petit nombre de langues indicialisent en effet le genre du locuteur et/ou de l'allocutaire dans leur système pronominal, même lorsque le pronom ne renvoie pas à ce participant du discours. L'indexicalité du genre se distingue alors parfaitement des cas peu communs de genre grammatical à la première ou deuxième personne. A la lumière de cette distinction entre genre grammatical et genre indexical, l'article évalue les universaux et hiérarchies postulés autour de la distribution du genre au sein des systèmes pronominaux, selon les personnes, notamment la hiérarchie 2,3>1 tirée de l'Universel 44 de Greenberg. Le principal résultat de cet article est que les configurations rejetées comme impossibles par l'Universel 44 sont en réalité attestées, bien que rarement, et qu'elles illustrent l'indexicalité du genre du locuteur ou de l'allocutaire plutôt que le genre grammatical.


---

This paper deals with speaker/hearer gender in pronominal systems of the world, a topic well investigated in the literature. The original perspective adopted here is to take into account not only grammatical gender but also the bligatory indexicality of the gender of the speaker or hearer, a rare aspect of the pragmatic indexicality of social characteristics of the speech act participants (like age, social status, social gender, etc.). A small number of languages indexicalize the gender of the speaker or hearer in their pronominal system, even when the pronoun does not refer to this particular speech act participant. Gender indexicality is thus clearly distinct from rare cases of grammatical gender in the first or second person. In the light of the distinction between grammatical gender and gender indexicality, the paper evaluates the universals and hierarchies posited around the distribution of gender within pronominal systems, depending on persons, and more specifically the hierarchy 2,3>1, based on Greenberg's Universal 44. The main result of the paper is that the configurations considered impossible according to Universal 44 are in fact attested, though rare, and that they illustrate indexicality of speaker/hearer gender rather than grammatical gender.


Download article