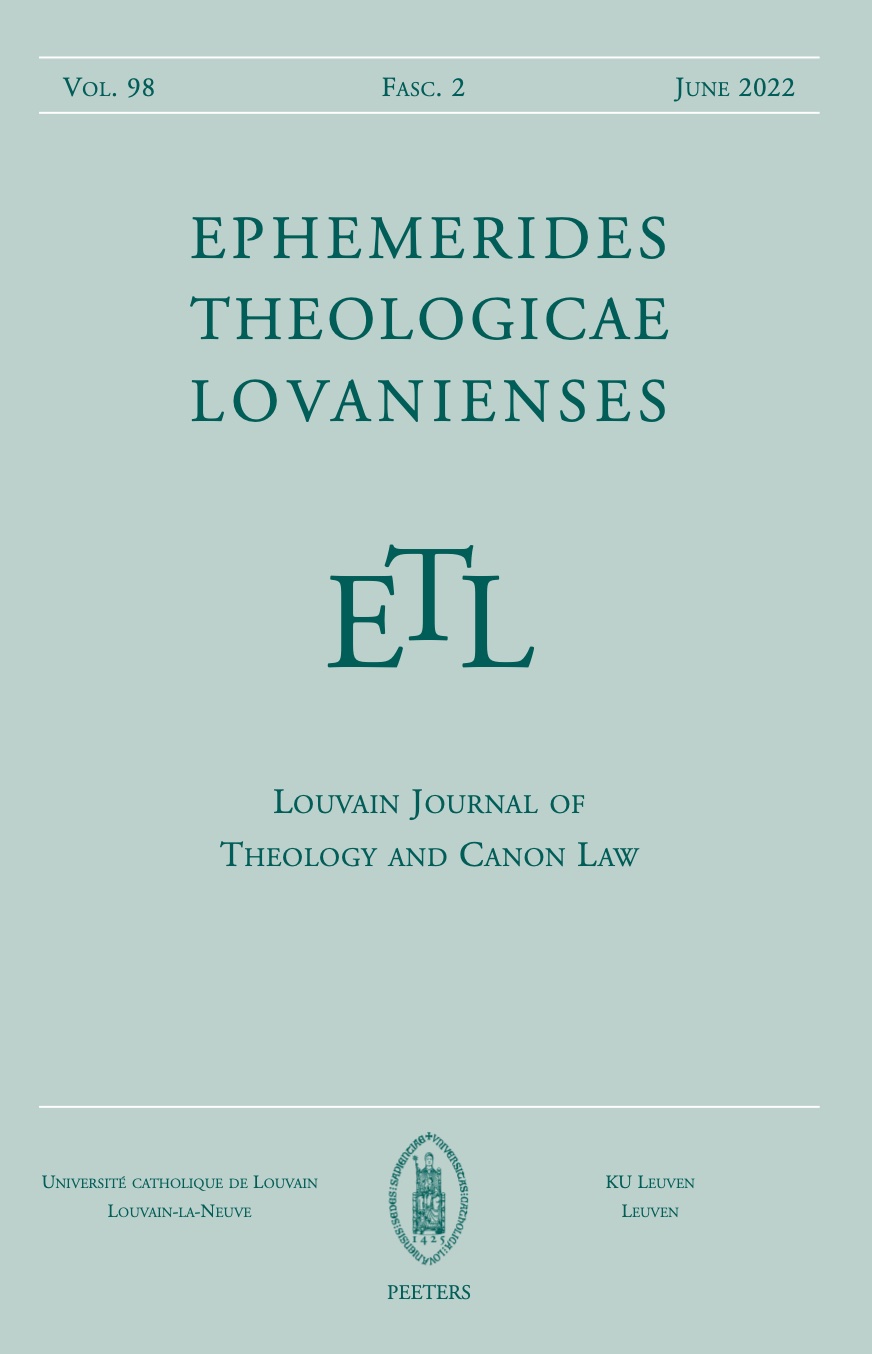 Document Details :

Title: 'Baptized into His Death' (Rom 6,3) and 'Clothed with Christ' (Gal 3,27)
Subtitle: The Soteriological Meaning of Baptism in Light of Pauline Apocalyptic
Author(s): KUO-YU TSUI, Teresa
Journal: Ephemerides Theologicae Lovanienses
Volume: 88 Issue: 4 Date: 2012
Pages: 395-417
DOI: 10.2143/ETL.88.4.2957935

Abstract :
Rom 6,1-14 is one of the most important passages that contribute to our understanding of Paul's thought on baptism. While Paul in Rom 6 does not intend to present his theology of baptism, his reference to baptism thereby nonetheless provides us with a clue as to how Paul understands baptism. In Rom 6,3 Paul specifies the believers' being 'baptized into Christ' as being 'baptized into his death', an unprecedented expression in the NT peculiar to Paul. Originating from Paul's own theological genius, the phrase being 'baptized into his death' is an application of the kerygma to the praxis of baptism, which demonstrates the creativity in Paul's hermeneutics of baptism. As the present study will show, Paul's coinage of being 'baptized into his death' is in fact embedded in the matrix of his apocalyptic thought, envisioning the transformation of the baptized through participation in Christ's death, an apocalyptic event with salvific efficacy in overcoming the power of sin. Moreover, Paul's apocalyptic specification of being 'baptized into Christ' as being 'baptized into his death' in Rom 6,3 resonates with Gal 3,27, the most comparable baptismal verse in the authentic Pauline letters, where Paul speaks of being 'baptized into Christ' as being 'clothed with Christ'. The resonance comes from the apocalyptic backdrop behind these two verses in which Paul thinks of baptism. The expression 'clothed with Christ' in Gal 3,27 in fact derives from the apocalyptic imagery of clothing, which commentators have not hitherto considered. As a result, we find that Paul in Rom 6,3 and Gal 3,27 consistently refers to baptism in apocalyptic terms, though each in its own way depending on the contexts. As this apocalyptic background to baptism in Pauline thought is restored, the soteriological significance of baptism is revealed in its original setting of the early church: that is, baptism anticipates the ultimate transformation (i.e., resurrection) promised by God's apocalypse in the Christ event.


Download article