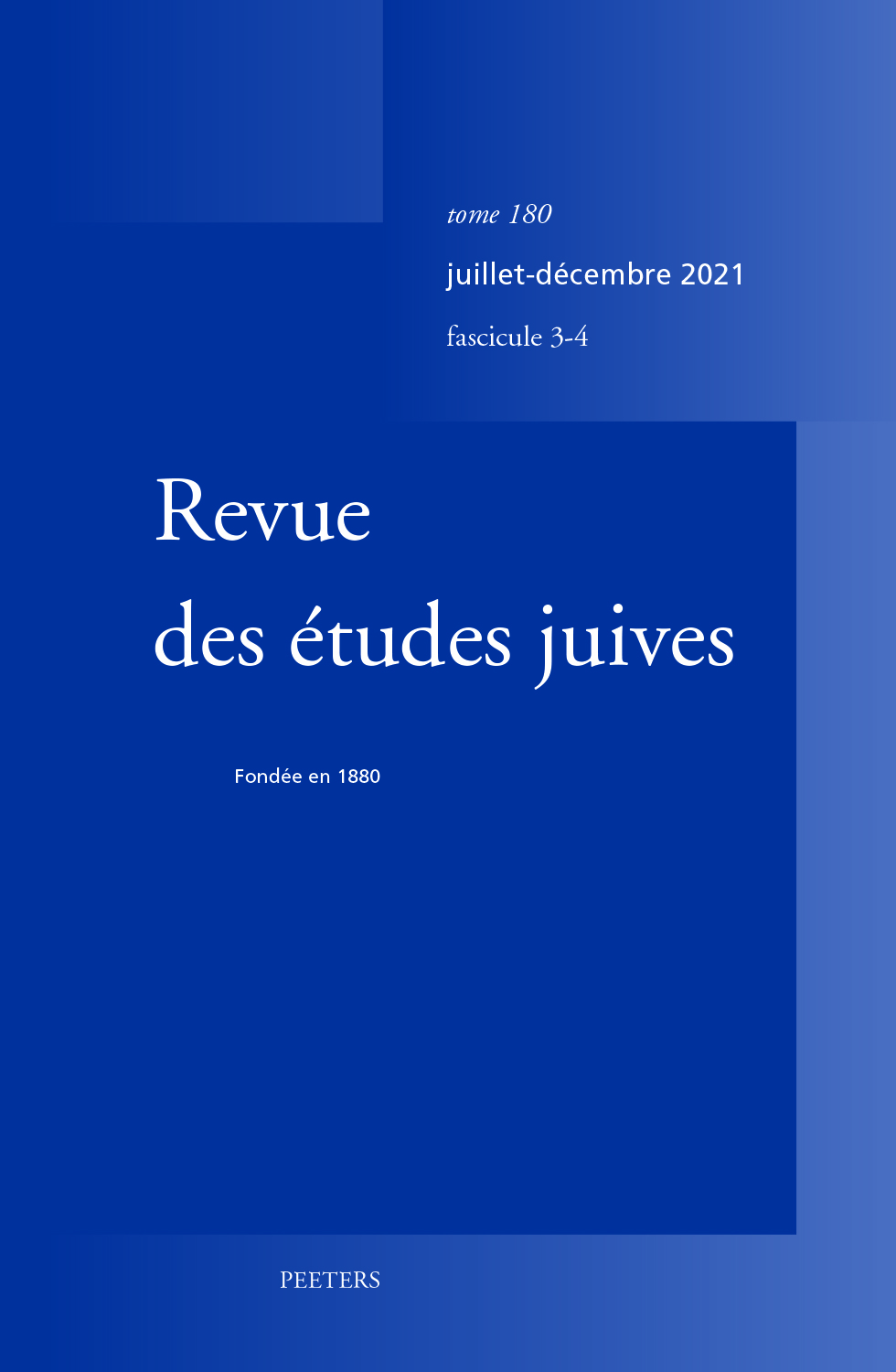 Document Details :

Title: The ambivalent attitude toward philosophy in the sixteenth century
Author(s): REGEV, Shaul
Journal: Revue des Études Juives
Volume: 161 Issue: 1-2 Date: janvier-juin 2002
Pages: 139-158
DOI: 10.2143/REJ.161.1.224

Abstract :
Au XVIe siècle on traite abondamment de philosophie aussi bien dans la littérature homilétique que dans l'exégése biblique, en référence directe avec les sources ou par le truchement de sources intermédiaires. Même des auteurs de commentaires dont la tendance générale peut se définir comme kabbalistique et non proprement philosophique ont recours à des sources philosophiques et empruntent les méthodes de la philosophie. À l'inverse on n'a à l'époque presque pas de livres consacrés à des commentaires sur les œuvres d'Aristote ou à des dissertations philosophiques en langue hébraïque. L'utilisation d'œuvres philosophiques existantes et l'édition et la diffusion de nouveaux écrits de ce type sont deux choses bien distinctes. Dans le milieu des auteurs, on préfère publier ce qui leur paraît répondre au goût du public, ou peut-être ce qu'ils jugent plus important. Au lieu de dissertations sur les traités de philosophie, ils préfèrent imprimer des ouvrages se rapportant plus spécifiquement aux règles de la vie religieuse juive et à l'étude de la Thora, tels des responsa ou de l'homilétique par exemple. Quiconque désirait approfondir la philosophie, n'était sûrement pas en peine de se procurer les ouvrages requis dans les bibliothèques d'autres chercheurs.

Sixteenth century literature, both sermons and Biblical commentary, contain philosophical material, whether first, second or third hand. Even commentators whose general orientation can be defined as Kabbalistic and not philosophical, use philosophical sources and methodology. However, almost no books dealing mainly with commentaries on Aristotle's works were published by Jewish scholars. It is imperative that we differentiate between the use of philosophical writings and their printing and publication. The authors or their relatives preferred to publish what seemed to them as more acceptable to the buying public, or perhaps as even more important. They didn't publish interpretations of philosophical writings, but prefered the type of books more concerned with the religious way of life and the study of Torah, such as responsa or homilies. They believed that any scholar specifically interested in philosophical treatises would be able to acquire them from the libraries or from other scholars.



Download article