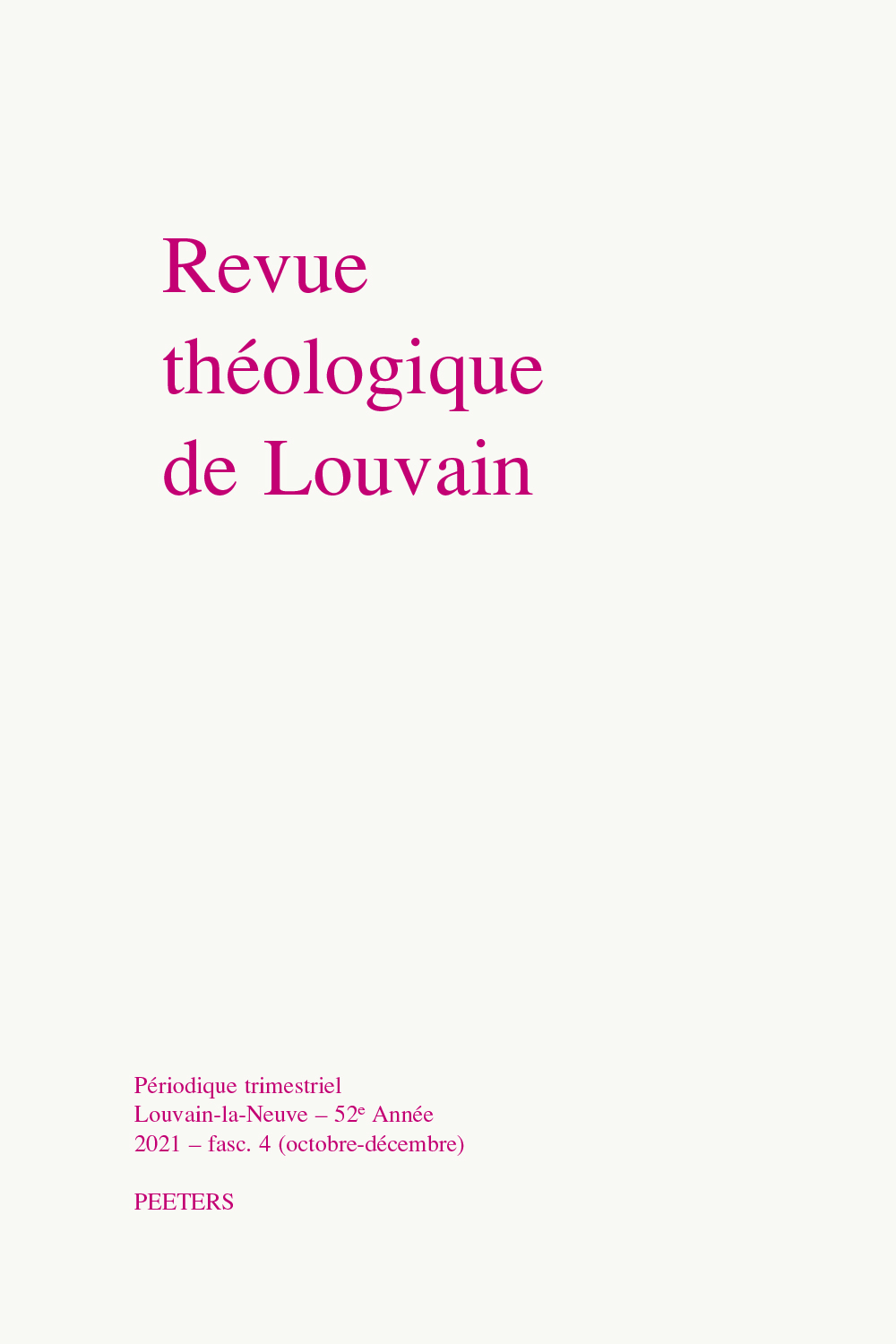 Document Details :

Title: Karl Rahner est-il un classique?
Subtitle: À propos de quelques recherches récentes
Author(s): BOURGINE, Benoît
Journal: Revue Théologique de Louvain
Volume: 43 Issue: 1 Date: 2012
Pages: 79-102
DOI: 10.2143/RTL.43.1.2146579

Abstract :
La théologie de Karl Rahner mérite-t-elle le label de «classique»? Pour instruire le débat, l'article présente quatre dissertations doctorales récentes (D. Terra, S. Loiero, R. Kern, G. Boss), ainsi qu'un ouvrage collectif, consacrés à l'oeuvre de Rahner. Nature et grâce, christologie et triadologie, théologie et anthropologie, athéisme et sciences naturelles, expérience et subjectivité, épistémologie et apologétique: les thèmes abordés par ces études témoignent de la diversité des questions traitées par le corpus rahnérien. De cet examen, trois lignes de force caractéristiques du style de cette théologie peuvent être dégagées: modestie du langage théologique, rigueur des critères de validation, audace spéculative et systématique. En contrepoint critique, trois questions peuvent légitimement être avancées concernant l'universalité du langage employé et de l'expérience décrite, la fidélité au mystère et les points aveugles du système. Il y a fort à parier que l'avenir confirme le diagnostic qui s'impose à l'issue de cette étude, à savoir qu'il convient de considérer Rahner comme un classique de la discipline théologique pour avoir proposé, en un moment critique de son histoire, une voie de renouvellement tout à la fois grandiose et contestable.


---

Does Karl Rahner's theology merit the label 'classic'? In order to inform the debate, this article presents four recent doctoral theses (D. Terre, S. Loiero, R. Kern, G. Boss) as well as a collective work devoted to Rahner's thinking. Nature and grace, christology and triadology, theology and anthropology, atheism and natural sciences, experience and subjectivity, epistemology and apologetics: the themes dealt with by these studies show the diversity of Rahner's work. An analysis of these studies brings to light three lines of force characteristic of the theologian's style: modesty of theological language, rigour in the criteria for validation, speculative and systematic audaciousness. On the other side of the coin, three critical questions can be legitimately asked concerning the universality of the language used and the experience described, faithfulness to the mystery and the blind spots in the system. It is a good bet that the future will confirm the conclusion made at the end of this study – namely that Rahner should be considered as a classic in the discipline of theology because he proposed, at a critical moment of its history, a path towards renewal which is both grand and debatable.


Download article