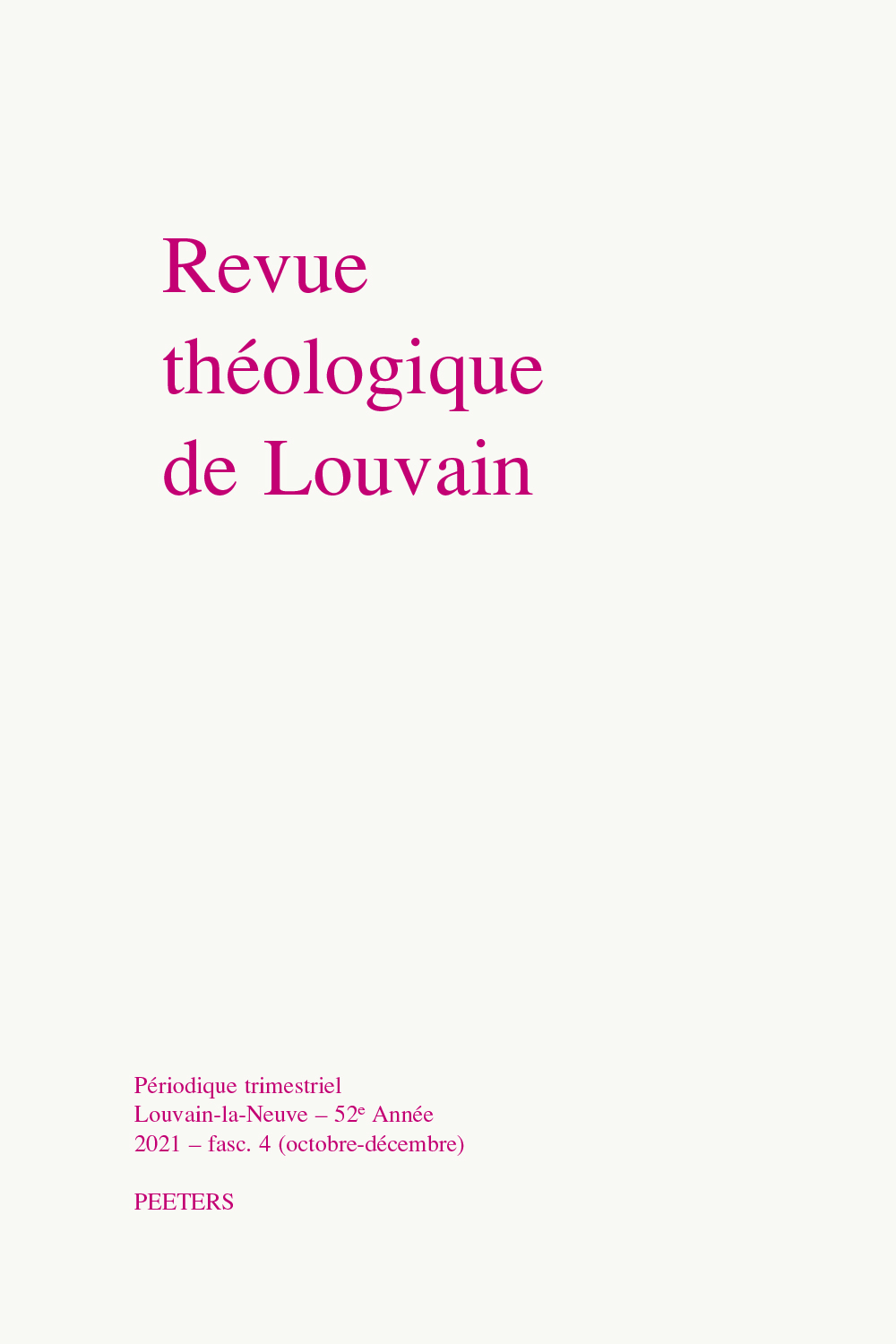 Document Details :

Title: Le cardinal Suenens et la question du contrôle des naissances au Concile Vatican II
Author(s): DECLERCK, Leo
Journal: Revue Théologique de Louvain
Volume: 41 Issue: 4 Date: 2010
Pages: 499-518
DOI: 10.2143/RTL.41.4.2057473

Abstract :
De 1958 à 1968, le cardinal L.-J. Suenens (1904-1996) a mené un long combat pour obtenir un changement d'attitude de l'Église catholique au sujet de la contraception. L'ouverture de ses archives conciliaires permet actuellement de découvrir les moyens qu'il a utilisés et les manoeuvres qu'il a entreprises pour arriver à ses fins. Il a fait appel à des médecins (notamment Ferin, van Rossum, Marshall), à des théologiens (Delhaye, de Locht, Heylen, Prignon, Anciaux, Häring) et à des philosophes (notamment Dondeyne et van Melsen) provenant surtout de l'Université catholique de Louvain, ainsi qu'à des évêques amis (Heuschen, Reuss). Comme membre de la commission de coordination du concile, chargé du texte de Gaudium et Spes, il a veillé à ce que le chapitre sur le mariage reste ouvert à un développement de la doctrine. Courageusement, à de multiples reprises, il a tenté – mais sans résultat – de convaincre le pape Paul VI. Après la publication en 1968 de l'encyclique Humanae Vitae, il a réussi à faire publier une Déclaration de l'épiscopat belge, afin de libérer les consciences et de canaliser la contestation.


---

From 1958 to 1968, cardinal L.-J. Suenens (1904-1996) lead a long struggle in order to obtain a change in the Catholic Church's attitude to contraception. Now that his Vatican II archives have become available, it has become possible to discover the means he used and the manoeuvres he undertook in order to arrive at his ends. He appealed to doctors (in particular Ferin, van Rossum, Marshall), theologians (Delhaye, de Locht, Heylen, Prignon, Anciaux, Häring) and philosophers (in particular Dondeyne et van Melsen) coming mainly from the Catholic University of Louvain, as well as other bishops among his friends (Heuschen, Reuss). As a member of the Council's coordinating commission encharged with the text of Gaudium et Spes, he took care that the chapter on marriage should remain open to a development in doctrine. On several occasions he courageously attempted to convince Pope Paul VI, but in vain. After the publication in 1968 of the encyclical Humanae Vitae, he managed to make the Belgian episcopate publish a Declaration in order to free consciences and channel dissent.


Download article