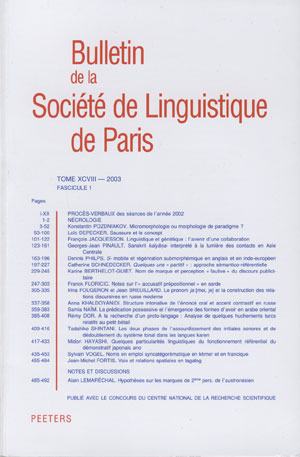 Document Details :

Title: La reconstruction de la syntaxe en protolangue
Author(s): DE DARDEL, Robert
Journal: Bulletin de la Société de Linguistique de Paris
Volume: 104 Issue: 1 Date: 2009
Pages: 127-159
DOI: 10.2143/BSL.104.1.2046989

Abstract :
En parcourant les ouvrages consacrés à la grammaire historico-comparative, on observe que cette discipline est gênée dans sa mise en oeuvre par quelques désaccords persistants entre savants, ainsi que parfois par une connaissance trop limitée des possibilités de reconstruction protolinguistique; ceci est le cas surtout en syntaxe. Une neutralisation des désaccords et une application détaillée de certaines techniques de reconstruction syntaxique au domaine, privilégié entre tous, des langues romanes devraient, à mon avis, pouvoir guider aussi les comparatistes non romanistes vers la solution des problèmes qu'ils rencontrent.


---

Recent writings on historical comparative grammar generally show that the approach is hampered by persistent disagreements between scholars and sometimes even by little knowledge of the possibilities of proto-linguistic reconstruction, especially as far as syntax is concerned. In my opinion, however, a neutralization of disagreements and a detailed application of some reconstruction techniques in the privileged field of the Romance languages could also help comparatists of non-Romance languages in solving the problems they come across.


---

Wenn man Werke jüngeren Datums zur historisch-vergleichenden Sprachwissenschaft zu Rate zieht, stellt man fest, dass dieses Fach in seiner Anwendung durch einige Uneinigkeiten der Gelehrten und manchmal auch durch eine unzureichende Kenntnis der protolinguistischen Rekonstruktionsmöglichkeiten behindert wird; dies gilt besonders für die Syntax. Eine Verminderung der Uneinigkeiten und eine ausführliche Anwendung gewisser Rekonstruktionstechniken der Syntax auf dem privilegierten Gebiet der Romanistik könnte, meine ich, auch Komparatisten nichtromanischer Sprachen helfen, ihre eigenen Probleme zu lösen.


Download article