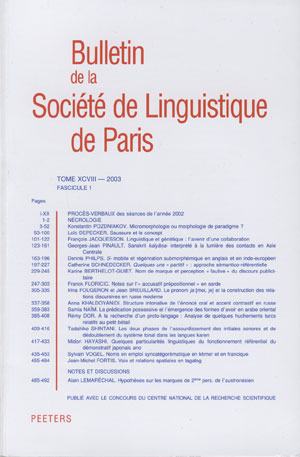 Document Details :

Title: Frappes: du tonnerre à l'if, l'arc, le sanglier, l'ivoire, le bouc, la corne
Subtitle: (Étymologies et concaténations)
Author(s): BADER, Françoise
Journal: Bulletin de la Société de Linguistique de Paris
Volume: 104 Issue: 1 Date: 2009
Pages: 107-126
DOI: 10.2143/BSL.104.1.2046988

Abstract :
1. Étymologie arborescente: 1.1. Ulysse; 1.2. objet de l'étude
2. Racine *teh2- «frapper»: 2.1. «tonnerre»; 2.2. gaul. Tanaros et Taranis, et Reimwortbildungen; 2.3. formes à *s- mobile; 2.4. adjectif en *-ú- et formes élargies (Typhon, Tyndare, etc.); 2.5. «if», «arc» et flèches empoisonnées, «Archers»; 2.6. «contagion».
3. Racine *h1ebh- «frapper à mort»: 3.1. «if»; 3.2. «sanglier»; 3.3. «ivoire (de sanglier)»; 3.4. donnèes propres à la tradition grecque: 3.4.1. le casque d'Ulysse à ivoire tiré des dents d'un sanglier; 3.4.2. «if» et «Taxaies»; 3.5. «bouc» en thrace.
4. Le bouc, ses cornes, et les arcs: 4.1. racine de l'«élan»: *h2ei(g/k)-: αἴξ, lat. īcō, etc.; 4.2. le bouc qui frappe par ses cornes et l'arc de Pandare; 4.3. corne et ivoire aux portes des songes de Pénélope.


---

1. Tree etymologies: 1.1. Ulysses; 1.2. the present paper's subject matter.
2. Root *teh2- 'to hit': 2.1. 'thunder'; 2.2 Gall. Tanaros and Taranis, and Reimwortbildungen; 2.3. mobile *s- forms; 2.4. -ù- adjectives and extended forms (Typhon, Tyndaros, etc.); 2.5. 'yew', 'bow' and poisoned arrows, 'bowmen'; 2.6. 'contagion'.
3. Root *h1ebh- 'to strike to death': 3.1. 'yew'; 3.2. 'boar'; 3.3. '(boar) ivory'; 3.4. Ancient Greek data: 3.4.1. Ulysses' helmet with boar tusks; 3.4.2. 'yew' and 'yew groves'; 3.5. the Thracian word for 'goat'.
4. Goats, horns and bows: 4.1. the root for 'goat' and 'impetus': *h2ei(g/k)-: αἴξ, Lat. īcō, etc.; 4.2. the goat who hits with his horns and Pandaros' bow; 4.3. horns and ivory at the gates of Penelope's dreams.


---

1. Baumartige Etymologie: 1.1. Odysseus; 1.2. Gegenstand der Untersuchung.
2. Wurzel *teh2- «schlagen»: 2.1. «Donner»; 2.2 gall. Tanaros und Taranis, und Reimwortbildungen; 2.3. Formen mit *s-mobile; 2.4. Adjectiv auf *-ù- und erweiterte Formen (Typhon, Tyndare, usw.); 2.5. «Eibe», «Bogen» und Giftpfeile, «Bogenschützen»; 2.6. «Ansteckung».
3. Wurzel *h1ebh- «totschlagen»: 3.1. «Eibe»; 3.2. «Eber»; 3.3. «Elfenbein (aus einem Eber)»; 3.4. der griechischen Tradition eigene Daten: 3.4.1. der Helm von Odysseus mit aus Zähnen eines Ebers bestehendem Elfenbein; 3.4.2. «Eibe» und «Eibenwälder»; 3.5. «Ziegenbock» im Thrakischen.
4. Der Ziegenbock, seine Hörner und die Bögen: 4.1. Wurzel des «Anlaufs»: *h2ei(g/k)-: αἴξ, lat. īcō, usw.; 4.2. der Ziegenbock, der mit seinen Hörnern und dem Bogen von Pandaros schlägt; 4.3. Horn und Elfenbein an den Türen der Träume der Penelopa.


Download article