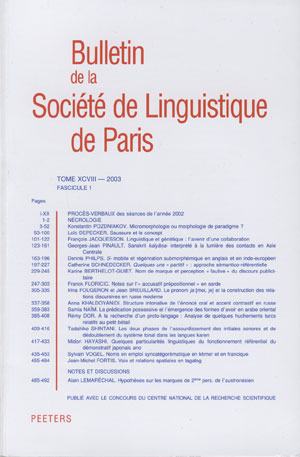 Document Details :

Title: Pour une généalogie de la pensée de Saussure (2)
Author(s): DEPECKER, Loïc
Journal: Bulletin de la Société de Linguistique de Paris
Volume: 104 Issue: 1 Date: 2009
Pages: 39-105
DOI: 10.2143/BSL.104.1.2046987

Abstract :
Nous avons exposé dans des articles précédents (BSL 2002, 2003, 2008) la nécessité de relire Saussure au plus près des manuscrits, en raison des besoins théoriques nouveaux apparus en linguistique ces dernières années. Nous proposions en réponse à cette nécessité (L'information grammaticale 2005, BSL 2008) une reconstitution logique de la pensée de Saussure telle que la donnent à lire les manuscrits déjà connus ou récemment retrouvés (BPU 1996). Les Écrits de linguistique générale (2002), qui en publie une partie, ont commencé à faire prendre plus résolument conscience du décalage entre la pensée de Saussure et le Cours de linguistique générale, oeuvre due essentiellement à Charles Bally et Albert Sechehaye. En tout état de cause, ces écrits manuscrits forcent à entrer en profondeur dans la pensée de Saussure en prenant en considération l'ensemble de l'«oeuvre». Nous approfondissons ici la méthode que nous avions fixée pour cela: reconstruire le fil chronologique de la pensée de Saussure quand les manuscrits sont datables; s'essayer à une reconstruction logique quand les datations sont douteuses ou peu avérées. Cela, en s'efforçant de s'en remettre au manuscrit et de s'en tenir à la logique du fragment, en se gardant d'extrapoler. Pour nous, c'est à une révolution philologique qu'il faut procéder pour aller au plus près de la pensée de Saussure, en prenant en compte l'ensemble des manuscrits saussuriens. Dans ce second article sur la généalogie de la pensée de Saussure, qui s'étend jusqu'à ses dernières journées de cours de linguistique générale (1911), nous abordons quelques-uns des points capitaux de sa pensée, notamment: la question de l'analogie, des arbitraires linguistiques, de la langue, de la valeur, du signe et de la sémiologie, projet ultime de Saussure. Deux grandes constatations au moins: la question du «sujet parlant» et sa dimension psychologique sont restées centrales dans la construction du projet; les faits linguistiques doivent s'analyser dans l'horizon d'une «sémiologie». À l'arrivée, le décalage entre les manuscrits et le Cours de linguistique générale se révèle impressionnant.


---

In previous papers we argued for the necessity of a closer rereading of Saussure's manuscripts, in part because of new theoretical investigations that have surfaced these past few years. To answer the challenge, we suggested a logical reconstruction of Saussure's thought in keeping with the already known or recently discovered manuscripts. The EDLG, a book which gathers some of those manuscripts, has already gone a long way towards a better understanding of the gap that exists between Saussure's actual thought and the CGL, the latter being largely the work of CB and AS. In any case, because these manuscript writings oblige researchers to take into account the whole of the famous linguist's work, they allow them to get deeper into the thought of Saussure. In the present paper, we apply the procedure that we already implemented for that purpose: we seek to track the chronological train of Saussure's thought when manuscripts can be dated; or, when dates are unknown or unreliable, we try to reconstruct it logically by strictly adhering to the logic of the manuscript and of the passage under consideration, and by refraining from extrapolating. We believe that a real philological revolution must be undertaken in order to gain insight into Saussure's thought, taking into account the whole of the manuscripts. In this second essay on the genealogy of Saussure's thought, which includes the last days of his lessons (1911), we deal with some of the most important elements of his teaching, such as the question of analogy, of linguistic arbitrariness, of Langue, of the value of the linguistic sign, and of semiology, which was to be the ultimate aim of Saussure's theory. Two observations can be firmly made: the questions of the 'sujet parlant' and his psychological dimension remain central elements in Saussure's overall project, and linguistic facts must be analyzed from a semiological perspective. In the end, the gap between the manuscripts and the CGL turns out to be quite impressive.


---

En artículos anteriores (BSL 2002, 2003, 2008) hemos expuesto cómo las nuevas exigencias teóricas surgidas estos últimos años pedían que se releyera más detenidamente a Saussure. En esta línea proponíamos (L'information grammaticale 2005, BSL 2008) una reconstitución lógica del pensamiento de Saussure según los manuscritos ya conocidos o recién descubiertos (BPU 1996). En Ecrits de linguistique générale (2002) ya se publicó parte de estos manuscritos, que permiten una primera toma de conciencia de las discordancias existentes entre el pensamiento de Saussure y el Cours de linguistique générale elaborado por Charles Bally y Albert Sechehaye, obligándonos en cualquier caso a considerar la «obra» de Saussure en su conjunto. Aquí ahondamos en el método fijado, a saber: reconstruir el hilo cronológico de este pensamiento en el caso de manuscritos fechados y reconstruir su lógica en los casos de dudosa datación, ateniéndonos para ello a los manuscritos, respetando su lógica fragmentaria y evitando extrapolaciones. Se impone una revolución filológica que tenga en cuenta el conjunto de los manuscritos. Este segundo artículo sobre la genealogía del pensamiento de Saussure abarca hasta los últimos días de su curso de lingüística general (1911) para estudiar algunos puntos tan esenciales como la analogía, las arbitrariedades lingüísticas, la lengua, el valor, el signo y la semiología, proyecto último de Saussure. Se desprenden por lo menos dos observaciones constantes: el tema del «sujeto hablante» y su dimensión psicológica permanecieron al centro de la construcción del proyecto; los hechos lingüísticos no pueden sino analizarse en el marco de una «semiología». Al final, la discordancia entre los manuscritos y el Cours de linguistique générale resulta impresionante.


Download article