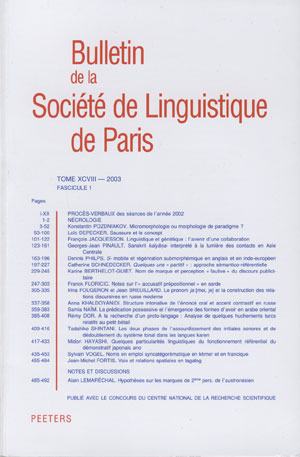 Document Details :

Title: Ain't, métaopérateur de l'anglais oral
Author(s): GAUDY-CAMPBELL, Isabelle
Journal: Bulletin de la Société de Linguistique de Paris
Volume: 103 Issue: 1 Date: 2008
Pages: 237-253
DOI: 10.2143/BSL.103.1.2033490

Abstract :
Dans le cadre de l'anglais oral, nous concevons ain't comme un métaopérateur et proposons une argumentation nuancée agencée à plusieurs niveaux. Remarques prosodiques et analyses contextuelles sont ici convoquées. Par sa présence récurrente dans les question tags, ain't a la capacité d'apporter un commentaire sur la relation prédicative présente dans la base de l'énoncé. Grâce à sa position syntaxique, il vient entériner la dimension positive de la prédication de la base, que celle-ci soit explicite ou élidée. Au delà de la relation prédicative, il a également la capacité de se substituer à toute marque de ponctuation ou d'agencement syntaxique. Il vient alors coder l'ensemble d'un énoncé, en indiquant la teneur orale du propos. Ce codage peut rester neutre, mais également signaler une prise de distance voire une non adhésion de l'énonciateur aux propos rapportés.


---

We consider that ain't acts as a metaoperator in spoken English and propose an intonative and contextual analysis. Recurring in question tags, ain't can comment on the predicative link in the first part (or the basis) of the utterance. Thanks to its syntactic position, it confirms the positive value of the predicative link, whether it is explicit or implicit. Beyond the predicative link, ain't can also replace any punctuation mark or syntactical subordination. Thus, it codes an entire utterance, thereby underlining its spoken dimension. This coding can be neutral, but it also signals the utterer's distance, if not disagreement with what he reports.


---

Im Rahmen des gesprochenen Englisch, verstehen wir ain't als ein Metaoperator und bieten eine Argumentation auf mehreren Ebenen. Bemerkungen über die Intonation und kontextuelle Analyse werden hier eingefuhrt. Wegen seiner wiederkehrenden Anwesenheit in den Question Tags, kann ain't mit sich eine Kommentar einfuhren über die Prädikation, die im ersten Teil der Äusserung vorkommt. Dank seiner syntaktischen Stelle bestätigt ain't die positive Prädikation am Anfang der Äusserung, sei es deutlich oder implizit. Jenseits der Prädikation kann ain't ein Ersatz für Anführungszeichen oder syntaktische Unterordnung sein. Ain't codiert dann die ganze Äusserung als mündlich. Diese Codierung kann neutral bleiben, aber ebenfalls eine Distanzierung signalisieren, wenn nicht eine Uneineigkeit der Sprecher mit den berichteten Worten.


Download article