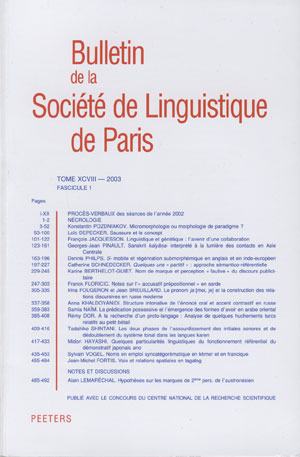 Document Details :

Title: Sémantique de l'espace et morphologie
Subtitle: Le cas de la préfixation en é-
Author(s): AURNAGUE, Michel , PLÉNAT, Marc
Journal: Bulletin de la Société de Linguistique de Paris
Volume: 103 Issue: 1 Date: 2008
Pages: 201-236
DOI: 10.2143/BSL.103.1.2033489

Abstract :
Ce travail porte sur les verbes du français formés à l'aide du préfixe é- (écourter, épépiner, émietter, étirer, etc.). Une caractérisation globale de ces éléments lexicaux est tout d'abord effectuée. Elle met en lumière le schéma général auquel ils répondent, schéma qui les différencie d'autres modes de formation réputés proches. Le reste de l'étude est consacré, pour l'essentiel, à la mise en évidence des contraintes sémantiques bien particulières qui régissent ce type de dérivation. On montre notamment que les procès décrits font appel à une relation d'«attachement habituel» entre entités naturelles et qu'ils dénotent la dissociation par un agent intentionnel d'un élément de cette configuration.


---

This work focuses on French verbs formed by means of the prefix é- (écourter ('to shorten'), épépiner ('to stone, to seed'), émietter ('to crumble'), étirer ('to stretch, to draw (out)'), etc.). A global characterization of these lexical elements is first carried out. It highlights the general schema that underlies them and distinguishes them from other (supposedly close) modes of formation. The rest of the study mainly aims at bringing to the fore the quite specific semantic constraints that govern this kind of derivation. Among other things, we show that the processes described call for a relation of 'usual attachment' between natural entities and denote the dissociation of an element of this configuration by an intentional agent.


---

Il presente lavoro si occupa dei verbi francesi col prefisso é- (écourter ('accorciare'), épépiner ('togliere i semi'), émietter ('sbriciolare'), étirer ('tirare'), etc.). Prima di tutto, viene propesta una caratterizzazione globale di tali elementi lessicali. In tal modo viene messo in luce lo schema generale al quale essi rispondono, uno schema che li differenzia da altri procedimenti di formazione considerati analoghi. Il resto del lavoro ha essenzialmente lo scopo di mettere in evidenza i vincoli semantici particolari che pesano su questo tipo di derivazione. In particolare, viene mostrato che i procedimenti descritti fanno appello a una relazione di 'attaccamento abituale' tra entità naturali e denotano la dissociazione di un elemento di tale configurazione da parte di agente intenzionale.


Download article