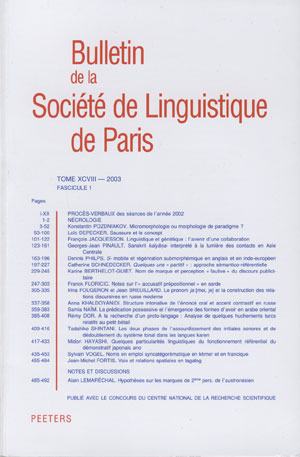 Document Details :

Title: Nouvelles remarques au sujet du sujet
Author(s): LAZARD, Gilbert
Journal: Bulletin de la Société de Linguistique de Paris
Volume: 103 Issue: 1 Date: 2008
Pages: 117-128
DOI: 10.2143/BSL.103.1.2033485

Abstract :
Cet article fait suite à un autre intitulé «Le sujet en perspective interlinguistique» (2003). On soutient qu'il est impossible de donner une définition universelle d'un terme dit sujet. En revanche, on peut en toute langue, sur une base sémantique, identifier une «construction biactancielle majeure» et en définir rigoureusement les termes. On peut d'autre part rechercher en toute langue un ensemble (variable) de propriétés morphosyntaxiques dit «configuration subjectale». L'association des deux perspectives permet de rendre compte des phénomènes complexes que couvre confusément la notion traditionnelle de sujet et de bâtir des typologies.


---

This article is a continuation of another entitled 'The subject in a cross-linguistic perspective' (2003, in French). It is claimed that it is impossible to give a universal definition of a term called subject. On the other hand, it is possible, in any language, on a semantic basis, to identify a 'major bi-actant construction' and to define its terms rigorously. It is also possible, in any language, to look for a (variable) set of morphosyntactic properties called a 'subject configuration'. By combining the two approaches one is in a position to give an account of the complex phenomena that are obscurely subsumed under the traditional notion of a subject and to build typologies.


---

Dieser Artikel ist die Fortsetzung eines anderen, dessen Titel: «Das Subjekt in typologischer Aussicht» lautete. Es wird hier behauptet, dass es unmöglich ist, eine universale Definition des Subjekts zu geben. Man kann aber in irgendwelcher Sprache eine Hauptkonstruktion mit zwei Aktanten auf semantischer Basis identifizieren und deren Glieder genau definieren. Andererseits ist es auch möglich, in jeder Sprache eine (veränderliche) Gesamtheit von morphosyntaktischen Eigentümlichkeiten («Subjektkonfiguration» genannt) zu finden. Die Verbindung beider Verfahrensweisen erlaubt es, die komplexen Phänomene zu erklären, die unter dem unklaren traditionellen Begriff «Subjekt» subsumiert werden, und dadurch Typologien zu bauen.


Download article