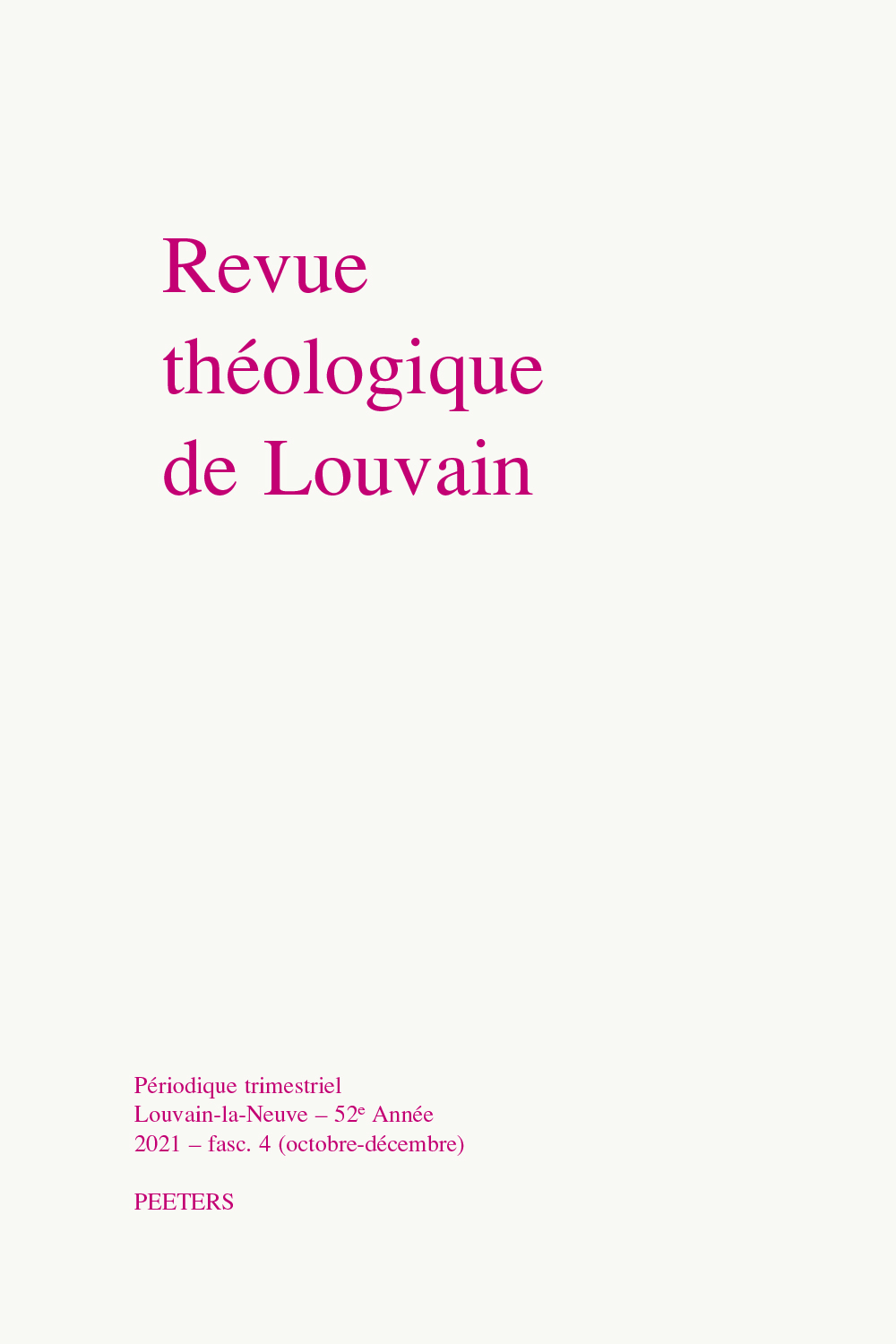 Document Details :

Title: «Car chacun sera salé au feu...»
Subtitle: (Mc 9,49-50)
Author(s): DUPONCHEELE, Joseph
Journal: Revue Théologique de Louvain
Volume: 39 Issue: 1 Date: 2008
Pages: 67-79
DOI: 10.2143/RTL.39.1.2028228

Abstract :
Pour comprendre le verset énigmatique de Mc 9,49, «Chacun sera salé au feu», l'auteur adopte, parmi les variantes du texte, la «lectio difficilior»: celle qui ne confond pas l'action du sel avec celle du feu ou réciproquement. Il cherche ensuite des indices originaux de compréhension chez quelques commentateurs faisant autorité. Enfin, il analyse les différents usages du sel auxquels les textes évangéliques font implicitement référence. Il les replace dans le contexte de l'activité artisanale de l'homme Jésus, ainsi que dans la perspective de sa prédication: annonce du Royaume, de sa mort et de sa résurrection. Tout cela permet à l'auteur de retrouver, sous l'expression du «sel au feu», une métaphore, voire une parabole: celle du potier qui asperge de sel dans le feu de son four ses «poteries de terre», afin de les rendre non seulement imputrescibles, mais brillantes et belles. Ainsi agit Dieu Trinité envers les hommes en son oeuvre de résurrection libératrice de tout mal. De cette destinée, découle une éthique pour le présent: chercher la paix.


---

In order to understand the enigmatic verse Mk 9,49 "All will be salted with fire", the author of this article adopts, among the variants of the text, the lectio difficilior which does not equate the action of salt with that of fire or vice versa. He then looks for original indications of understanding among authoritative commentators. Finally he analyzes the different uses of salt to which the Gospel texts implicitly refer. He replaces them in the context of the man Jesus' activities as an artisan as well as in the perspective of his preaching: announcing the Kingdom, his death and resurrection. All of this allows the author to discover in the expression "salt within fire" a metaphor, and even a parable: that of the potter who sprays his "earthen potteries" with salt in the fire of his kiln in order not only to make them rot-proof but also shiny and beautiful. God the Trinity behaves in the same way to mankind through the work of resurrection which liberates from all evil. An ethical stance derives from this destiny: seeking for peace.


Download article