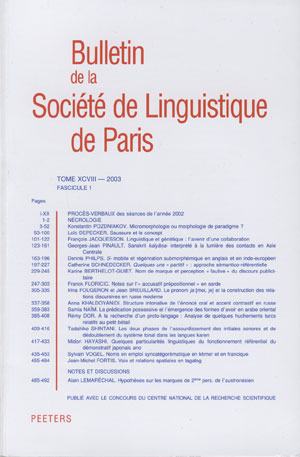 Document Details :

Title: Une nouvelle objection à la méthode des «ressemblances» de Joseph H. Greenberg (fondée sur une étude psycho-linguistique)
Author(s): FODOR, István , RAPAI, Judit
Journal: Bulletin de la Société de Linguistique de Paris
Volume: 101 Issue: 1 Date: 2006
Pages: 439-456
DOI: 10.2143/BSL.101.1.2019832

Abstract :
Il y a 50 ans, Joseph H. Greenberg publiait pour la première fois une nouvelle classification des langues africaines (1949-1954). Fondée sur l'utilisation de «comparaisons de masse» (mass comparison) et sur la «ressemblance» pour établir l'affinité génétique de ces langues, et en général, non écrites, cette classification a remplacé la méthode traditionnelle. Malgré des critiques sévères, la théorie de Greenberg a remporté un grand succès et sa classification a été largement acceptée et se trouve citée dans les encyclopédies, manuels et articles de la discipline. Les auteurs de cette étude ont mené une enquête psychologique (psychométrique) pour démentir les méthodes de Greenberg. 159 sujets (hongrois) ont eu à estimer quels mots dans une liste de rapprochements étaient «ressemblants», c'est-à-dire génétiquement apparentés selon Greenberg. Les sujets ont apprécié différemment quels étaient les mots «ressemblants» et par conséquent, aucune tendance unanime n'a été observée. 26 sujets non hongrois, étudiants de différents pays et de langues maternelles diverses, ont également jugé ces mots différemment. Le résultat n'est pas étonnant: une observation subjective n'est pas applicable sans le contrôle d'une recherche objective. Cet argument a donc été opposé jadis aux théories et méthodes de Greenberg — sans avoir fait alors l'objet d'une enquête —, mais il a été jusqu'à présent négligé. En conclusion: les méthodes et la classification de Greenberg demandent une révision radicale.


---

It has been fifty years since Joseph H. Greenberg's new classification of the African languages appeared (1949-1954). His theoretical approach was based on the methods of «mass comparison» and of «resemblances» to demonstrate the relationship of these mostly unwritten languages, replacing the current method of comparative linguistics, hardly suitable through lack of sufficient written records. In spite of some severe criticisms, Greenberg's classification and methods have achieved a general recognition up to the present day. The authors of this paper carried out a psycholinguistic (psychometric) test series, which invalidated these methods: one hundred and fifty-nine Hungarian test subjects have estimated the lexemes chosen by Greenberg to see whether they can be regarded as similar, i.e. as genetically cognate. In the answers of the subjects, the queried words have been individually and differently classified and no uniform tendency has emerged (except a certain influence of the Hungarian mother tongue). This result does not come as a surprise: no objective observations reflect direct subjective perceptions without any control. At that time, this argument was expounded — without any test — but it was ignored. Now the results of our examination lead to the conclusion that the existing classification of the African languages requires a radical revision.


---

Vor fünfzig Jahren hat Joseph H. Greenberg zuerst seine Studien über eine neue Klassifizierung der afrikanischen Sprachen auf Grund der «Ähnlichkeitsmethode» (method of resemblances) und des «Massenvergleichs» (mass comparison) veröffentlicht (1949-1954), die auf die Verwandtschaft dieser am meisten schriftlosen Sprachen basiert, und hat damit versucht, die konservativen Methoden der vergleichenden Sprachwissenschaft, die ohne bedeutende Sprachdenkmäler kaum benutzt werden können, zu ersetzen. Trotz scharfen Kritiken haben Greenbergs Methoden bis zur heutigen Zeit einen grossen Erfolg erzielt. Die Verfasser dieses Artikels haben eine psycholinguistische (psychometrische) Untersuchung durchgeführt, um die Beweiskraft von Greenbergs Methoden zu widerlegen. 159 ungarische Versuchspersonen haben die Ähnlichkeit vermeintlich genetisch verwandter afrikanischsprachiger Wörter aus Greenbergs Dokumentation beurteilt. Ihre Antworten sind individuell unterschiedlich, und keine einheitliche Tendenz (ausser einem gewissen Einfluss der ungarischen Muttersprache) ist feststellbar. Das Ergebnis kann keine Überraschung bereiten: keine objektiven Feststellungen können ohne Nachprüfung auf subjektiven und individuellen Wahrnehmungen beruhen. Dieses Argument wurde auch früher gegen Greenbergs Theorien — damals ohne Tests — vorgebracht, doch wurde es ausser acht gelassen. Fazit: Die bisherige Klassifikation der afrikanischen Sprachen bedarf einer radikalen Revision.


Download article