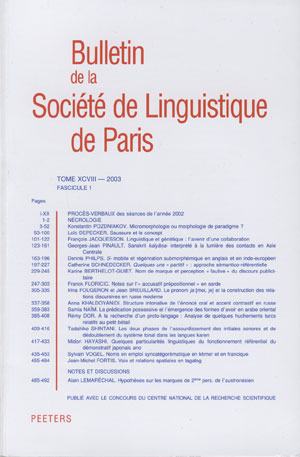 Document Details :

Title: La catégorie du «mouvement associé» en cavineña
Subtitle: Apport à une typologie de l'encodage du mouvement et de la trajectoire
Author(s): GUILLAUME, Antoine
Journal: Bulletin de la Société de Linguistique de Paris
Volume: 101 Issue: 1 Date: 2006
Pages: 417-438
DOI: 10.2143/BSL.101.1.2019831

Abstract :
Cet article étudie un paradigme de suffixes verbaux qui codent, entre autres, des notions de mouvement et de trajectoire en cavineña, une langue amazonienne du nord de la Bolivie (famille tacana). Ces suffixes sont intéressants à plusieurs titres. Tout d'abord, ils ont un contenu sémantique extrêmement complexe et inhabituel. Ensuite, ils encodent la composante sémantique du mouvement, ce qui est un phénomène peu décrit et peu connu. Enfin, la nature de ces suffixes pose des problèmes d'ordre typologique. Le but de notre article est double: (1) comparer le système du cavineña avec d'autres systèmes similaires qui ont été suffisamment bien décrits dans la littérature et (2) montrer que ces suffixes posent problème à la typologie actuelle de l'événement spatial («typology of motion event») développée à la suite de Talmy (1985, 2000).


---

The starting point of this article is a paradigm of verbal suffixes that code, among others, notions of motion and trajectory in Cavineña, an Amazonian language of northern Bolivia (Tacanan family). These suffixes are interesting for a number of reasons. First, they are extremely complex and very unusual semantically. Secondly, they inherently encode motion, a phenomenon that is poorly known and hardly ever represented in the typological litterature. The goal of this study is two-fold: (1) comparing the Cavineña system with other related systems attested in other languages and (2) showing how this type of system calls for a revision of the present day typologies of motion events, notably those developed after Talmy (1985, 2000).


---

El punto de partida de este estudio es el paradigma de sufijos verbales que llevan, entre otros, el sentido de movimiento y trayectoria en la lengua cavineña de la amazonia boliviana (familia tacana). Estos sufijos son interesantes por varios motivos. Primero, tienen un contenido semántico extraordinariamente complejo y muy raro. Segundo, llevan como parte integral de su sentido el componente semántico de movimiento, que es un fenómeno muy desconocido y en consecuencia muy poco tomado en cuenta en la tipología de los eventos espaciales. La meta de nuestro estudio es doble: (1) comparar el sistema cavineña con sistema similares en otras lenguas y (2) mostrar como la existencia de ese tipo de sistema necesita una revisión de la tipología del evento espacial desarrollada por Talmy (1985, 2000).


Download article