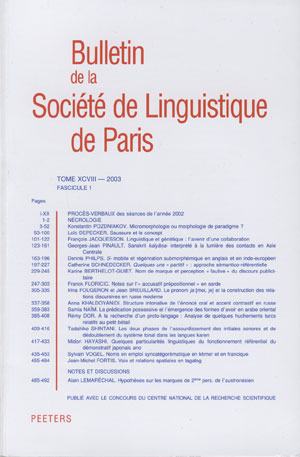 Document Details :

Title: Les constructions des verbes en série
Subtitle: Une autre approche du syntagme verbal en birman
Author(s): VITTRANT, Alice
Journal: Bulletin de la Société de Linguistique de Paris
Volume: 101 Issue: 1 Date: 2006
Pages: 305-367
DOI: 10.2143/BSL.101.1.2019829

Abstract :
Les suites de verbes non-interrompues par des connecteurs sont nombreuses en birman. Formés de plusieurs lexèmes verbaux qui se suivent, ces syntagmes verbaux, dont la forme de surface est identique, ne peuvent cependant pas être analysés de la même façon. Dans cet article, nous proposons d'utiliser la notion de constructions de verbes en série (CVS), envisagée comme un continuum 'balisé' par des constructions prototypiques, pour présenter une analyse plus globale du syntagme verbal en birman. Cette nouvelle approche nous permettra de traiter ensemble des phénomènes traditionnellement analysés isolément. En outre, le birman apporte des données intéressantes sur le phénomène des constructions de verbes en série (CVS); il montre ainsi la non-universalité de certains critères utilisés dans d'autres langues pour définir le phénomène, et surtout l'impossibilité d'établir des propriétés formelles généralisables à toutes les CVS et à elles seulement dans certaines langues.


---

Sequences of verbs without connecting morphemes are frequent in Burmese. Although all such verb phrases are similar on the surface, they cannot all be syntactically analysed in the same way. We propose a global analysis of the Burmese verb phrase using a notion of «serial verb construction» conceived as a continuum linking a number of prototypical constructions. This new analysis of the Burmese verb phrase will enable us to propose a unified treatment of a number of phenomena traditionally analysed separately. The Burmese data presented is of interest for the typological study of serial verb constructions; it shows that certain criteria habitually used to define serial verb constructions are not universally valid, and that, in certain languages at least, it is not possible to establish formal properties which identify all and only such constructions.


Download article