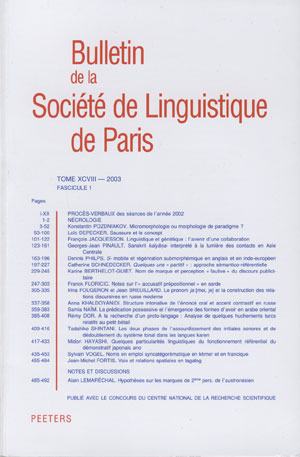 Document Details :

Title: La reconstruction linguistique du passé
Subtitle: Le cas des langues borogaro
Author(s): JACQUESSON, François
Journal: Bulletin de la Société de Linguistique de Paris
Volume: 101 Issue: 1 Date: 2006
Pages: 273-303
DOI: 10.2143/BSL.101.1.2019828

Abstract :
On décrit d'abord (1.) la situation linguistique de l'Assam moderne (Inde du Nord-est), et les hypothèses historiques plausibles qui en rendent compte; ces hypothèses sont sujettes à critiques. On analyse ensuite (2.) de façon détaillée les concordances phonologiques entre les parlers tibéto-birmans de l'Assam central, qui forment le groupe borogaro: on présente des critères précis — les plus fins concernent les diphtongues —, assortis d'exemples pour leur classification, et l'on observe que ces critères permettent de valoriser certaines sources anciennes sur des parlers parfois disparus. L'examen (3.) d'autres langues tibéto-birmanes permet de conforter nos critères, et d'en préciser le développement historique. Enfin, nous proposons (4.) une reconstruction historique des nappages lingusitiques, puis (5.) soulignons la distinction centrale entre modification des langues et modification des ethnies — elles-mêmes d'ailleurs différentes selon qu'on parle des cultures ou des lignées humaines, avant de proposer une piste pour l'examen plus général des langues boro-garo.


---

North-eastern India is home for a great number of languages, mainly from Tibeto-Burmese, Mon-Khmer, Tai, and Indo-Aryan groups. This paper first summarizes the current historical interpretation of this plethora, and concentrates on the Tibeto-Burmese languages spoken in the lowlands, sc. the Boro-Garo subgroup. A phonological comparative assessment of the data provides a classification with definite criteria, and suggests historical interpretation. Central to this comparative study are the vowel systems, the analysis of which also allows us to understand far better (and to use more appropriately) the older lists of lexicon since 1805. The result of this assessment is a new direction of research, when it appears that the Zeliangrong languages (traditionnally taken as Southern Naga) offer a remarkable and certainly unexpected linguistic link between the Boro-Garo and the Kuki-Chin (and Naga) languages. The paper exemplifies how language histories remain distinct from ethnic and political developments, and contribute usefully to a finer historical understanding of complex human situations.


Download article